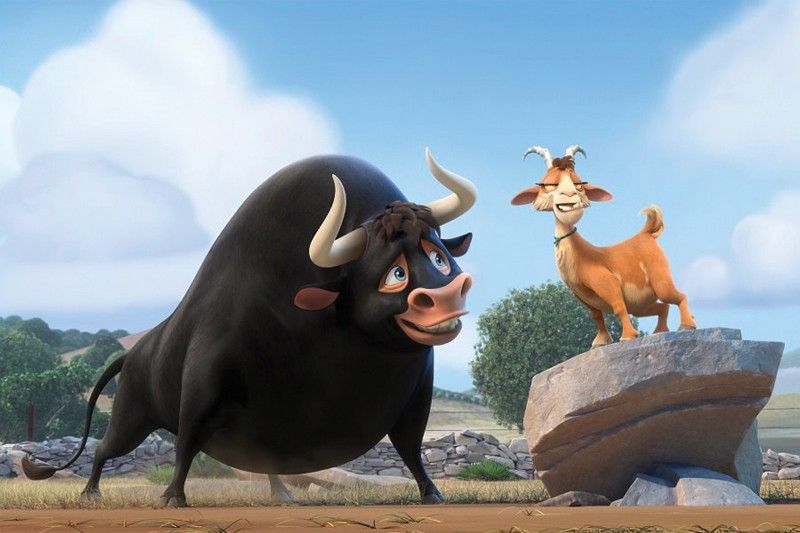 Fighting bull Ferdinand, voiced by John Cena, can be initially intimidating, yet he can be unexpectedly the gentle giant around. His ally, the kind goat Lupe, is voiced by Kate McKinnon.
Film review: Ferdinand; A heartwarming tale about courage & compassion
MANILA, Philippines - Film audiences will surely remember lovable animals in memorable animated features. There's a young deer in Bambi, a circus elephant in Dumbo, an adventurous mermaid in The Little Mermaid, a family of Parisian felines in The Aristocats, a rat who can whip out yummy dishes in Ratatouille, a tap-dancing penguin in Happy Feet, a lost clownfish in Finding Nemo, an outlaw cat in Puss in Boots, a warrior Panda in Kung Fu Panda and a brave cub in The Lion King.
This time, a giant but gentle bull gets into the spotlight in Ferdinand. He's not a stereotypical fighting bull he was born to be, but a lovable one. While other bulls work their way to be an ultimate prized figure in the ring, Ferdinand opts to stay out of trouble.
His size and appearance can be initially intimidating, yet Ferdinand can be unexpectedly the gentle giant around. He loves flowers at Casa del Toro, the farm he grew up in but eventually leaves when his dad dies. He ends up in another farm where a young girl, Nina, treats him more like a friendly pet and allows him to move around freely, his size notwithstanding.
Based on the 1936 children's classic, The Story of Ferdinand, the animated film came to life more than 80 long years after the story was first published. Set in Madrid, Spain, Ferdinand is a heartwarming tale about courage, compassion and friendship that can make young viewers easily adapt to the flow of the story and even adults relate.
Expected in most animated films, this one has a coterie of other animals that give life to the story. Ferdinand is voiced by hunky actor and wrestling superstar John Cena, who surprisingly provides an ideal balance between his character's gentleness and strength.
Kate McKinnon plays the kind goat Lupe, who becomes Ferdinand's ally in the farm. He was inevitably forced to reunite with his bull friends, like the bossy Valiente (Bobby Cannavale) and the charming Guapo (football star Peyton Manning).
Three adorable and singing hedgehogs — Una (Gina Rodriguez), Dos (Daveed Diggs) and Cuatro (Gabriel Iglesias) — who are consistent food culprits at Casa del Toro, befriend Ferdinand. If you're looking for Tres, the three other hedgehogs are tightlipped about him. Yet, Tres is alive and surprisingly appears at the end of the film. Meanwhile, the girl Nina is voiced by Julia Saldanha and Lily Day.
Brazilian director Carlos Saldanha, who worked at the helm of animated films, Ice Age series and Rio and its sequel, megs Ferdinand. Directing an animated children's story is nothing new to this director, but he obviously brought a different and entertaining dimension to this new tale about a darling bull.
Nick Jonas, the youngest of the Jonas Brothers, recorded the song Home, played within the movie in a heartwarming montage while Ferdinand was growing up and also in the end credits. Home banners the soundtrack of Ferdinand and was released as the promotional single of the animated film, along with another Nick Jonas song, Watch Me. Home was even nominated Best Song in the recent Golden Globe awards.