Two is better than one for Sponge Cola
MANILA, Philippines – From how they started 15 years ago as a high school band, to their "macho men" fans, to seemingly off-the-cuff project ideas, the boys of Sponge Cola can talk about anything under the sun — and well, under the stars.
Small wonder, the group has come up with not just one, but two EPs titled Sinag/Tala (which can be loosely translated to mean "daylight/starlight"). It will be launched on Aug. 26, 9 p.m. at the Teatrino Promenade in Greenhills.
The media is inside a conference room at the building of Universal Records Philippines, the band's music label, and the mood feels more like a reunion of friends gathering for a jam session. Sponge Cola turns the Sinag/Tala media preview into an extension of what it's like when they're making music.
"We work well together," explains Yael Yuzon (vocals), referring to his bandmates Gosh Dilay (bass), Erwin "Armo" Armovit (guitars) and Ted Mark "Tmac" Cruz (drums).
The members think this is one of the reasons they're still around since that very first gig on Nov. 26, 2001 at the all-girls school Poveda.
"There are a multitude of reasons," begins Yael when the question of longevity is raised, "one of which I think really is overwhelming talent," he drops a joke, one of many in this free-flowing talk.
"But seriously, when we're together, we're light. Some have mood swings once in a while but it's OK. It's a good working environment, that's the main thing. We really work well. It also helps that kami ang tunay na (Teenage Mutant) Ninja Turtles in terms of personality," says Yael. In other words, all different but complementary.
And citing the words of hitmaker Jason Mraz, Yael added that "a gig is just two hours, there's like 22 hours left in day, if you're not nice, kahit gaano ka kagaling, wala pa rin kwenta."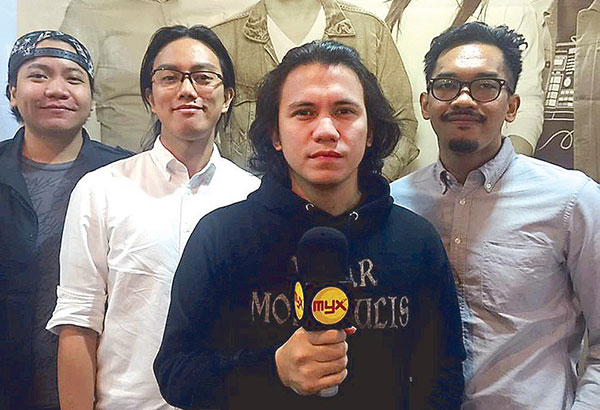 The band before an interview with MYX. Yael is also featured in the music channel's MYXed Lives with wife Karylle today at 10:30 a.m. and tomorrow, Aug. 9, at 4:30 p.m.
Another reason Yael offers is the "overwhelming support from fans. "They're really super supportive. You say something bad about us, aawayin ka talaga nila. Kami pa yung, 'Chill, chill.' We have one fan Jazz, nung nabaha yung house niya, sin-ave niya yung mga CDs namin at mga posters. Nakalagay sa timba. We really appreciate those things."
Sponge Cola loves talking to fans and about fans. Notice that the band is very interactive, playful even, with followers on their social media accounts. "They've been around for a long time. Some of them have been around since the mailing list days. Mailing lists are hardly used now but we started from there — groups.yahoo.com/spongecola."
Yael also proudly shares, "Part of our market is the man's man — mga machong lalake nakikinig ng Sponge Cola. Kami ang senti band ng mga rockers. Kunyari yung mga nakikinig ng metal, pag nag-dadrama na sila, bigla nalang sila (breaks into a Sponge Cola song). Napansin ko talaga. Maraming nag-se-send sa amin ng DM (direct mesage) na mga lalaki na nagsasabi, 'Bro, di kami nakikinig ng acoustic pero mga kanta niyo tagos!"
It is truly for the fans that the Sponge Cola churned out two mini-albums rolled into one.
"You can say this is a response to the fans that we encounter, always buying our CDs," Armor says of Sinag/Tala.
The double EP was recorded everywhere, from the home of Yael's parents, where they recorded their first full-length album Palabas in 2004, to Nuvali in Sta. Rosa. They took their time with Sinag/Tala, going back and forth until they got what they wanted.
When asked if it's a statement of sorts to release a physical album in the age of digital singles and amidst "downsizing" in the music business, Yael reflects, "Yeah, what makes us do that? Mas magastos nga ba? Oo, noh?"
Armor weighs in, "It's hard to argue with it (the relevance of the CD) with people saying everything is going digital and mobile, but it's still a different experience you get from something tactile, yung may hinahawakan, may binubuksan ka na plastic, tapos pina-pa-sign mo."
According to the band, they've always talked about coming up with "bombastic" concepts, but Sinag/Tala just happened naturally. Carefully curated, their latest work became two extended plays because as they were finalizing the track list, they realized the songs couldn't be lumped together because of marked differences in tone and theme.
Armor says, "While we were working on the arrangement of the songs, we couldn't decide on the right flow. Usually, we work on the track list pero hindi na nag-match, we noticed may ibang songs very happy, uplifting like Pag-ibig (theme song of the GMA series Dangwa). Then there are songs like CODA which are somber. We couldn't reconcile that in the flow, so we thought, what if we divide the songs into two?"
Six "happy" songs went into one EP, then six "sad" songs in the other. "We imagine it as music to start your day (Sinag), then you have songs (best listened to) at night (Tala)."
The double EP is just a precursor of more things to come. Yael says, "I don't know if this is a spoiler in any way, but the mindset is... it's like Episode 1 and Episode 2, then magkakaroon pa siya ng Episode 3 and 4. Yes, like Star Wars (laughs), then they will all be connected visually and sonically, hopefully."
Meanwhile, the members also talk about what keeps them busy outside Sponge Cola.
Ted is a bar owner and DJ, has a soul-jazz band and is into fight form/MMA. Armor is a visual artist whose mediums are pen and ink as well as acrylic on canvas, and was part of the recent nude fantasy-themed exhibit at Conspiracy Cafe in Visayas Ave.
For Gosh, "Nagbabasa ako ngayon ng mga Filipiniana books. Bakit? Wala lang (laughs). I'm also trying to learn new instruments."
Yael, guess what, might pursue something that wife Karylle also does. "Ang pretentious pakinggan and I'm trying to lower my voice now so my manager won't hear me say it, because I know our manager will just laugh at me," he shares, sheepishly at first, "but I also act but the thing with 'my acting' is dahil hindi ko naman siya profession, pwede kong gawin kung ano gusto kong gawin. For example, there's a movie offer, 'Uy sali ka dito may exposure dito,' I don't need to do that. I want to go for passion projects."
He adds, "There are passion projects lined up, but it's not the school of acting na exposure and smiles…but something gritty… Gusto kong ipasok yun (acting) na sana yung gagawin ko ay yung gusto ko. My kuya is an acting coach at GMA. I know that if I'm going to do difficult scenes, I can (ask his help), 'Yo, I wanna do a good job.'"
Interestingly, Gosh and Yael first met at a theater group, Teatro Baguntao, known for doing "subversive" plays in high school at Ateneo de Manila.
Armor brings up this info from the past as he opens up about one of their fantasies as a band. "We have this fantasy that one day, we will produce a bar show, not a musical show per se, but somewhat incorporated… The idea is tutugtog kami (sa bar), tapos nangyayari yung kwento, pero di kami uma-acting."
Yael quickly offers, "Let's do that on Jan. 26, 2017 (a Thursday). Let's mark it (in our calendars). Meron tayong play entitled… Give me the title now? Shaker, phone, bottle and lots more — an existential play in two acts. Jan. 26, pero baka 27 din para weekend."
And that's how it is with the band. When they were still planning the EP concert/launch, Yael revealed that "Inuna ko yung date, wala pang venue. According to Wayne's World, if you book them, they will come."
It's safe to say, that the same goes for their next big project.