Air Supply: We are one of a kind
FUNFARE
-
Ricky Lo
(The Philippine Star) - November 22, 2015 - 9:00am
The soft-rock Australian duo Air Supply, Russell Hitchcock and Graham Russell, is marking its 40th anniversary with a concert produced by Grand Leisure Corp. at The Theatre of Solaire Resort & Casino on Dec. 7 (starting at 8 p.m.) and at the SMX Convention Center in Lanang, Davao, on Dec. 9.
Asked why, of all places, in Manila, Hitchcock said in an exclusive e-mail interview with The STAR, "We have dedicated fans (in Manila) who love us."
True enough, Filipino fans know by heart the enduring hit songs of the duo, such as Making Love Out Of Nothing At All, Lost In Love, I'm All Out Of Love, Vanishing Race, I Can Wait Forever and Lonely Is The Night which are included in the repertoire.
It was Hitchcock, originally lead vocalist of the Australian band 19th Generation, who formed Air Supply in 1975 after he met British-born Russell on the set of Jesus Christ Superstar.
Here's the exclusive interview with Hitchcock and Russell:
Forty years after Air Supply was formed, many people have been wondering how you got your name.
Russell: I saw that name in a dream. I saw a billboard with flashing lights all around it. It was white and in the middle in large bold letters were the words Air Supply. That's how we got our name.
Hitchcock: Nice name, isn't it?
How do you keep the music playing?
Russell: We love what we do and we have many fans all over the world who want to see us.
Hitchcock: The music keeps playing because it is played all over the world on radio. We also keep playing and recording new songs. We don't rely on the past but keep current.
How do you reinvent your music and at the same time retain the distinct Air Supply sound?
Russell: Whatever we do will have A.S. sound as it is us.
Hitchcock: Graham continues to write great songs and is always interested in using the latest technology.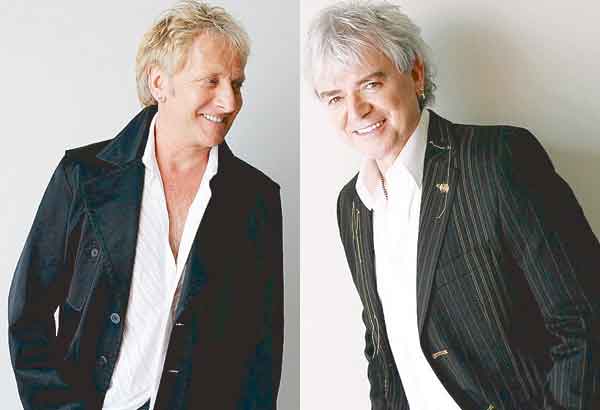 What could be the most difficult challenge you have met and how did you hurdle it?
Hitchcock: Sticking to what you believe in and remaining true to yourself. It is a challenge when music changes around. But our fans support us whatever we do.
Competition is so stiff in the music industry, what with the influx of new and younger talents. How do you keep up with the fast-changing trend?
Russell: We never feel that music is a competition. All artists are different and unique. No other band sounds like us. We are one of a kind!
Hitchcock: It's not a competition.
Have you always worked harmoniously with each other; have you ever had any misunderstanding and how did you resolve it?
Hitchcock: We've never had any reason to disagree.
Was there ever a time when Air Supply was in danger of breaking up?
Hitchcock: I was worried in 1977 that we might not be able to afford to continue financially. But Graham snapped me out of that.
What is it about Manila that makes you keep coming back?
Hitchcock: We have dedicated fans who love us!!!
(Note: The Air Supply 40th Annniversary Concert is sponsored by RJ 100, Wish 1075, Retro DSG FM 105.9, Business Mirror, Telennovela Channel, Park n Ride, HDI Admix, MMT and Lapid's Chicharific. For tickets, call Ticketworld at 891-9999 and SM Tickets at 911-5555.)
(E-mail reactions at entphilstar@yahoo.com. You may also send your questions to askrickylo@gmail.com. For more updates, photos and videos visit www.philstar.com/funfare or follow me on www.twitter/therealrickylo.)