Real-life kilig story on Wattpad Presents
"I wore a P150 wedding dress and it really does not matter (if I wore an expensive one or not)," thus declared Jennica Garcia (this wisp of a girl who looks a lot like her mom, Jean Garcia) when she and Alwyn Uytingco finally decided to reveal that they have been married since Feb. 12 of this year.
The two young stars have been a couple for some time now and they revealed that they made their wedding vows on the date their relationship turned four years. "We opted for a very simple ceremony at the Victory Christian Fellowship with only a handful of our family and friends," disclosed Jennica, who shared that she and Alwyn prayed over this decision to announce the real status of their relationship days before the scheduled press conference for TV5's Wattpad Presents (airing from Mondays to Fridays at 9:30 p.m.). "We felt that it was the best opportunity to share this piece of good news because this is the first time that we will be working together on a project," Alwyn stated.
"We did not want to hide the real status of our relationship anymore," Jennica said of the guilt that she and her husband had to contend with. This is why the two are thankful to TV5 for paving the way for them to finally make this long-delayed announcement. Jennica and Alwyn will star opposite each other in the Wattpad Presents series titled Dyepni, which airs for a week starting today.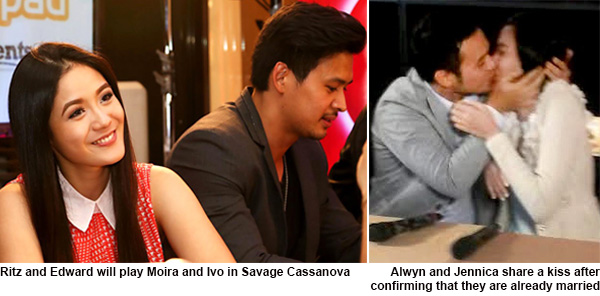 Since TV5 launched Wattpad Presents last Sept. 22, the network has been getting favorable feedback and overwhelming social media buzz, thus making the show trend almost every night as well. The show is a primetime mini-series of week-long TV adaptations of popular online books that have been shared and read on Wattpad, the world's largest community of readers and writers. Established in 2006, Wattpad now has 35 million readers, five million of which are Philippine users who spent close to one billion minutes immersed in Wattpad's free stories in the previous month alone. Wattpad has become so popular in the country that a number of budding Filipino writers have grown their own fan-base of readers, while some of their stories have already been bought by major film outfits and have become blockbuster hits.
Now on its second month, Wattpad Presents brings another four sure-fire weekly kilig stories that will feature TV5's homegrown talents Ritz Azul, Sophie Albert and Vin Abrenica. Together with Edward Mendez, Isabelle de Leon, Edgar Allan Guzman, Jennica and Alwyn, they will surely make the televiewers gush and fall in love all over again.
On Oct. 27, Ritz and Edward star in the bittersweet tale of Savage Cassanova, a novel written by Wattpad author justbreathesofie that has garnered almost 1.7 million readers and continues to gain more followers. Savage Cassanova is about the attractive and popular bachelor Ivo (Edward), who is the heir to his family's business. In order to drive away the girls who have been persistently chasing him, Ivo decides to marry the terminally-ill Moira (Ritz), thinking that he will have a quiet life as a widower once his wife dies. But what happens when their marriage seems to cure Moira of her illness and Ivo gets stuck with a wife he never intended to keep for long?
For the week of Nov. 3, Wattpad Presents will deliver the TV adaptation of Fake Fiance, written by Keired and already read by more than two million readers, featuring real-life couple and Artista Academy scholars Sophie and Vin. Fake Fiance will show how Demi (Sophie) and Rafael (Vin) will connive and stage their own engagement in order to stop the pending wedding of their respective parents. Follow the journey of Demi and Rafael and find out if their fake wedding arrangement blossoms into real love or if they will just fall victim to their own schemes.
Last but not least of the second batch of love stories is the very endearing narrative of Diary ng Hindi Malandi (Slight Lang), originally written by owwSIC for Wattpad and has so far hit the whopping number of almost 3.5 million reads. Featuring Isabelle and Edgar Allan, the funny story tells the tale of a girl's coming of age and her journey of finding her one true love. Pipay (Isabelle) is not at all hampered by her "personal aroma" despite the fact that some people are turned off by her unpleasant body odor. Her unique smell turns out to be Pipay's secret charm as she gets pursued by school heartthrob Josh (Edgar Allan) while she also pursues her crush. Diary ng Hindi Malandi (Slight Lang) begins airing on Nov. 10.