Smart customers can now pre-order Samsung Note 5, S6 Edge Plus
(Philstar.com) - August 18, 2015 - 9:15pm
MANILA, Philippines – Smart Communications has opened its pre-order sites for Samsung Note 5 and Samsung Galaxy S6 Edge Plus shortly after the worldwide unveiling of the latest powerhouse devices of the Korean tech giant.
Smart postpaid users can log on to http://smart.ph/SmartNote to reserve their devices while Smart Inifnity customers can do the same at http://smart.com.ph/infinity/samsungnote5.
Samsung packs bigger and better features in its latest phablet and smartphone with advancements in design, multitasking features, and battery life.
With that, Smart is excited to give their customers bigger Smart life experience from capturing and sharing great moments on Instagram or Facebook, watching favorite videos on iFlix or Viewstream, listening to music on Spinnr or Deezer, playing mobile games to preparing business presentations on the fly.
"If you are searching for a powerful smartphone or phablet, or simply want to upgrade to a multitasking handset that can keep up with the diverse needs of your lifestyle, these new Samsung devices, optimized by Smart, might just be perfect for you," Smart Postpaid business head Kathy Carag said.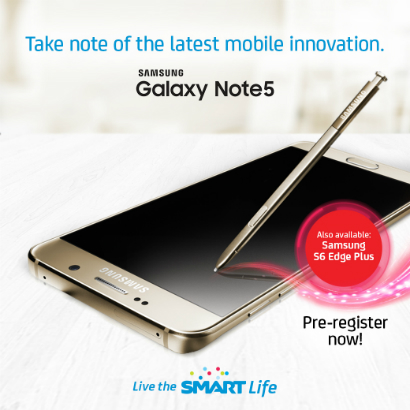 Going premium with Smart Infinity
Smart promises more perks to those who will avail of the Note 5 and the S6 Edge Plus via the telco's premium postpaid brand, Smart Infinity.
Smart is pairing the devices with a wide array of rewarding options such as SSI Purple Gift Card, Rustan's Gift Cards and PAL's Mabuhay Miles.
"Infinity is also bringing members to most elite destinations soon," Infinity Marketing Manager James Chi said.
The Note 5 or S5 Edge Plus will be available at Smart Infinity's Consumable LTE 3500 with lock-in periods depending on whether it's 32 or 64 GB. If a member decides to get the devices via Consumable LTE 5000 or Consumable LTE 8000, they get the Note 5 and S6 Edge Plus. The offer is available from August 15 to September 15, 2015.
The plans also include a galaxy of VIP privileges:
VIP Customer Service: Smart Infinity members have a dedicated Infinity Relationship Officer (exclusive to plans 5000 and 8000), access to a 24/7 worldwide concierge service, priority in dedicated Smart Stores as well as the option to have their preferred mobile number and a spare SIM.
VIP Network Access: Smart Infinity subscribers can rely on the Smart network to enjoy calls and convenient mobile internet connectivity. Users of LTE-compatible devices can maximize this benefit and enjoy watching movies or videos, upload or download photos and more, on their mobile device on the country's most widely available LTE service.
VIP Rewards and Privileges: Smart Infinity members have a whole array of year-round privileges, which can be simply accessed through their innovative Smart Infinity Lifestyle App.
Individuals interested in enjoying the premium Smart Infinity experience with a complimentary Note 5 or S6 Edge Plus may contact 848-8806, visit smart.com.ph/infinity/SamsungNote5 or email infinitysupport@smart.com.ph.
Visit the Smart Infinity website to see the latest plans, and express their interest for the new flagship devices at www.smart.com.ph/infinity.
To stay updated on the latest Smart Postpaid offers, log on to smart.com.ph or smart.com.ph/infinity and follow Smart's official accounts on Facebook and Twitter (@SMARTCares).
Be among the first to get hold of the Samsung Note 5 and Samsung Galaxy S6 Edge Plus when they reach the Philippine shores by signing up at http://smart.com.ph/postpaid/phones/SamsungNote5.
READ MORE: