In first, SpaceX to send all-civilian crew into Earth orbit
September 16, 2021 | 7:59am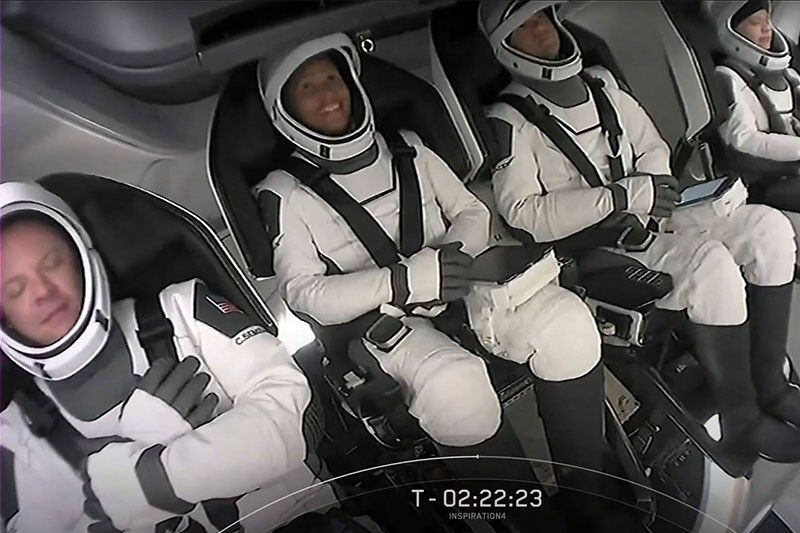 United States — SpaceX is preparing to send the first all-civilian crew into Earth's orbit Wednesday evening, capping a summer of private spaceflight with one of the most ambitious tourism missions to date.
A five-hour launch window for "Inspiration4" opens from 8:02 pm (0002 GMT Thursday), and weather conditions remain good with an 80 percent chance of launch, according to official forecasters.
After a visit from SpaceX boss Elon Musk, the crew climbed into white Teslas to applause from a small crowd under sunny skies, and headed to the facility where they will don their spacesuits.
A Falcon 9 rocket, with a Dragon capsule at its top, will blast off from the legendary launch complex 39A at NASA's Kennedy Space Center in Florida, where the Apollo 11 mission once took off for the Moon.
The spaceship's trajectory will take it to an altitude of 357 miles (575 kilometers), which is deeper into space than the International Space Station (ISS).
After spending three days orbiting the globe, the four-person crew, all Americans, will splash down off the Florida coast.
"The #Inspiration4 launch reminds us of what can be accomplished when we partner with private industry!" tweeted NASA administrator Bill Nelson ahead of the launch.
Building up commercial capability has been the vision of NASA's commercial crew program since it was founded in 2011.
Tough training
The trip was paid for by billionaire Jared Isaacman, a 38-year-old high school dropout, founder of Shift4 Payments, and aviator.
SpaceX hasn't disclosed what it cost him, but the price tag runs into tens of millions of dollars. Isaacman's three crewmates were selected through a competition, and their stories have been followed in a Netflix documentary.
Hayley Arceneaux, a pediatric cancer survivor, is a 29-year-old physician assistant. She will be the youngest American to go into orbit and the first person with a prosthesis, on a part of her femur.
Chris Sembroski, 42, is a US Air Force veteran who now works as an aerospace data engineer.
Sian Proctor, a 51-year-old geoscientist and educator, was almost selected to become an astronaut for NASA in 2009.
She will be only the fourth African-American woman to go to space.
They bonded over the course of six months' training that included climbing Mount Rainier, high G-force conditioning, and experiencing a taste of weightlessness on a parabolic flight.
The mission is hoping to raise $200 million for St Jude's Children's Research Hospital, a leading facility in Tennessee. Arceneaux received treatment there as a child, and now works there.
The crew will take with them various objects — a ukulele, 66 pounds (30 kilograms) of hops intended to brew space beer and several digital assets known as non-fungible tokens — that will be auctioned off for the cause.
Throughout the flight, biological data including heart rate and sleep, as well as their cognitive capacities, will be analyzed to study the health impacts of space.
The Dragon will be equipped, for the first time, with a cupola observation dome — the largest ever space window — to take in the view. The dome replaces the usual mechanism used on Dragons to dock with the ISS.
Privatization of space
Beyond the charitable and scientific aspects, the mission's stated goal is to represent a turning point in the democratization of space, by proving that the cosmos is accessible to people who have not been handpicked and trained for many years as astronauts.
For SpaceX, this is nothing less than a first step towards a multi-planetary humanity — founder and CEO Musk's ultimate vision.
The flight should remain fully automated, but the crew has been trained by SpaceX to be able to take control in the event of an emergency.
The space adventure bookends a summer marked by the battle of the billionaires Richard Branson and Jeff Bezos to reach the final frontier.
Branson, the Virgin Galactic founder, achieved the feat first, on July 11, and was followed by the Blue Origin boss nine days later.
But these flights only offered a few minutes of weightlessness. SpaceX's mission is far more ambitious — though flights organized by a private company that contracted Russian Soyuz rockets in the 2000s took tourists to the ISS.
This will be the fourth crewed mission for SpaceX, which has now sent 10 astronauts to the ISS for US space agency NASA.
As It Happens
LATEST UPDATE: August 9, 2022 - 6:43pm
Monitor major developments on space explorations and the status of missions.
August 9, 2022 - 6:43pm
An Iranian satellite launched by Russia blasted off from Kazakhstan Tuesday and reached orbit amid controversy that Moscow might use it to boost its surveillance of military targets in Ukraine.
As Russia's international isolation grows following Western sanctions over its invasion of Ukraine, the Kremlin is seeking to pivot Russia towards the Middle East, Asia and Africa and find new clients for the country's embattled space programme.
Russian space chief Yury Borisov hailed "an important milestone in Russian-Iranian bilateral cooperation, opening the way to the implementation of new and even larger projects", speaking at the Moscow-controlled Baikonur cosmodrome in the Kazakh steppe.
Iran's Telecommunications Minister Issa Zarepour, who also attended the launch, called the launch of the Khayyam satellite "historic" and "a turning point for the start of a new interaction in the field of space between our two countries".
Iran, which has maintained ties with Moscow and refrained from criticism of the Ukraine invasion, has sought to deflect suspicions that Moscow could use Khayyam to spy on Ukraine.
Last week, The Washington Post quoted anonymous Western intelligence officials as saying that Russia "plans to use the satellite for several months or longer" to assist its war efforts before allowing Iran to take control.
But the Iran Space Agency (ISA) said, less than two hours after the satellite was launched on a Soyuz-2.1b rocket, that "ground stations of the Iran Space Agency" had already received "first telemetric data". -- AFP
July 31, 2022 - 1:21pm
A Chinese booster rocket made an uncontrolled return to Earth on Saturday, leading US officials to chide Beijing for not sharing information about the potentially hazardous object's descent.
US Space Command "can confirm the People's Republic of China (PRC) Long March 5B (CZ-5B) re-entered over the Indian Ocean at approx 10:45 am MDT on 7/30," the US military unit said on Twitter.
"We refer you to the #PRC for further details on the reentry's technical aspects such as potential debris dispersal+ impact location," it said.
In a statement posted to its official WeChat profile, the China Manned Space Agency later gave coordinates for an impact area in the Sulu Sea, about 35 miles (57 kilometers) off the east coast of the Philippines' Palawan Island.
"Most of its devices were ablated and destroyed during re-entry," the agency said of the booster rocket, which was used last Sunday to launch the second of three modules China needed to complete its new Tiangong space station.
Malaysia's space agency said it detected rocket debris burning up on re-entry before falling in the Sulu Sea northeast of the island of Borneo.
"The debris of the rocket caught fire while entering the Earth's airspace and the movement of the burning debris also crossed Malaysian airspace and could be detected in several areas including crossing the airspace around the state of Sarawak," it said. — AFP
June 28, 2022 - 7:35pm
NASA blasted a nanosatellite barely bigger than a microwave oven into outer space Tuesday, part of a landmark mission to return humans to the Moon.
A rocket carrying the tiny CAPSTONE module successfully launched from New Zealand's eastern Mahia Peninsula to a deafening blast and a wash of fiery propulsion.
All being well, in four months CAPSTONE will be in a position to begin an innovative surfboard-shaped "near rectilinear halo orbits" around the Moon.
Weighing about as much as a suitcase, the satellite is trail running an orbit for NASA's "Gateway" space station -- which will travel around the Moon and serve as a jumping off point for lunar exploration.
The orbit passes within 1,600 kilometers of the Moon at its closest point, before catapulting to 70,000 kilometers away at the furthest.
Scientists hope the orbit will be super-efficient, using the pull of both the Moon and the Earth to minimise fuel use. — AFP
June 5, 2022 - 10:52am
State broadcaster CCTV says China launched a rocket carrying three astronauts on a mission to complete the construction of its new space station, the latest milestone in Beijing's drive to become a major space power.
The trio blasted off in a Long March-2F rocket at (0244 GMT) from the Jiuquan launch center in northwestern China's Gobi desert, with the team expected to spend six months expanding the Tiangong space station. — AFP
May 13, 2022 - 10:54am
That's one small pot of soil, one giant leap for man's knowledge of space agriculture: scientists have for the first time grown plants in lunar soil brought back by astronauts in the Apollo program.
The ground-breaking experiment, detailed in the journal Communications Biology on Thursday, has given researchers hope that it may be possible to one day grow plants directly on the Moon.
That would save future space missions much hassle and expense, facilitating longer and farther trips.
However, according to the study's University of Florida authors, much remains to be studied on the topic, and they intend to leave no stone unturned. -- AFP