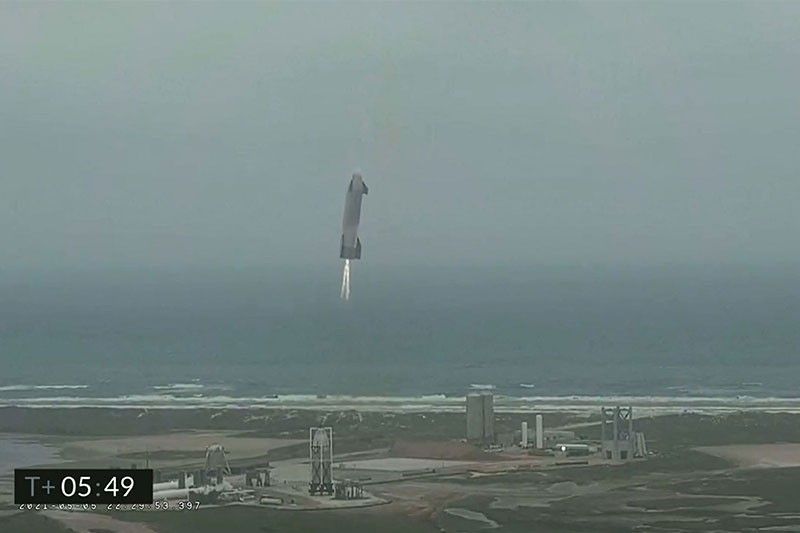 In this photo screengrab made from SpaceX's live webcast shows the Starship SN15 as it prepares to land in Boca Chica Cameron County, Texas on May 5, 2021. SpaceX successfully landed its prototype Starship rocket on its fifth attempt, a livestream Wednesday showed. There was however a small fire at the base of the rocket, dubbed SN15, which announcers said was not unusual.
AFP/SpaceX
Touchdown! SpaceX successfully lands Starship rocket
Issam Ahmed
(Agence France-Presse) - May 6, 2021 - 9:00am
WASHINGTON, United States — SpaceX managed to land its prototype Starship rocket at its Texas base without blowing it up on Wednesday, the first time it has succeeded in doing so in five attempts.
The test flight represents a major win for the hard-charging company, which eventually wants to carry crew inside Starship for missions to Mars.
"Starship landing nominal!" tweeted founder Elon Musk triumphantly, after the last four tries ended in big explosions.
Starship landing nominal!

— Elon Musk (@elonmusk) May 5, 2021
"Nominal" means normal in the context of spaceflight.
The execution wasn't quite perfect, with a small fire engulfing the base of the 50 meter- (160 feet-) high rocket, dubbed SN15, shortly after landing.
SpaceX webcaster John Insprucker explained this was "not unusual with the methane fuel we're using," adding engineers were still working out design issues.
The flames were quickly put out with water cannons, footage showed.
Earlier, the rocket took off at around 5:25 pm local time (2225 GMT) from the Starbase in Boca Chica in southern Texas, reached an altitude of 10 kilometers (6 miles) and performed a series of maneuvers, including a horizontal descent called a "belly flop."
Live feed of Starship SN15 flight test → https://t.co/Hs5C53qBxb https://t.co/chZjdVAute

— SpaceX (@SpaceX) May 5, 2021
SpaceX was facing added pressure to succeed with Wednesday's flight after NASA last month announced a version of Starship will be used as a lunar lander when the space agency returns humans to the Moon.
But the $2.9 billion contract is currently suspended after two rival companies, Jeff Bezos' Blue Origin and Dynetics, lodged a protest.
Nevertheless, if the award is eventually confirmed, it will transform Starship from Musk's pet project to a major tax payer-funded venture, with all the scrutiny that entails.
The first two flight tests of Starship, SN8 and SN9, both crash landed and exploded when they launched in December and February, respectively.
The next, SN10, successfully landed then blew up a few minutes later on March 3.
The video feed cut out during the test flight of the fourth, SN11, with Musk later confirming it too had exploded, this time in mid-flight.
Eventually, SpaceX plans to combine the Starship spaceship with a Super Heavy rocket, creating a fully reusable system to explore deep into our solar system.
This final version will stand 394 feet (120 meters) tall and will be able to carry 100 metric tonnes into Earth orbit -- the most powerful launch vehicle ever developed.
Musk wants to use this to help realize his goal of transforming humanity into a multiplanetary species with a colony on Mars.
The planned lunar version of Starship would however serve a more modest goal — docking with a future lunar orbital station, collecting astronauts, then setting them down on the Moon.
To get the astronauts to the lunar station in the first place, NASA has a more traditional plan in mind: using its own giant SLS rocket with a crew capsule called Orion affixed on top.
But the SLS rocket has suffered severe delays and cost overruns, and observers have mused if Starship succeeds, it could one day make SLS obsolete.
As It Happens
LATEST UPDATE: June 13, 2021 - 9:12am
Monitor major developments on space explorations and the status of missions.
June 13, 2021 - 9:12am
An unnamed bidder pays $28 million at auction Saturday for a seat on board the first crewed spaceflight of Jeff Bezos' company Blue Origin on July 20, as one of four passengers including the Amazon founder himself.
The winner, whose identity will be disclosed in coming weeks, beat out some 20 participants in an auction launched in late May, and wrapped up with a 10-minute online bidding frenzy, livecast by Blue Origin. — AFP
May 11, 2021 - 8:52am
The US space probe Osiris-Rex on Monday left the orbit of the asteroid Bennu, from which it collected dust samples last year, to begin its long journey back to Earth.
The probe still has a vast distance to cover before it lands in the Utah desert on September 24, 2023.
Osiris-Rex is "now moving away over 600 miles an hour from Bennu, on its way home," Dante Lauretta, head of the mission, said on NASA's video broadcast of the event.
The spacecraft's thrusters were engaged without incident for seven minutes to put the probe on the correct trajectory home, a journey of 1.4 billion miles (2.3 billion kiometers).
It is carrying more than 60 grams of dust and fragments from the asteroid, the largest sample collected by NASA since the Moon rocks brought back by the Apollo missions. — AFP
May 10, 2021 - 8:32am
SpaceX will launch a satellite to the Moon next year funded entirely with the cryptocurrency Dogecoin, Canadian company Geometric Energy Corporation, which will lead the lunar mission, announced Sunday.
The satellite, dubbed DOGE-1, will be launched aboard a SpaceX Falcon 9 rocket in the first quarter of 2022, the Calgary-based company said in a statement.
The cubic satellite, weighing 88 pounds (40 kilograms), will aim to obtain "lunar-spatial intelligence from sensors and cameras on-board," according to the statement.
The "DOGE-1 Mission to the Moon" will be "the first-ever commercial lunar payload in history paid entirely with" Dogecoin, Geometric Energy Corporation said, without specifying how much the project cost.
"We're excited to launch DOGE-1 to the Moon!" Tom Ochinero, SpaceX vice president of commercial sales, said in the statement. — AFP
May 9, 2021 - 2:23pm
A large segment of a Chinese rocket re-entered the Earth's atmosphere and disintegrated over the Indian Ocean on Sunday, the Chinese space agency said, following fevered speculation over where the 18-tonne object would come down.
Officials in Beijing had said there was little risk from the freefalling segment of the Long March-5B rocket, which had launched the first module of China's new space station into Earth orbit on April 29.
"After monitoring and analysis, at 10:24 (0224 GMT) on May 9, 2021, the last-stage wreckage of the Long March 5B Yao-2 launch vehicle has reentered the atmosphere," the China Manned Space Engineering Office said in a statement, providing coordinates for a point in the Indian Ocean near the Maldives. — AFP
May 6, 2021 - 9:02am
The Pentagon says it is following the trajectory of a Chinese rocket expected to make an uncontrolled entry into the atmosphere this weekend, with the risk of crashing down in an inhabited area.
US Secretary of Defense Lloyd Austin is "aware and he knows the space command is tracking, literally tracking this rocket debris," Pentagon spokesman John Kirby says.
China on Thursday launched the first of three elements for its space station, the CSS, which was powered by the Long March 5B rocket that is now being tracked. — AFP