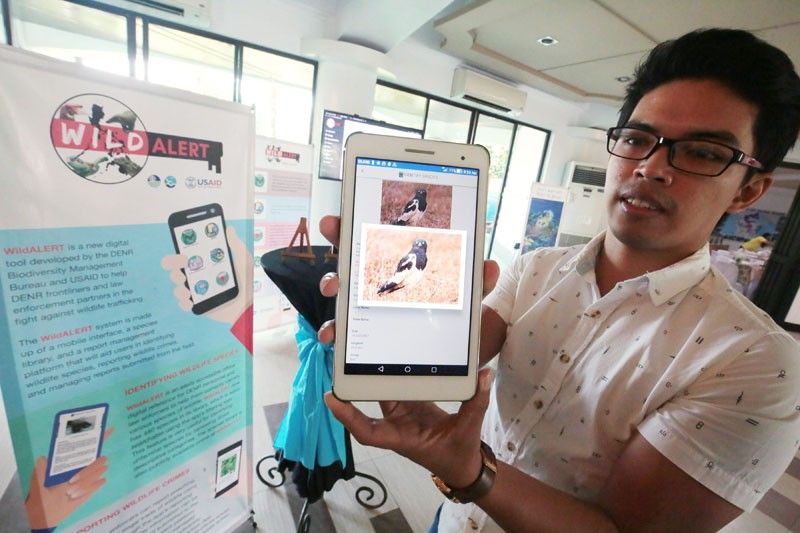 App developer John Calanday demonstrates at the Ninoy Aquino Parks and Wildlife on Tuesday how to use WildALERT, a new digital tool developed by the Department of Environment and Natural Resources – Biodiversity Management Bureau and USAID to help DENR frontliners and law enforcement partners in the fight against wildlife trafficking.
Michael Varcas
Amid COVID, wildlife laws to be strictly enforced?
MANILA, Philippines — The Department of Environment and Natural Resources and concerned agencies will strictly enforce wildlife laws in the country to prevent human and wildlife interaction in the wake of the coronavirus disease 2019 outbreak, a DENR official said Tuesday.
Earlier reports noted there were indications that the COVID-19 outbreak stemmed from a virus found in wildlife sold for consumption.
Director Ricardo Calderon of the DENR's Biodiversity Management Bureau said there will be stricter enforcement including conservation of habitat of these wildlife.
"The eating of exotic wildlife species will also be covered since this is a criminal act and therefore, punishable under the law. There is a need to influence consumer behavior as well as reduce demand for illegally sourced wildlife and their products," the official said on the occasion of World Wildlife Day held at the BMB Training Center at the Ninoy Aquino Parks and Wildlife Center in Quezon City.
Partner agencies in the enforcement of wildlife laws include the Philippine National Police, National Bureau of Investigation and Bureau of Customs.
"We elevated the problem of illegal wildlife trade to the category of transnational crime, the same level as that of trafficking of persons, illegal drugs, anti-money laundering. The penalty now should be higher and more serious compared to what was imposed before which is six months to one year imprisonment being the maximum," Calderon said, adding the relatively lax punishment was hardly a deterrent.
The official said that they are working to amend the Wildlife Resources Conservation and Protection Act (Republic Act No. 9147) – a law providing for the conservation and protection of wildlife resources and their habitats, appropriating funds for this as well as for other purposes.
"We want to stress that the fight against illegal wildlife trade is now a level higher than how it used to be. Our law enforcement agents will be more visible and vigilant in our seaports and airports," Calderon said.
He added that the BMB is coordinating with the Department of Budget and Management regarding the increased budget for their personnel in the frontline enforcement offices, including the Protected Area Management Office to better manage conservation habitats.
Calderon also bared a new digital tool called "WildALERT" developed by the DENR-BMB and USAID to help department frontliners and law enforcement partners in the fight against wildlife trafficking.
The WildALERT system is made up of a mobile interface, species library, and a report management platform that will aid users in identifying wildlife species, reporting wildlife crimes, and managing reports submitted from the field.
It is an easily accessible offline digital reference for DENR personnel and law enforcers to help them correctly identify various species of wildlife.
According to the USAID, WildALERT has now 480 species in its library, which is easily searchable using the app's filtering tool.
"Wildlife law enforcers can report poachers, trafficking, and illegal trade of wildlife using WildALERT. Through the app's reporting feature, photos and key information can be recorded, geotagged and submitted to the WildALERT report management platform."