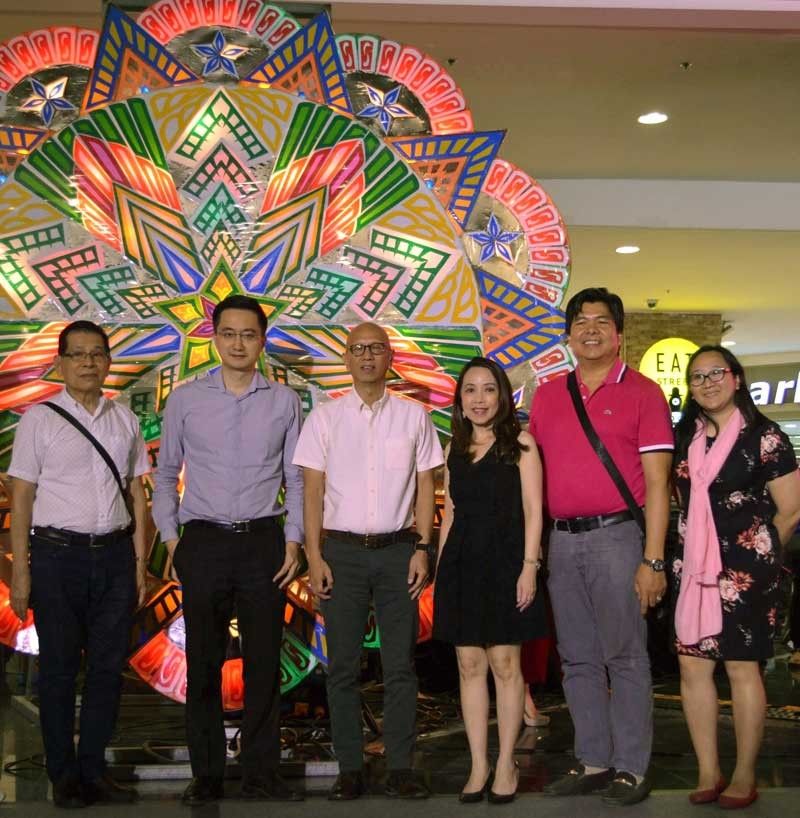 (From left) Giant Lantern Festival Foundation president Alfrito "Bong" Mah, Robinsons Land Corp. EVP Faraday Go, San Fernando City, Pampanga vice mayor Jimmy Lazatin, RLC Commercial Cen- ters Division general manager Arlene Magtibay, 2018 Giant Lantern Festival executive committee chairman Alex Patio and San Fernando, Pampanga city tourism officer Ching Pangilinan during the colorful opening of RLC's Giant Lantern Caravan
RLC gets into the Christmas spirit
Robinsons Land Corp. (RLC), led by president and CEO Frederick Go, is getting into the holiday spirit with the Giant Lantern Caravan held at Robinsons Malls nationwide. This year, the first leg of the caravan was held at Robinsons Galleria where mall- goers enjoyed various types of lanterns on display as well as special performances at the mall's activity area. The caravan then made its way to Robinsons Galleria Cebu, Robinsons Magnolia and Robinsons Place Antipolo. One of the highlights of the festival is the annual Giant Lantern Competition where participating barangays exhibit their biggest, brightest and most colorful Christmas parols. The Giant Lantern Caravan is an exhibit of mini-replicas of the giant parols from the city of San Fernando, Pampanga, the Christmas capital of the Philippines. Kudos to Robinsons Land Corp. for making Christmas extra special for Filipinos! The Giant Lantern Competition 2018 will be held at Robinsons Starmills Pampanga on December 15, and the celebration continues with nightly exhibitions of giant parols at the mall on December 16-21, December 25-30 and January 1-2.
RLC lights up the holidays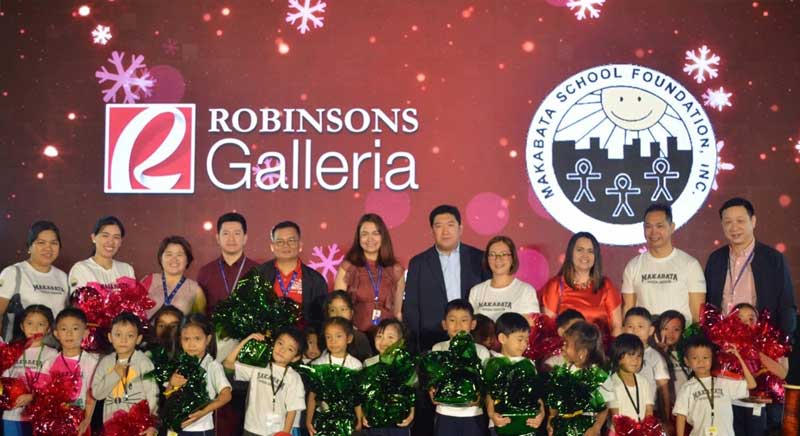 (From left) Makabata School Foundation, Inc. representatives Marissa Jomulo and teacher Lyn Asong, Robinsons Galleria mall architect Arch. Marielle Quianzon, lease manager Kerwin Gerald Tan, housekeeping manager Mario Perez and assistant mall operations manager Ma. Vanessa Magno, RLC regional operations manager Myron Lawrence Yao, Makabata School Foundation, Inc. teacher Mitch Ancheta, RLC group marketing communications manager Ma. Theresa Gonzales, Makabata School Foundation, Inc. representative Marlon Ancheta and Robinsons Galleria mall operations manager Jonathan Ho with the children of Makabata School Foundation Inc.
It's beginning to look a lot like Christmas as Robinsons Galleria, under the seasoned leadership of Robinsons Land Corp. (RLC) president and CEO Frederick Go, recently lit up its giant Christmas tree. Standing 32-feet tall, Robinsons Galleria's gigantic European fir tree is the perfect backdrop for Instagram-worthy moments with family and friends this holiday season. In true festive spirit, the Orchestra of the Filipino Youth played iconic OPM Christmas songs and Robinsons Malls also invited kids from the Makabata School Foundation, Inc. who received early presents from RLC. Robinsons Malls also launched its newest project, The Gift of heART, which aims to help the underprivileged members of society by selling donated artworks from well- known and budding Filipino artists at special prices. All of the proceeds from the exhibit will be given to The Gift of Change beneficiaries. It truly is the season of giving! Congratulations to Robinsons Land Corp. for a successful tree lighting ceremony!
Celebrating life at the Isthmus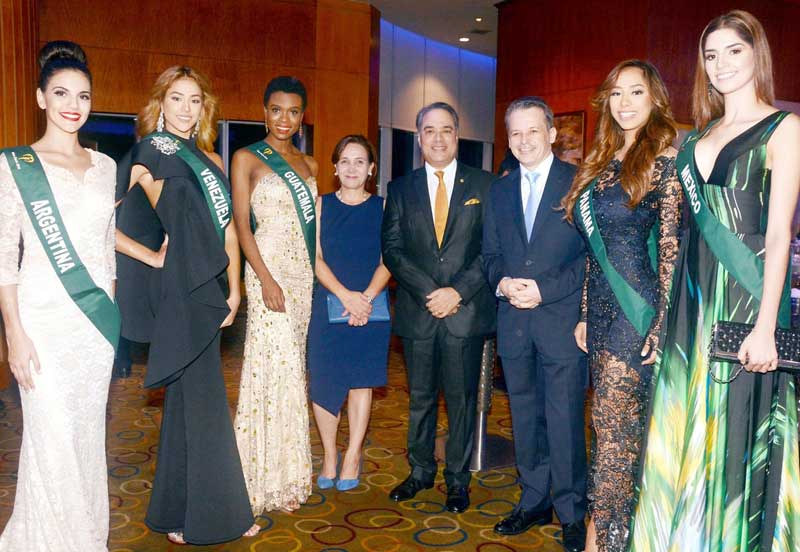 (From left) Miss Earth-Argentina 2018 Dolores Cardoso, Miss Earth-Venezuela 2018 Diana Silva, Miss Earth-Guatemala 2018 Lisa Hayet, madam Patricia Lopez of Colombia, Ambassador of Panama Rolando Guevara Alvarado, Ambassador of Colombia Victor Hugo Echeverri, Miss Earth-Panama 2018 Diana Lemos and Miss Earth-Mexico 2018 Melissa Flores
In celebration of the 20th anniversary of Pan Pacific Manila, the Embassy and Consulate General of the Republic of Panama was invited to showcase the Isthmus' rich culture and heritage through a Panamanian Dinner and Cultural Show. Under the inspiring leadership of Ambassador of Panama Rolando Guevara Alvarado and Pan Pacific Manila general manager Richard Masselin, the guests commemorated Panamanian cuisine, culture and history through an evening of sumptuous dishes and superb performances. Curated by guest Panamanian chef Hector Herrera Palmer and wine savant Pauli Antoine, the evening's lavish lineup of dish and wine pairings was enjoyed by the guests from the diplomatic and business sectors. The event was also graced by the presence of the Latin American Miss Earth 2018 candidates, who brought another level of loveliness and elegance to what was an already fantastic evening. Congratulations to ambassador Rolando Guevara Alvarado and his team at the Embassy of Panama in Manila for a successful dinner and cultural show!