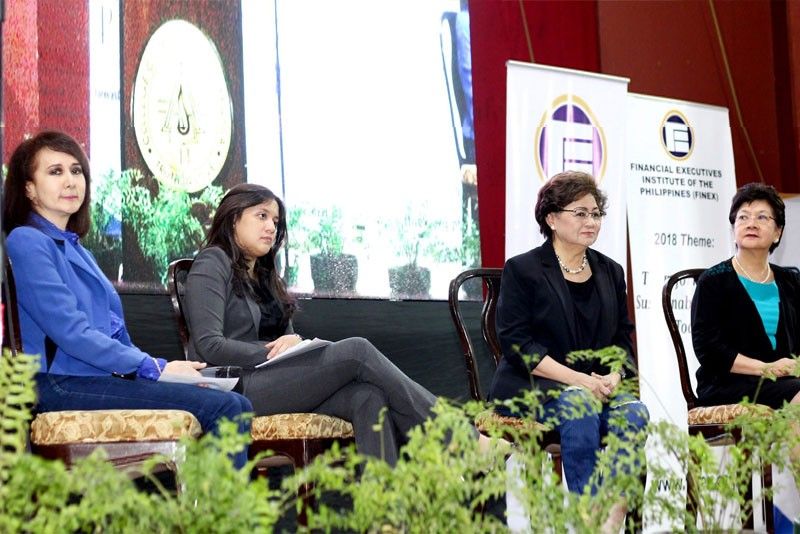 Financial Executives of the Philippines (FINEX) vice president for professional de­velopment and forum moderator Grace Palma-Tiongco, Vista Land & Lifescapes Inc. director and Vista Land Commercial Division managing director Camille Villar, W Group of Companies founder and vice chair Dr. Rosalind Wee and Philippine Na­tional Bank chairman of the board and FINEX's Florencia Tarriela lead a stimulating discussion on the role of women in business and finance
Prominent women in business and finance honored at 6th JFINEX forum
The Junior Financial Executives of the Philippines Committee, in partnership with the FINEX Women in Finance Committee, recently held the 6th JFINEX Future Business and Finance Leaders Forum at the Paraclete Auditorium of the College of the Holy Spirit Manila. With a focus on the role of women in business and finance, the event honored some of the most iconic businesswomen in the Philippines – W Group of Companies founder and vice chair Dr. Rosalind Wee, Philippine National Bank chairman of the board and?FINEX's Florencia Tarriela and senator Cynthia Villar, who was represented by her daughter Vista Land & Lifescapes Inc. director and Vista Land Commercial Division managing director Camille Villar. They shared their personal journeys and how they persevered amidst the challenges, causing them to become the successful, eminent women they are now in their respective fields. It was a truly inspiring and uplifting afternoon for everyone in attendance. Congratulations to the Junior Financial Executives of the Philippines (JFINEX) Committee for another successful forum!
RLC introduces new international branded hotel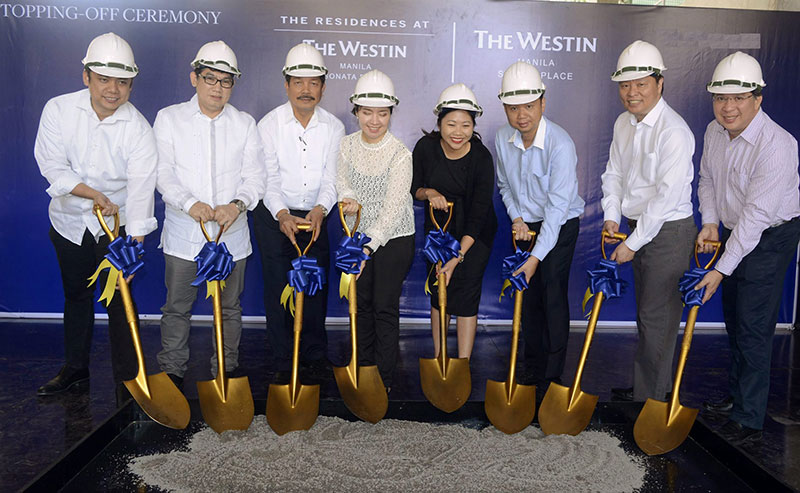 Robinsons Land Corp and Marriott International executives lead the topping-off ceremony (from left) Robinsons Hotels and Resorts vice president for project management Bernard Mariano, RLC World Engineering department head Rod de Silva and VP for project management Manny Arce, Robinsons Hotels and Resorts business unit general manager Elizabeth Gregorio, Marriott International director for hotel development Asia-Pacific Shi'ai Liang and director for project management of global design Asia-Pacific Beng Kian Lee, Robinsons Luxuria, Residences and Communities general manager Henry Yap and Robinsons Hotels and Resorts owner's representative for group international hotel brands Pops Del Rosario
Leading property developer Robinsons Land Corp under the astute leadership of president Frederick D. Go, celebrated another milestone with the topping-off of The Westin Manila Sonata Place, a premier hotel developed in partnership with Marriott International. Set to be completed in the fourth quar- ter of 2019 and located within the Sonata Place Complex in Ortigas Center, Pasig City, The Westin Manila Sonata Place be- longs to an integrated development that also features Sonata Private Residences – a completed 2-tower residential condominium, and The Residences at the Westin Manila Sonata Place. The 30-story hotel will have more than 300 rooms and top-notch amenities including a Grand Ballroom, function rooms, a spa and wellness center, and a Sky Lounge. Congratulations to Robinsons Land Corporation for this exciting new develop-ment!
RLC builds for the future and beyond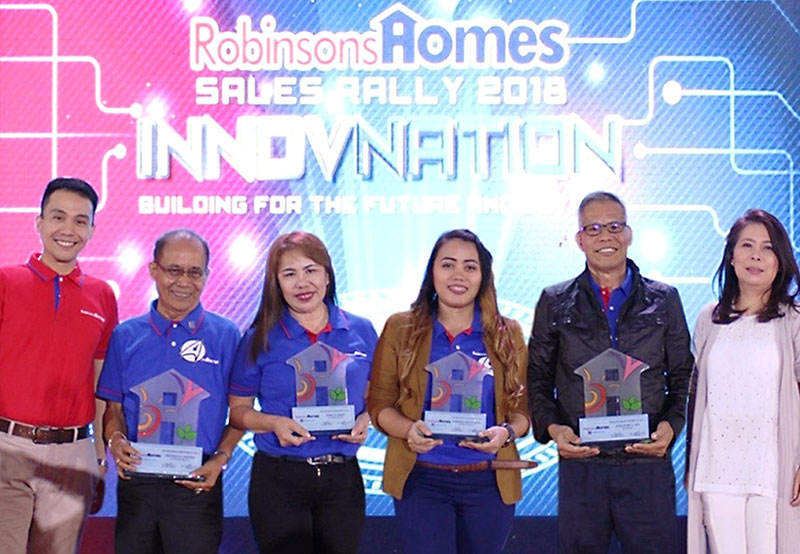 (From left) Robinsons Homes sales and marketing head Luigi Prieto, Top Business Director for CY2017 awardee FE Destajo Realty's Federico Destajo, Top Division Manager for CY2017 awardee FE Destajo Realty's Shirly Hora, Top Property Associate for CY2017 awardee FE Destajo Realty's Kimberly Mae Hora, Quality Sales Awardee for CY2017 A&V Realty's Alejandro Sia and Cora Ang Ley
Robinsons Homes, one of the four residential brands of leading property developer Robinsons Land Corp recently held its annual Sales Kickoff Event at the Grand Ballroom of Crowne Plaza Manila Galleria in Mandaluyong City. Carrying the theme InnovNation: Building for the Future and Beyond, the event was graced by the presence of RLC president Frederick D. Go, who delivered an inspirational message. One of the highlights of the event was the launch of Robinsons Homes' new and improved website. With the tagline "We R Digital. We R Homes," the brand is focused on increasing and strengthen- ing its digital presence with the aim to reach a wider network of prospective clients online. Congratulations to Robinsons Land Corp for a successful Sales Kickoff Event! For more information, visit http://www.robinsonshomes.com/.