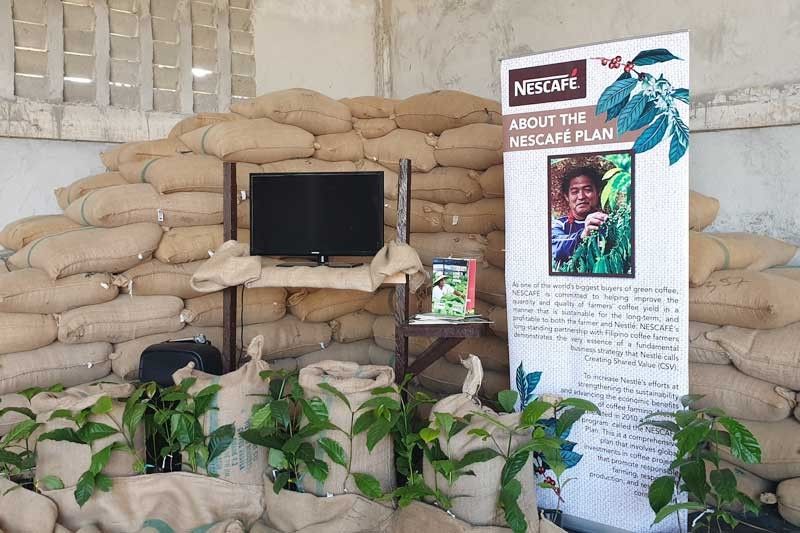 Nestle pilots digital payment service to coffee farmers
MARAMAG, BUKIDNON, Philippines — The local unit of Swiss food giant Nestle is transitioning to digital payment systems, notably for smallholder farmers, to promote financial inclusion and help improve agricultural productivity.
The move is in line with Nestle's efforts to leverage digitization to benefit its value chain and give local growers access to basic financial services.
During the last leg of its almost four-month coffee buying season here, Nestle Philippines assistant manager Benedict Ella said the company has teamed up with Globe's GCash to roll out its mobile payment scheme in October.
"Technology is something we need to embrace. There is the openness as most of our farmers are beneficiaries of of the Pantawid Pamilyang Pilipino Program so they know how to use ATMs already," Ella said.
"For the longest time, people go to banks, carrying big amounts of cash. I think it's high time that farmers be equipped with new technology. They won't have to wait for a long time before they get paid. Once they deliver, they can go home and just get a notice through text message," he added.
Ella said Nestle could pay a farmer consolidator up to P200,000 in one delivery.
"Safety is very important for us. And these farmers are travelling longer routes. It is high risk whenever they carry money with them," he added.
The mobile system will be piloted for coffee but Nestle plans to extend it to other crops it is procuring.
"We will be conducting training with farmers. Farmers are very open but sometimes, they forget the password. It's more on giving them training and teaching them how to use the technology," Ella said.
Nestle has two buying stations, one in Maramag and another in Marbel in South Cotabato. It buys approximately 65 percent of the total robusta production of the country.
All coffee beans will then be transported to Nestle's Cagayan de Oro factory to be manufactured into several variants of its signature Nescafe brand.
Coffee farming is expected to further increase amid the growing demand for the commodity.
Nestle directly buys 90 percent of its coffee requirements from farmers.
Next to petroleum, coffee is the second most widely traded commodity in the world and is produced in over 70 countries with Latin America providing the bulk and Brazil being the largest grower and seller of coffee since 1840.
The Philippines used to be the fourth largest exporter, contributing 1.3 percent of the global production.
In the 60s, the country attempted to start exporting anew but rising demand in the domestic market outstripped production resulting to the Philippines being a net importer by the mid-90s.
The annual demand of coffee in the country is at 100,000 metric tons but the annual output is only 23,000 MT per year.
In order to advance the economic benefits of coffee farming, Nestle accelerated its long-term global program called the Nescafe Plan, an initiative which promotes responsible farming, responsible production, and responsible consumption.
The Nescafe Plan is part of Nestle's commitment to help Filipino coffee farmers sustainably improve the quality and quantity of their coffee yields," said Kais Marzouki, chairman of Nestle Philippines.
Nestle has been producing and distributing quality Robusta plantlets to farmers, private investors, and the government to ensure better yielding varieties.
It also provides technology assistance on the latest farming techniques in all aspects of coffee growing, from planning coffee farms to post-harvest.
Nestle buys coffee beans directly from farmers, cooperatives or consolidators at world market prices.
The Nescafe Plan provides more immediate economic advantages to farmers through its Farmer Connect program, a direct buying system that encourages small farmers and small-scale intermediaries to sell their produce directly to Nestle, thus providing them with a ready market for their produce.
Through the Nescafe Plan, the world's largest food and drink company aims to make coffee farming a more profitable and sustainable livelihood for many coffee-dependent communities.
It seeks to create the next crop of farmers and the next coffee farming generation viable incomes that will help maintain coffee farming as a thriving industry.
Through the Nescafe Plan, Nestle Philippines assists Filipino coffee farmers to achieve socio-economic upliftment and contribute to the country's development.