Questions abound as Marcos Jr. admin wants to privatize NAIA ops
January 24, 2023 | 2:22pm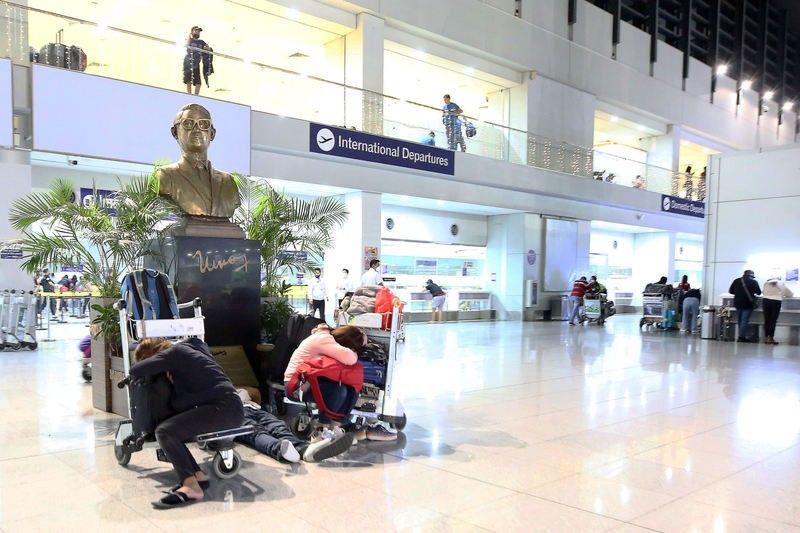 MANILA, Philippines — The Marcos Jr. administration bared its plan on privatizing the operations of the Ninoy Aquino International Airport, but analysts said the move invited more questions on its plausibility.
In a Tuesday morning briefing at the Palace, the Department of Transportation clarified that the Marcos Jr. administration wanted the private sector to handle the operations of NAIA by way of a concession agreement. This came in contrast with talks of privatizing assets of the country's major gateway.
Infrawatch PH convenor Terry Ridon said that the national government's push to privatize NAIA's operations should not take advantage of the airport outage fiasco.
"NAIA privatization proponents should not use the incident as an opportunity to push their agenda, as the [Civil Aviation Authority of the Philippines'] system failure has nothing to do with rehabilitating or privatizing NAIA," he said in a Viber message.
Talks of privatizing the country's airports were floated after operations in Philippine airspace ground to a halt on January 1, leaving thousands of passengers stranded in airport hell.
"More importantly, government has lost the momentum to rehabilitate NAIA when the Duterte government junked two [Public-Private Partnership] proposals. Instead, it should instead focus on pushing private proponents to expedite the development of both Sangley and the New Manila International Airport," Ridon added.
A consortium backed by South Korean and European companies, including Samsung Group's construction arm, secured the $11-billion deal back in September 2022 to develop the Sangley Point International Airport in Cavite, which is expected to help decongest NAIA.
That said, this was not the first time that NAIA privatization talks were floated.
A similar proposal faced a natural death in March 2020, after the consortium withdrew the proposal owing to "unresolved issues" with the national government.
The consortium counted some of the country's biggest conglomerates among its ranks, such as Aboitiz InfraCapital Inc., AC Infrastructure Holdings Corp., Alliance Global Group Inc., Asia's Emerging Dragon Corp., Filinvest Development Corp., JG Summit Holdings Inc. and Metro Pacific Investments Corp.
A few days prior to the January 2023 airspace outage, Transport Secretary Jaime Bautista even announced that the Marcos administration is preparing to entertain proposals from corporations in an effort to privatize the country's major gateway.
Details surrounding a new concession agreement, possibly undertaken by the national government and the private sector, have yet to be publicized. Ridon said that this new agreement should have the same, or even better, terms found in previous PPP proposals.
According to Ridon, the previous proposals included full rehabilitation of all existing terminals, and could have included an inter-terminal airport rail, a fixture in international airports elsewhere.
Benefits?
That said, the DOTr clarified that privatizing NAIA's operations does not automatically entail increases in terminal fees and such.
There will still be government oversight since the regulatory functions will stay with the agency, according to the department. As it is, privatizing public-owned operations has its boons and banes.
"As in any privatization, the public can expect better facilities and services but higher terminal fees," Ridon said.
For Leonardo Lanzona, an economist at Ateneo De Manila University, the national government's privatization plan opened more questions on viability.
"This seems to be a great idea, but the question is whether any private firm will be willing to engage in this," he said.
The Ateneo economist floated questions surrounding asset ownership and airport fees, which have proven to be a sore point for Filipinos in past years. Filipinos have perennially lamented the rundown state of operations inside the country's airports.
For one, the public pushed back against the P1,620 travel tax years ago, to no avail. Various inconveniences, such as countless baggage checks and long lines, have been fixtures upon arrival at an airport.
"Would there be a fixed entrance fee? Does that mean that a person who cannot pay for these services cannot use the airport? Apart from being a place to embark or disembark planes, airports are vital for a country's development as it links or mobilizes various entities together to achieve higher welfare," Lanzona said.
Ridon opined that the national government can still decide whether it would privatize NAIA, but should remember why such plan made sense in the first place.
"But the previous government's missed opportunities in privatizing NAIA will be raised today: If they failed to privatize before, what makes it compelling now, given the new upcoming airports," he said.
RELATED STORY: Business leaders split on privatizing airports after airspace outage fiasco
Lanzona offered up an alternative.
"In achieving social goals, publicly operated airports can be more cost-effective than privately owned airports, as they can be financed through government funding, grants, or subsidies rather than relying solely on user fees," he said.