Philippines seen to book weaker BOP, lower GIR next year
December 10, 2022 | 12:00am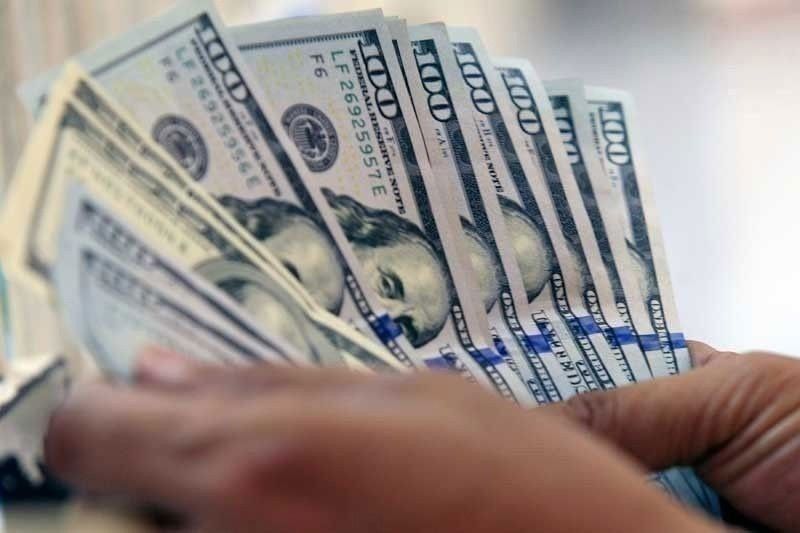 MANILA, Philippines — The Philippines is expected to post a weaker external payment position and lower foreign exchange buffer next year amid the push by government economic managers for the creation of a sovereign wealth fund.
In a virtual press briefing, Dennis Lapid, officer-in-charge of the Department of Economic Research at the Bangko Sentral ng Pilipinas (BSP), said the Monetary Board has approved the revisions to the projected balance of payments (BOP) position for this year and next.
For this year, Lapid said monetary authorities are now looking at a record high BOP deficit of $11.2 billion or 2.8 percent of gross domestic product instead of the original target of $8.4 billion or two percent of GDP.
The previous all-time high BOP deficit was recorded in 2014 at $2.9 billion or one percent of GDP.
From January to September, the BOP shortfall swelled to $7.8 billion from only $665 million in the same period last year. This came after the deficit reached $4.7 billion in the third quarter alone – a reversal of the $1.3-billion surplus registered in the same quarter last year.
For next year, Lapid said the BSP is looking at a wider BOP deficit of $5.4 billion or 1.3 percent of GDP instead of $2.5 billion or 0.6 percent of GDP.
"On the external front, the outlook remains heavily tilted toward the downside due to more subdued global growth prospects, persistent inflation pressures and with it monetary tightening by major central banks as well as emerging economies' central banks, the Ukraine-Russia conflict which continues to drive global energy and food prices," Lapid said.
The BSP official also cited the sustained pandemic supply chain disruptions, most prominently the lockdowns in China amid its COVID-zero policy that continues to create ripple effects on global supply chains.
The BOP is the difference in total values between payments into and out of the country over a period.
A deficit means that more dollars flowed out to pay for the importation of more goods, services and capital than what came in from exports, remittances from overseas Filipino workers (OFWs), business process outsourcing (BPO) earnings and tourism receipts.
The BSP still expects a four percent growth in OFW remittances for both 2022 and 2023, but now expects lower inflows from foreign direct investments (FDI) as well as foreign portfolio investments or hot money.
Lapid said the central bank lowered its projected FDI inflow to $8.5 billion from the original target of $10.5 billion for this year and to $11 billion instead of $12.5 billion for next year.
Likewise, it expects a lower hot money inflow of $3.5 billion instead of $4.5 billion for 2022 and $5 billion instead of $6.7 billion for 2023.
For the current account , the BSP sees a slightly lower but a record high shortfall of $20.5 billion or 5.1 percent of GDP instead of $20.6 billion or five percent of GDP for this year and $19.9 billion or 4.7 percent of GDP instead of $20.1 billion or 4.5 percent of GDP next year.
The current account consists of transactions in goods, services, primary income and secondary income. This account measures the net transfer of real resources between the domestic economy and the rest of the world. A deficit occurs when a country spends more on imports than it receives on exports.
Lapid said the Monetary Board is now looking at a smaller gross international reserve (GIR) level of $93 billion instead of $99 billion for this year and $93 billion instead of $100 billion for next year.
The reserves serve as the country's foreign exchange buffer during external shocks as the amount is being used to defend the peso.
Latest data showed that the GIR level remained steady at $93.95 billion as of end- November from $94.03 billion in October. This is equivalent to 7.5-month's worth of imports of goods and payments of services and primary income.
Meanwhile, the economic managers of the Marcos administration, including Finance Secretary Benjamin Diokno, Budget Secretary Amenah Pangandaman, Socioeconomic Planning Secretary Arsenio Balisacan, and BSP Governor Felipe Medalla issued a joint statement calling for the establishment of the Maharlika Wealth Fund.
The fund, according to them, would redound to growth and help achieve economic transformation toward inclusivity and sustainability.
"Given all these, we urge the immediate enactment of the bill creating the Maharlika Investments Corp. Let us not delay economic progress. Let us not deprive our people of this opportunity for prosperity," the economic managers said.
Diokno is pushing for the possible inclusion of the country's foreign exchange buffer as a possible source of fund since the contribution from both Government Service Insurance System and Social Security System are now voluntary and not mandatory.