UnionBank profit surges to P8.3 billion in first half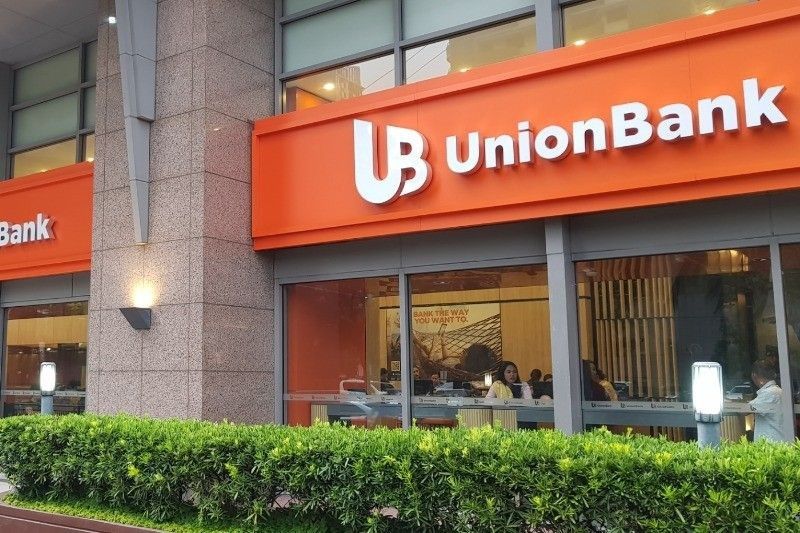 MANILA, Philippines — Union Bank of the Philippines almost doubled its profit to P8.31 billion in the first half from the revised P4.27 billion in the same period last year on the back of the double-digit growth in revenues and a sharp drop in provision for potential loan losses arising from the COVID-19 pandemic.
The nearly 95 percent jump in net income from January to June was attributed to the 15.4 percent increase in net revenues to P25.5 billion from P22.1 billion in the same period last year.
"Our strong first half performance and good trajectory gives us confidence that we will hit our full year targets," UnionBank chief financial officer and treasurer Jose Emmanuel Hilado said.
As a result, the listed bank's return on equity increased to 15.9 percent in the first six months from 9.2 percent in the same period last year.
UnionBank's net interest income increased by 7.1 percent to P14.82 billion from P13.84 billion due to an improved interest margin of 4.7 percent from 4.4 percent, while non-interest earnings jumped by 29 percent to P10.66 billion from P8.27 billion on the back of strong trading gains, higher foreign exchange income, as well as higher fees and commissions.
The bank's provision for bad debts fell by 56.4 percent to P3.05 billion in the first half of this year from P6.99 billion in the same period last year as the bank's non-performing loan (NPL) ratio improved to 4.7 percent.
"Our NPLs are on a declining trend driven by proactive efforts to manage credit risk," Hilado said.
UnionBank's loan book slipped by 4.2 percent to P336.9 billion in the first half from P351.6 billion a year ago due to muted corporate and commercial credit demand amid the uncertainties brought about by the resurgence of COVID-19 infections.
The bank also reported a 28 percent surge in current account/ savings account (CASA) deposits to P299.6 billion.
"Net interest margins continue to improve coming from strong CASA growth as a result of strong digital customer take-up. Other income sources also continue to provide uplift on revenues," Hilado said.
UnionBank president and chief executive officer Edwin Bautista said the listed bank recorded its highest sign-ups and highest digital accounts opened in a single quarter in the second quarter, bringing total registered digital users to 2.9 million.
"We continue to witness the market's affirmation of our digital strategy. Digital transactions are also up 2.4 times year-on-year to more than 7.2 million for the month of June," Bautista said.
Wholly-owned Union Digital Bank received the the Bangko Sental ng Pilipinas approval to operate as a digital bank.
"This will be our main vehicle to reach the unbanked and underserved market towards fulfilling our goal of inclusive prosperity," Bautista said.
The assets of UnionBank stood at P733.6 billion in end-June, down from P751.5 billion in end-June last year. It is the country's ninth largest lender in terms of assets as of end-2020.