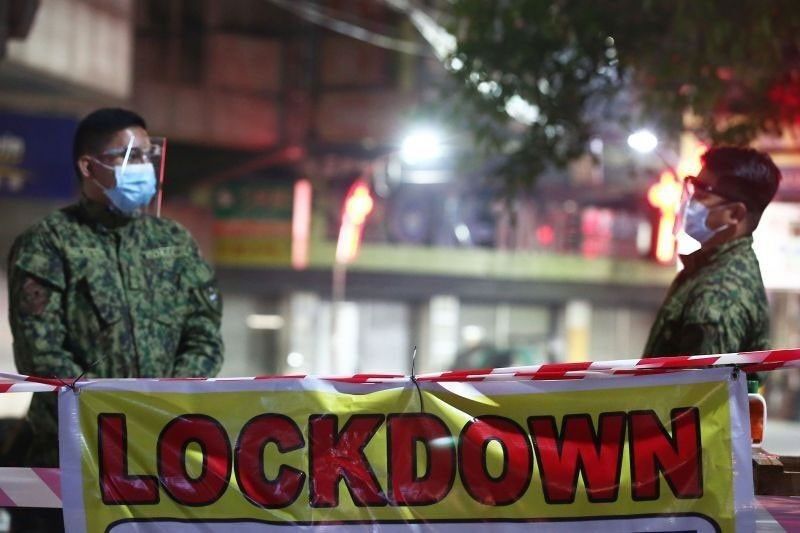 Police and barangay officers man the entry and exit points of Barangay 297 in Manila at Monday midnight, March 22, 2021 after it was placed under a four-day lockdown along with 12 other barangays.
The STAR/Miguel de Guzman, file
Lockdowns erode employment gains
MANILA, Philippines — Even as more sections of the economy adapt to a more challenging environment, gains in employment cannot be sustained with the repeated imposition of strict lockdowns, according to the Department of Finance (DOF).
The March Labor Force Survey (LFS) of the Philippine Statistics Authority (PSA) showed unemployment easing to 7.1 percent in March, the lowest level since the beginning of the pandemic last year.
This corresponded to 3.44 million Filipinos without work, fewer than the 4.2 million Filipinos actively looking for work as of February when the unemployment rate was at 8.8 percent.
The March LFS, however, was conducted before the reimposition of strict lockdown in the National Capital Region and four provinces from March 29 to May 14, which is expected to reverse gains in employment.
"The employment numbers are encouraging and we still have to do more to bring down both the unemployment and underemployment rates. It is imperative, therefore, that the health risks posed by the epidemic be managed effectively and efficiently and its transmission arrested," said Finance Undersecretary and chief economist Gil Beltran in an economic bulletin over the weekend.
"Otherwise, government will be forced to transition from risk management stance to risk avoidance posture and make the difficult and painful decision of imposing much stricter quarantines measures. In this instance, in the process of attempting to stem the spread of the disease, the risk of inadvertently killing the proverbial patient increases. Such potential unpleasant double-effect situation should be avoided, " he said.
In March, the underemployment rate, pertaining to the proportion of workers looking for more hours of work, also eased to 16.2 percent or 7.34 million Filipinos from 18.2 percent or 7.85 million in February.
The country's labor force participation rate, or those aged 15 years and above, improved to 65 percent of the total working age population from 63.5 percent. This was equivalent to 48.77 million economically active Filipinos, whether employed or looking for work.
This brought the total employment rate to 92.9 percent, translating to 45.33 million employed Filipinos as more jobs were created in the agriculture and industry sectors.
The labor force participation rate has increased since October last year as more new graduates participated in the economy following the reopening of more business sectors.