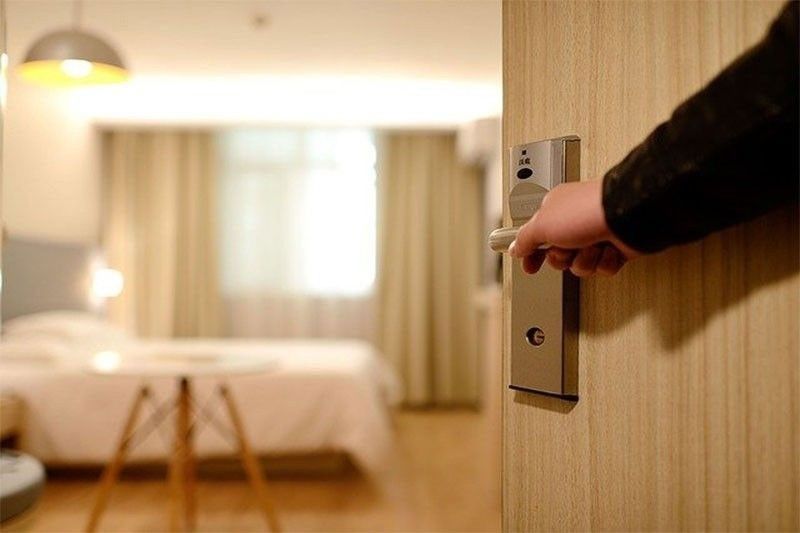 This file photo shows a hotel room.
Pixabay/David Lee
Quarantine hotels prohibited from holding work meetings
MANILA, Philippines — Hotels in general community quarantine (GCQ) areas that are operating as quarantine facilities are not allowed to hold or accept any event or essential work meetings, according to government guidelines.
This is based on joint memorandum circular 2020-003 or the guidelines governing the conduct of essential work meetings and events in areas under GCQ.
Under the joint memorandum circular, hotels that are being used as quarantine or isolation facilities for repatriated overseas Filipino workers (OFWs) or returning overseas Filipinos or as quarters for health workers, as well as standalone meetings, incentives, conventions and exhibitions (MICE) venues are prohibited from holding or accepting events and essential work meetings.
In contrast, among the permitted venues in GCQ areas include restaurants, restaurants attached to hotels, ballrooms and function halls within hotels, venues within hotel premises and mall atria.
The guidelines stressed that not more than 30 percent of the maximum venue capacity shall be occupied.
Among the allowed essential work meetings and events include workshops, training, seminar, congresses, conferences, conventions, board meetings, colloquia, conclaves, symposia, and consumer trade shows or product launch events.
"Non-essential events shall be strictly prohibited," the guidelines stressed, referring to gatherings of social or political nature and purpose, such as but not limited to sporting events, birthday parties, holiday celebrations, corporate anniversaries, political events, weddings, and family reunions.
Last month, the Inter-Agency Task Force on the Management of Emerging Infectious Diseases (IATF-EID) issued Resolution 87, allowing the conduct of some types of business meetings in GCQ areas at limited capacity.
"The DOT deems this latest development as very encouraging for the country's MICE sector to spur forward and backward linkages in tourism and other sectors concerned," Tourism Secretary Bernadette Romulo-Puyat said earlier.
"While the pandemic has taught organizers to embrace technology, some gatherings in a physical set-up can now proceed, with health and safety protocols in place. We are optimistic that the country's MICE sector shall start to thrive again, with the support of the DTI in crafting the implementing guidelines," she said.
Prior to the new IATF resolution, DOT Administrative Order 2020-003 states that MICE events may only be conducted in areas under modified general community quarantine, provided, that the total number of participants, including MICE suppliers, exhibitors, and venue operators, shall be limited to 50 percent of the maximum venue capacity.
MICE is among the 10 tourism products under the DOT's National Tourism Development Plan (NTDP) and is a major job and revenue contributor to the tourism sector.
The DOT emphasized earlier the important role of the MICE sector in the recovery of the tourism industry, driven by its potential to boost the local economy.
"MICE tourism plays a critical role in our recovery with its innate characteristic to boost local economy, generate employment and directly benefit tourism entrepreneurs," Puyat said earlier.
In July last year, the DOT released guidelines for the operations of MICE facilities, organizers, as well as suppliers.
DOT also issued Memorandum Circular 2020-006, which lay out the health and safety guidelines for the operations of MICE organizers and venues or facilities under the "new normal."