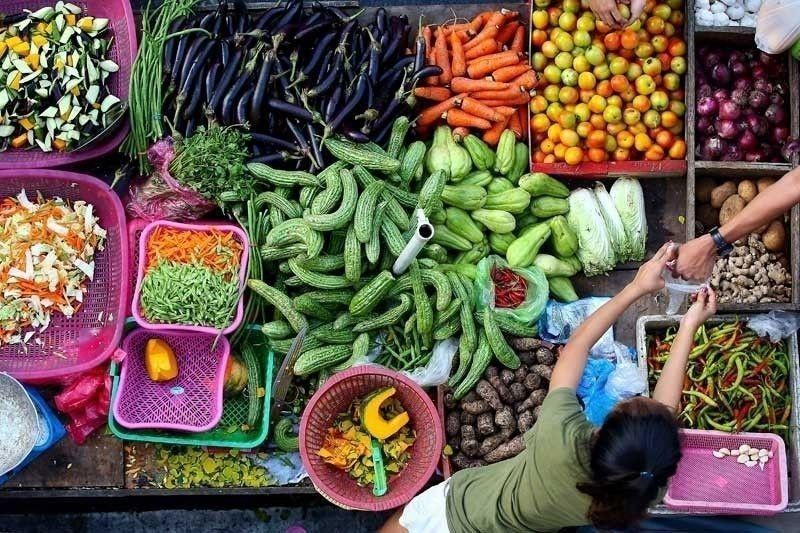 Despite the latest uptick, inflation averaged 2.6% year-on-year in 2020, well within the central bank's 2-4% target after earlier months recorded slower price increases because of crippled demand from lockdowns.
STAR/File
December inflation pick-up threatens recovery despite subdued 2020
MANILA, Philippines (UPDATE 12:25 p.m., Jan. 5) — Consumer prices accelerated for the third straight month in December, stoking worries that a projected recovery from the pandemic this year would be hampered by rising prices which nonetheless ended 2020 at a manageable level.
Inflation, as measured by consumer price index, hit 3.5% year-on-year last month, the fastest in nearly 2 years or since February 2019's 3.8%, the Philippine Statistics Authority reported on Tuesday.
Despite the latest uptick, inflation averaged 2.6% year-on-year in 2020, well within the central bank's 2-4% target after earlier months recorded slower price increases because of crippled demand from lockdowns.
Still, inflation ended 2020 slighly faster than 2.5% in 2019 and this is telling especially when one considers that consumer demand, typically driving prices, was generally subdued after business disruptions from the health crisis resulted into joblessness and lowered family incomes.
But monetary officials had largely discounted the belated price upticks as supposedly "transitory" and something that will go away once food supplies stabilize from crop damage incurred from typhoons. On Tuesday, Benjamin Diokno, governor of the Bangko Sentral ng Pilipinas (BSP), confidently reiterated this position.
"The recent uptrend in inflation is seen to be largely transitory, reflecting the short-term impact of weather disturbances," he told reporters in a Viber message.
"The overall balance of risks to future inflation continues to lean toward the downside owing mainly to the continued uncertainty caused by the pandemic on domestic and global economic activity," he added.
Whether or not Diokno's assessment materializes remains to be seen however. But Nicholas Antonio Mapa, senior economist at ING Bank in Manila, did not share Diokno's optimism. "Given that prices tend to be sticky downward, especially for food, inflation should remain at around 3% for the first quarter," he said in an email exchange.
What is sure is that rising costs of basic goods and commodities do not bode well for a much-needed rebound from the pandemic. With faster inflation, consumers, whose spending represents 70% of the economy, will have to shell out more to spend and prompt economic activity.
Food drives inflation
In December, apart from typhoon disruptions, the African swine fever choked supply chains of meat, whose prices rose an average 10% year-on-year also on account of seasonal demand for products like lechon during the holidays. The rate was up from 8.2% in November, data showed.
Rice prices also inched up 0.1% on-year last month, the first time in 19 months, mainly due to higher grain costs in Metro Manila. Prices of vegetables likewise went up a faster 19.7% year-on-year from November's 14.6%. Excluding volatile food and power rates, core inflation was slower at 3.3% annually.
"The trend in the last 4 months, starting September, is that prices are rising. Well, the cause of this is food, you have meat, particularly pork, then you have vegetables and fish. Also adding to this is transport because inflation is high in transport," National Statistician Claire Dennis Mapa, not related to the ING economist, told reporters in a briefing.
"We are seeing that we are having an upward trend in the last 4 months," he added.
Indeed, transport costs remained elevated 6 months even after lockdowns were relaxed and some public transport were permitted to ply roads. Tricycle fares alone soared 47.2% year-on-year, while their jeepney counterparts picked up 6.6% from year-ago levels. Bus fares rose 4.4%.
Restaurant goods and services also posted higher inflation of 2.5% year-on-year, but ING's Mapa said this hardly indicates people dining out and spending again as warranted to put the economy back on track.
By location, inflation in Metro Manila slowed to 3.2% in December from 3.5% in November. However, outside that area, prices picked up by 3.7% year-on-year from 3.3%. Bicol and Cagayan Valley regions, areas battered by typhoons, posted the fastest inflation at 6.6%.
Risks ahead
PSA's Mapa said he hopes inflation "will start to go down in January" when holiday spending that also contributes to prices would have already tapered off. But Emilio Neri Jr., lead economist at Bank of the Philippine Islands, disagreed, saying that "since inflation is a year-on-year gauge, there is no seasonality" such as holidays that would help explain the current pick-up in prices.
Going forward, risks abound for inflation to quicken further. For instance, a new round of alcohol and tobacco taxes just took effect this month following the 2018 tax reform law. This, in turn, would inevitably translate to higher selling prices.
The same goes for home prices. Developers had warned passing additional costs to buyers once more homes get levied a 12% value added tax. Starting this year, houses sold for over P2 million will be charged a VAT, a change from the original ceiling of P3.2 million, below of which houses sold were previously tax exempt.
"The inflation rate for December did come on the higher side but it cannot be tied to the economic recovery as such," Sanjay Mathur, Southeast Asia economist at ANZ Bank, said.
"I feel that inflation will not accelerate over the next few months even if growth recovers," he added.
Editor's note: Added analysts' comments, inflation breakdown by commodity group and region