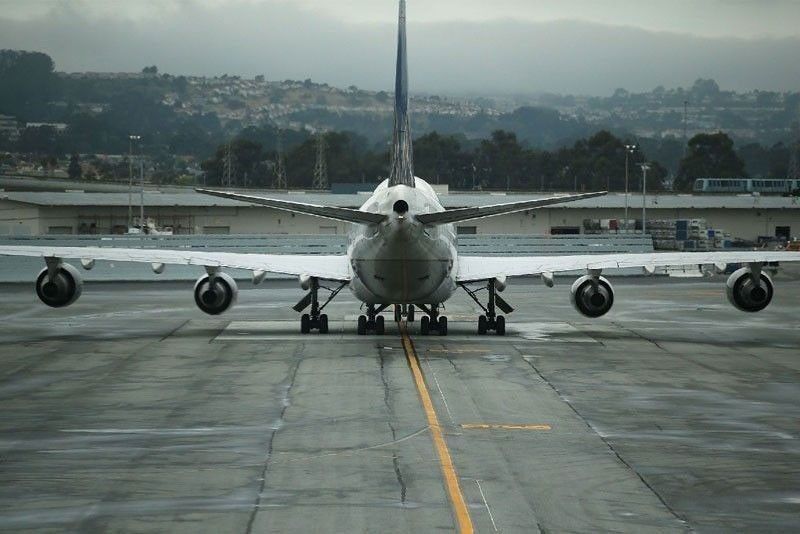 Aviation think-tank CAPA-Center for Aviation said easing domestic travel restrictions and testing requirements would be key to reviving the country's airlines industry.
AFP/File
Philippine aviation faces turbulent ride to recovery
MANILA, Philippines — The Philippine aviation sector is facing a turbulent ride on its way to recovery with travel restrictions still in place, industry experts said.
Aviation think-tank CAPA-Center for Aviation said easing domestic travel restrictions and testing requirements would be key to reviving the country's airlines industry.
"However, this is a tricky balancing act for state and central governments as such a move could also raise the risk of another surge in COVID-19 cases," it said in an email to The STAR.
CAPA said airlines face a balancing act as they must reduce their fleets to cut costs in the short-term, but also need to retain enough flexibility to respond when the post-COVID recovery phase gathers momentum.
"The Philippines market will no doubt return to being highly competitive – it is just a question of when that occurs," it said.
But so far, CAPA said airlines in the country have not benefitted from the same rate of domestic demand recovery as the other carriers in the Asia-Pacific region.
The domestic capacity recovery in the country has generally lagged many markets such as Vietnam, China, New Zealand, Thailand, Japan, and South Korea, among others.
CAPA, however, said the Philippines is still in a better situation than Hong Kong or Singapore, which have no domestic networks.
"Although there are some encouraging signs emerging, a dramatic rebound will be elusive while domestic travel restrictions remain in place," it said.
CAPA cited budget carrier Cebu Pacific as being in a good position in the immediate post-pandemic environment as leisure and short-haul travel are likely to recover sooner.
However, it said that long-haul travel demand to the country may actually be more resilient than elsewhere as it typically includes a higher proportion of expatriate workers returning home, as well as tourists and business travelers.
For its part, the International Air Transport Association (IATA) believes the recovery of the industry is going to be long and difficult.
IATA is not expecting international passenger volumes to return to 2019 levels until 2024 at the earliest.
It said key to the recovery is to have borders reopened safely without the need for quarantine measures.
"We urge the Philippine government to recognize and implement testing prior to departure in order to do away with the need for quarantine upon arrival in the Philippines," IATA regional vice president for Asia Pacific Conrad Clifford said in an email to The STAR.
"This will increase the inbound passenger capacity as compared to the current process of testing on arrival in the Philippines and the subsequent quarantine while awaiting the test results. Key to this is to adopt a standardized approach to manage test results and vaccination certificates, and this is where the IATA Travel Pass comes into the picture," he said.
The IATA Travel Pass will incorporate a global registry of health requirements that enables passengers to find accurate information on travel, testing, and eventually vaccine requirements for their journey, as well as a global registry of testing or vaccination centers to help them find testing centers at their departure location which meet the standards for testing and vaccination requirements of their destination.
It will likewise include a lab app that enables authorized laboratories and test centers to securely share test and vaccination certificates with passengers, as well as a contactless travel app allows passengers to create a digital passport, receive test and vaccination certificates and verify that they are sufficient for their itinerary, and share testing or vaccination certificates with airlines and authorities to facilitate travel.
In addition, Clifford said the Philippine government should look at establishing travel bubbles as a means to re-open borders and remove quarantine measures and reboot international travel in the region and beyond.
"With vaccines gradually being made available, the government also needs to prepare the country's transport, storage and delivery capabilities for vaccines. We look forward to working with the government and supporting all stakeholders in the efficient transportation of the vaccine across the Philippines," he said.
For Asia- Pacific, IATA expects losses to hit $31.7 billion in 2020 and $7.5 billion this year, based on the assumption that borders re-open with testing and the widespread availability of a vaccine.
IATA said it is important that the Philippine government continues to provide financial relief for the airlines.
It pointed out, however, that these relief measures should not increase the debt burden of airlines.
"Airline restructuring, the introduction of a vaccine, the reopening of important international borders, and easing domestic travel requirements should all ensure that 2021 is a better year for airlines in the Philippines than 2020, from a financial and operational perspective," CAPA said.