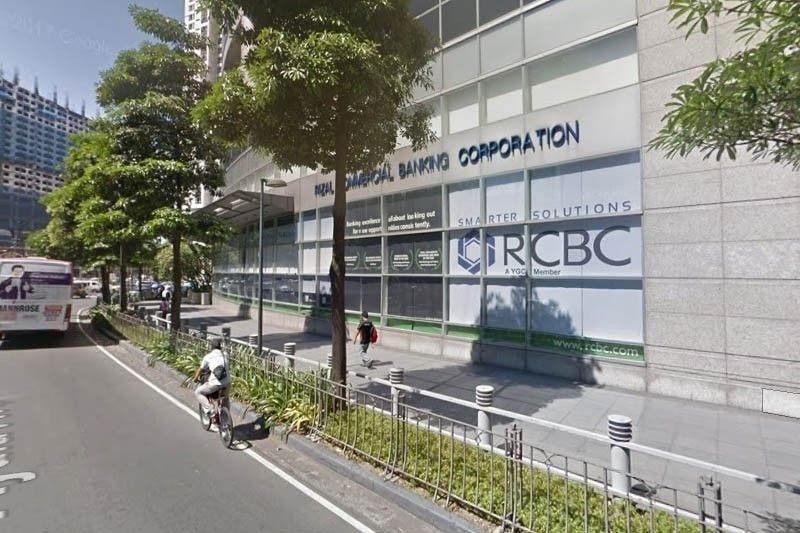 RCBC has tapped Credit Suisse to act as sole global coordinator for the issuance.
Google Streetview
RCBC to raise $300 million from foreign debt market
MANILA, Philippines — Yuchengco-led Rizal Commercial Banking Corp. (RCBC) is returning to the offshore debt market to raise as much as $300 million to augment its funding for loans under its sustainable finance framework.
The bank, in a disclosure to the Philippine Stock Exchange (PSE), said its board of directors approved a proposal to issue non-cumulative unsecured subordinated capital securities that are eligible as additional Tier 1 capital under Basel 3.
The country's eighth largest lender in terms of assets said the net proceeds of the fund raising would be used to support RCBC's loans to customers and other general corporate purposes in line with eligible green and social categories as defined in its sustainable finance framework.
RCBC has tapped Credit Suisse to act as sole global coordinator for the issuance.
The Yuchengco-led bank said the Bangko Sentral ng Pilipinas (BSP) still needs to approve the planned issuance of additional Tier 1 capital securities.
Early this year, RCBC further hiked the size of its medium term note program to $3 billion from $2 billion. It has been regularly updating its offshore borrowing program, launching $1 billion in 2011 and doubling to $2 billion in January 2018.
The bank, owned by the family of the late taipan Alfonso Yuchengco, raised $1.59 billion of the total amount, including $275 million in January 2012, followed by $243 million in January, and another $320 million in October 2015, $300 million in March and $150 million in April 2018, and another $300 million via the issuance of sustainability bonds last September.
The listed bank has also been tapping the onshore debt market for much needed funds after it more than tripled its bond and commercial paper program to P100 billion, instead of P30 billion, to further strengthen the its regulatory liquidity ratios.
Just last April, RCBC raised P7.05 billion when it braved the domestic debt market via the issuance of two-year fixed rate bonds amid the coronavirus disease 2019 or COVID-19 pandemic.
Last year, RCBC raised P30.5 billion via the issuance of bonds, P7.5 billion via the issuance of fixed-rate bonds, P15 billion via the issuance of the first peso-denominated Association of Southeast Asian Nations (ASEAN) green bonds, and another P8 billion from the maiden ASEAN sustainability bonds.
The latest bond offering brought the total amount raised by RCBC from all bonds issuances since 2019 to P37.55 billion, a record amount demonstrating investors' confidence in the various initiatives of the bank to fuel growth.