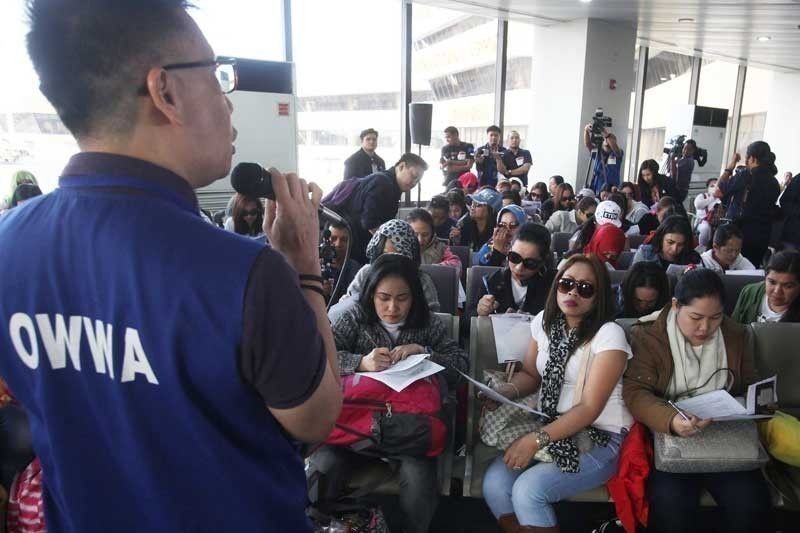 The number of displacements among migrant workers would be equivalent to 21.7% of the 2.3 million OFWs recorded as of September 2018.
The STAR/Joven Cagande, File
Virus shock seen to throw 500K migrant workers out of jobs
MANILA, Philippines — More than a fifth of overseas Filipino workers (OFWs) are seen to lose their jobs this year, while new deployment would nearly grind to a halt in an unprecedented shock from the coronavirus to the Philippines' economic lifeline.
To date, Labor Undersecretary Claro Arellano told a congressional hearing on Friday 302,216 migrant workers had either been "displaced, distressed, stranded or infected" by the lingering global pandemic. An additional 200,000 would likely be added to the figure "for the next 3 to 6 months," he said.
The gloomy projection meant the government is preparing for at least 21.7% of 2.3 million OFWs as of September 2018 to be left jobless by shuttered businesses and cities locked down by the pandemic this year. A group promoting OFW welfare has sounded the alarm over families also dependent on OFW earnings.
"The real problem right now is how will our OFWs support their and their families' needs. We are hearing reports of congestion in our quarantine facilities here, while abroad, our OFWs have resorted to relying on each other to help cope the situation," Lawrence Castillo, coordinator at Migrante International, said in a phone interview.
"At the very least, our OFWs still working abroad need to be provided very basic protective gears. The government should work doubly hard to reach out to them and deliver relief packages, instead of making them go to labor offices there," he added.
According to the Overseas Workers Welfare Administration (OWWA), around 42,000 OFWs were so repatriated, while another 45,000 may return home for the next two months.
Hiring dives
On top of OFWs getting unemployed, hiring had also taken a hit even as the government has exempted non-health workers from flying out during the lockdown. In April alone, Bernard Olalia, administrator of the Philippine Overseas Employment Administration, said only 47 land-based Filipino workers flew out to new jobs, compared with 30,592 same month last year.
Including rehires, 377,784 land-based workers had been deployed from January to April, down 38.6% year-on-year. The pain is worse for seafarers whose deployment sank 53.5% annually to 79,818.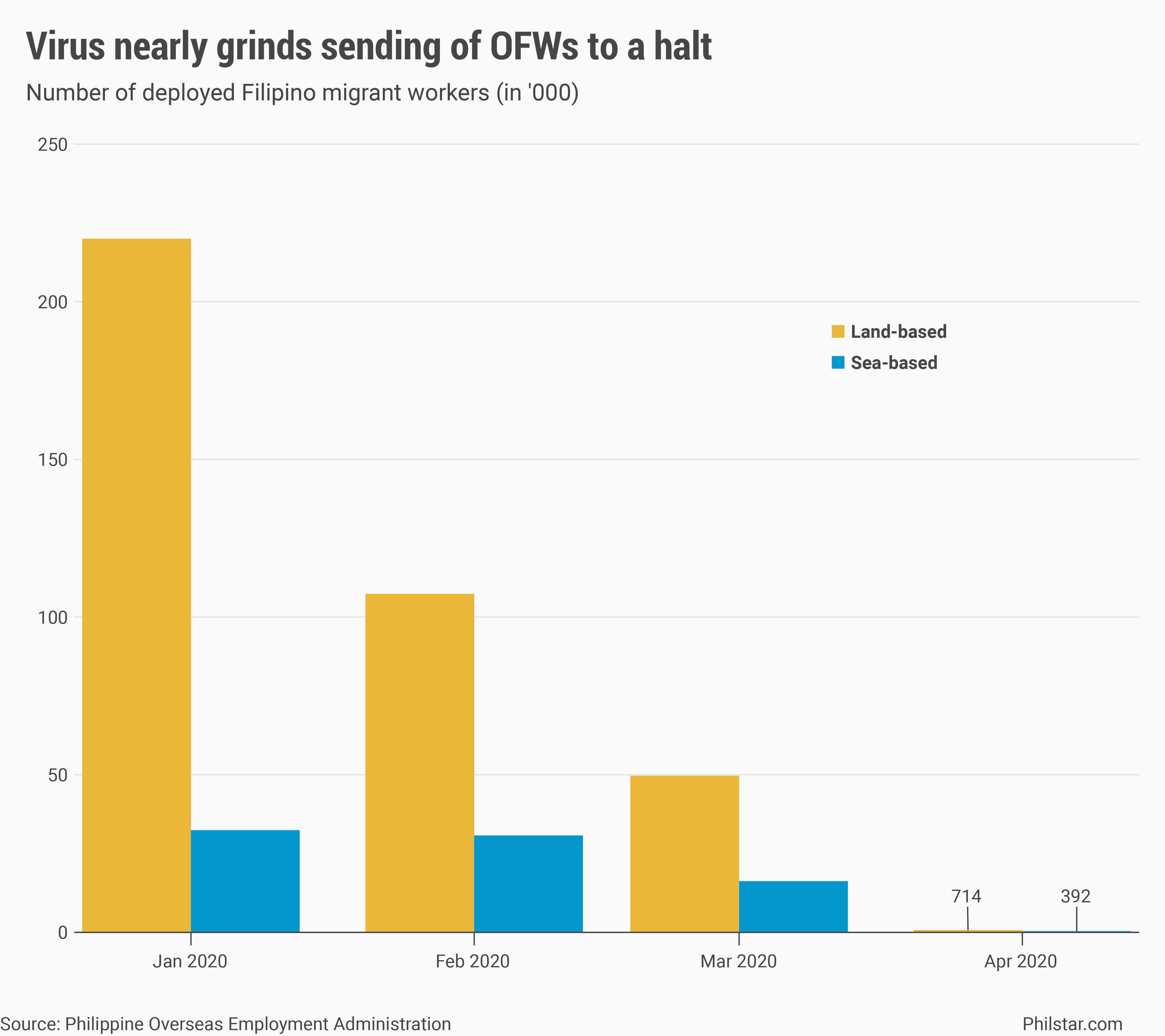 "One of our greatest fears involving our overseas Filipinos are confirmed by these numbers. These knock-on effects on employment are now more compelling than its impact on the country's balance of payments," Emilio Neri Jr., lead economist at Bank of the Philippine Islands, said in an online exchange.
"Displaced overseas Filipinos make an even bigger case for speedy and more meaningful fiscal response to avoid an unmanageable spiral of employment, income, demand and output," he added.
Remittances sent by Filipinos abroad, which hit a record-high of $30.1 billion last year, provide dollars to the economy used to service our external obligations like debt and imports. In February, central bank data showed these inflows have started to weaken, posting 2% growth year-on-year which was slower than 6.6% in January.
Alice Visperas, director of international labor affairs at the labor department, said the agency is preparing a "recovery plan" post-pandemic for displaced workers. Under the plan, 15,000 jobs are being readied for migrant workers in jobs "assisting our nurses."
Jobs will come on top of other government subsidies such as start-up capital for business and educational assistance.
So far, the labor department has rolled out cash aid to OFWs who have returned home. Each worker may apply and qualify for a one-time assistance of P10,000, although last May 12, the Abot Kamay ang Pagtulong for OFWs was suspended after assisting 109,182 workers due to lack of funds.
"We need more to save lives and livelihoods," Neri said.