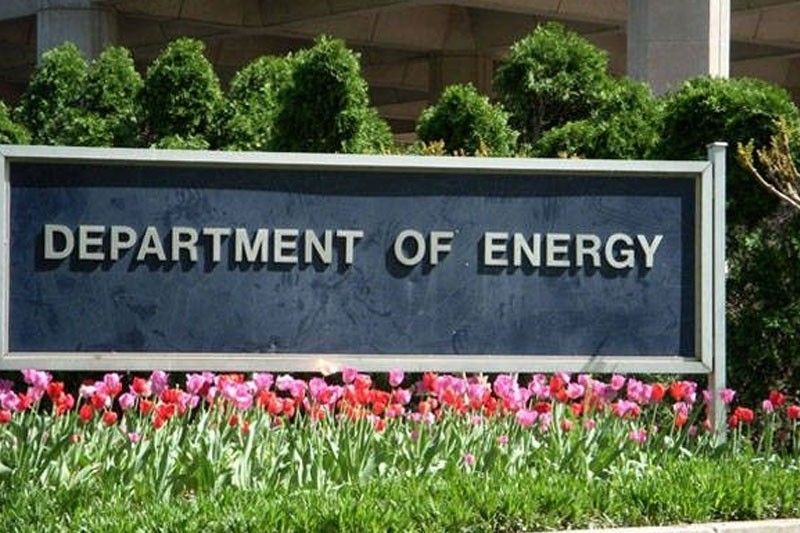 The Department of Energy has been pushing for the establishment of a strategic oil reserve for the country since 2018.
STAR/File
Budget, technical issues hinder Philippines oil stockpile
MANILA, Philippines — Budgetary and technical constraints hinder the government from importing oil to build its strategic petroleum reserve amid the collapse in global oil prices.
The Department of Energy (DOE) has been pushing for the establishment of a strategic oil reserve for the country since 2018.
In a memorandum issued in December 2019, the DOE had ordered state-run Philippine National Oil Co. (PNOC) to begin plans on establishing the government's stockpile program.
In a phone interview, DOE-Oil Industry Management Bureau (OIMB) director Rino Abad said a feasibility study is required since PNOC is a government-owned and controlled corporation that needs to seek concurrence from Congress for its spending.
"PNOC was ordered to have a feasibility study first then draft an execution plan because they need to ask for a budget," Abad said.
To date, PNOC is conducting the feasibility study.
"We're hoping they could finish the study. We endorsed this to Assistant Secretary Leonido Pulido for follow up," Abad said.
Last week, US oil prices traded in negative territory for the first time ever—hitting up to minus $37 per barrel—as the coronavirus pandemic continued to induce a supply glut globally.
Abad agreed that this is the best time for the government to procure cheap fuel, but the government can only move as much as its budget.
"To the extent of the actual allocation and availability of budget, this is the best time to conduct procurement of fuel since the price is very low," he said.
But the DOE's current budget allocation is only for the first and second quarter.
"As much as you want to procure for the whole year, we still don't have the budget for the rest of the year," Abad said. "As much as we would like to have procurement, we are limited by the budget."
Energy Secretary Alfonso Cusi assured the public that the country has more than enough fuel supply to support the economy, particularly for the coronavirus disease 2019 or COVID-19 relief efforts.
"We ensured the continuous delivery of oil products," he said. "For oil stations, they continue to provide the necessary services so our frontliners can move."
The DOE's assessment of the country's oil inventory showed supply is well over the minimum requirement per fuel product being observed by the oil industry.
"Latest minimum inventory requirement (MRI) report showed refiners, direct importers of finished products without refining capacity and liquefied petroleum gas (LPG) importers are compliant," Abad said.
Oil companies have a minimum inventory of 30 days for combined supply of crude oil and finished products, and household LPGs have a supply for at least seven days.
But as of April 20, LPG stocks are good for 16.4 days, while the combined finished products are enough for 29.17 days and crude oil for 22.2 days for a total of 51.37 days, DOE data showed.
The quarantine that was imposed in Luzon starting mid-March has forced government and private offices, public transport, schools, large businesses, small establishments and industrial plants to stop operating.
While oil firms continue to operate on a larger scale, the lockdown has also limited the operations of small oil gas retailers in affected areas.
At least 10 percent of fuel retailers, particularly in areas that are not in main roads, have closed down, Cusi said.
"It is better, commercially advantageous for them to temporarily close down. At least 10 percent of retailers have reported they closed shop," he said.
The collapse in oil prices, however, is still seen as a positive boost for import dependent countries such as the Philippines, based on the industry assessment of the Independent Philippine Petroleum Companies Association (IPPCA).
"The latest wire report on US crude hitting negative territory for the first time in history is providing oil dependent economies like the Philippines a reason to be optimistic," IPPCA president Fernando Martinez said.
"Even if the said negative pricing of up to minus $37 per barrel are applicable only for immediate deliveries till May to avoid shortage of oil storage by oil producers, this negative pricing even for a very short term transaction further sent shockwaves to the oil producing countries already saddled with excess oil even before COVID 19 pandemic came into play," he said.
Since the coronavirus pandemic shocked the world, local oil prices have gone down by P15.07 per liter for gasoline, P15.09 per liter for diesel and P19.75 per liter for kerosene year-to-date, based on DOE's oil monitoring.
Given this price situation, IPPCA believes that now is a good time to resume construction and infrastructure projects.
"The massive collapse in international oil prices can benefit local construction, transport, and logistics industries as soon as the government decides to resume and gradually normalize these industries" Martinez said.
"As most industry players in the world predict, unless consumer demand is restored, oil prices will remain weak for the rest of the year unless bigger production cuts of more than 10 million barrels agreed this coming May between Russia and Saudi Arabia are negotiated," he said.
Resuming construction and infrastructure projects could also help the government in augmenting tax collections, which is necessary to scale up its war chest against COVID 19.
"The demand contraction of up to 60 percent for oil products in the last 30 days will certainty impact both on VAT and specific tax collection for the first 6 months of the year, with possible recovery for the second half of 2020," Martinez said.
"Provided that the necessary safety protocols for workers and employees are in place and strictly observed, IPPCA supports the phased lifting per area of the transport, contraction, manufacturing, hospitality, and real estate industry," he said.