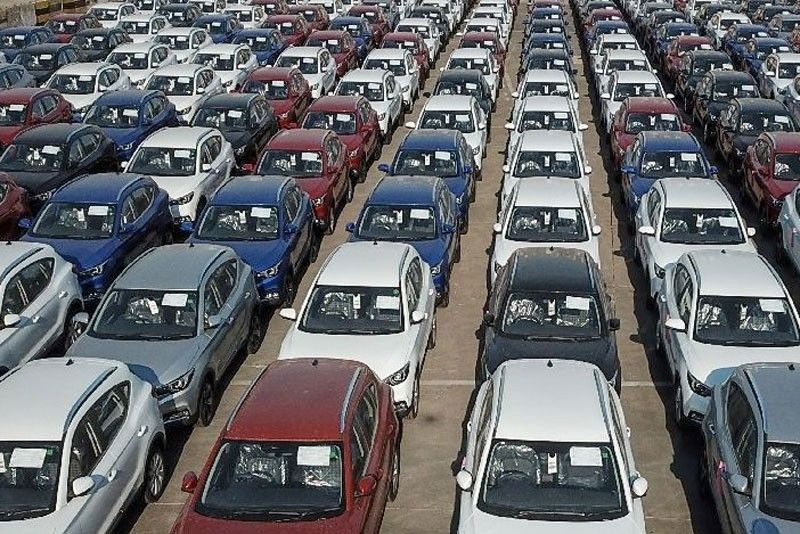 For next year and onward, the Fitch unit has a more bullish outlook for passenger vehicle and commercial vehicle sales.
AFP/File
Fitch unit cuts forecast for Philippines vehicle sales
MANILA, Philippines — A unit of Fitch group trimmed its forecast for Philippine vehicle sales this year as movement restrictions to slow the spread of the coronavirus disease 2019 or COVID-19 are expected to dampen demand for vehicles.
For next year and onward, the Fitch unit has a more bullish outlook for passenger vehicle (PV) and commercial vehicle (CV) sales.
"We now expect new vehicle sales to increase by a marginal 0.4 percent to reach 371,456 units versus our previous forecast of a 7.4 percent increase," Fitch Solutions country risk and industry research said in a report.
Last year, the Chamber of Automotive Manufacturers of the Philippines Inc. (CAMPI) sold 369,941 vehicles.
As a large proportion of vehicle sales come from Luzon, the Fitch unit said the enhanced community quarantine in place in the area would negatively impact the whole country's automobile sales performance.
Car makers with a large presence in the Philippines such as Toyota Motor Philippines Corp. and Mitsubishi Motors Philippines Corp. have closed their Luzon dealerships to comply with the enhanced community quarantine.
For the rest of the country, the Fitch unit said consumers are expected to put on hold purchases of non-essential goods like cars as they prioritize essential goods during the pandemic.
"With rising economic uncertainties negatively impacting consumers' future employment expectations as well as businesses capital expenditure decisions, spending will be prioritized to more essential goods and services. This will create further downside risks to the country's vehicle sales market in 2020," the Fitch unit said.
Full implementation of government's Public Utility Vehicle modernization program (PUVMP) to replace aging vehicle fleet by June this year also faces headwinds.
This, as the Fitch unit said the enhanced quarantine measure in Luzon, which suspended all forms of public transport, would lead to holding off planned fleet renewals as transport operators face significant losses.
"We have therefore revised our forecast for CV sales lower for 2020 as we now expect the segment to increase by one percent to reach 263,351 units versus our previous forecast of a 7.7 percent expansion over the same period," the Fitch unit said.
Over the longer term, the PUVMP is expected to boost demand for light commercial vehicles, and in turn, feed into higher sales figures for CV sales for the period of 2021 until 2029.
The government's Build Build Build program, which involves numerous infrastructure projects in the power and transport sectors, is also seen to provide support for CV demand within the forecast period.
CAMPI's CV sales reached 260,744 units last year.
On PV sales next year, the Fitch unit said it is more optimistic citing pent up demand due to delayed purchases and higher incomes as the country's long term economic outlook remains favorable.