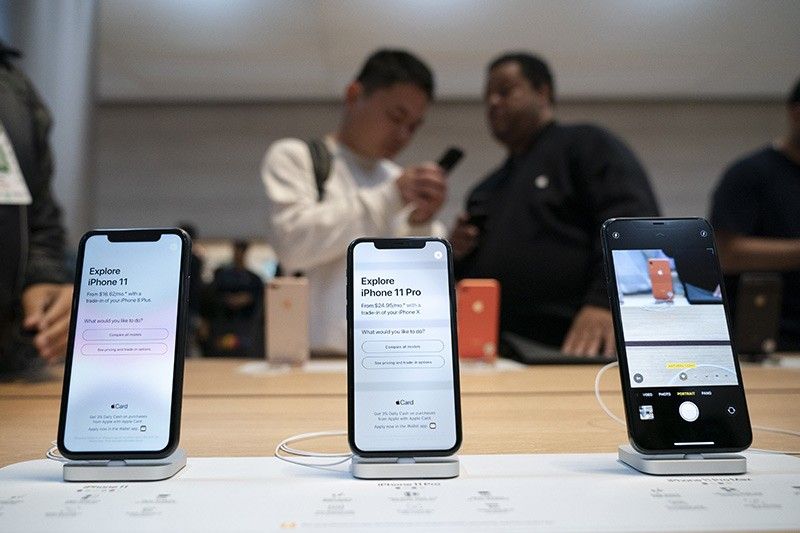 iPhone 11 and iPhone 11 Pro models are displayed as customers shop at Apple's flagship 5th Avenue store on September 20, 2019 in New York City. Apple's new iPhone 11 goes on sale today at the grand re-opening of the 5th Avenue store.
Drew Angerer/Getty Images/AFP
A look at iPhone 11 prices in countries that sell them the cheapest
MANILA, Philippines (Updated October 10, 8:46 p.m.) — Apple unveiled its much-anticipated iPhone 11 in September with some surprises, a cheaper starting price, longer battery life and an improved camera.
At the launch last September 10, the tech giant revealed that the entry-level cost of its new phone is at $699, down from $749 for the iPhone XR a year ago even as many premium devices are being priced around $1,000.
Apple unveiled three versions of the iPhone 11 including "Pro" models with triple camera and other advanced features starting at $999 and $1,099, touting upgraded specs including ultra wide camera lenses.
The new iPhones are "jam-packed with new capabilities and an incredible new design," Apple Chief Executive Officer Tim Cook told a launch event in Cupertino, California.
The iPhone 11 will be available in the Philippines on October 25 and will cost P47,990 for the 64GB model. Pricing for the iPhone 11 Pro, meanwhile, will start at P67,990 and the 11 Pro Max at P73,990.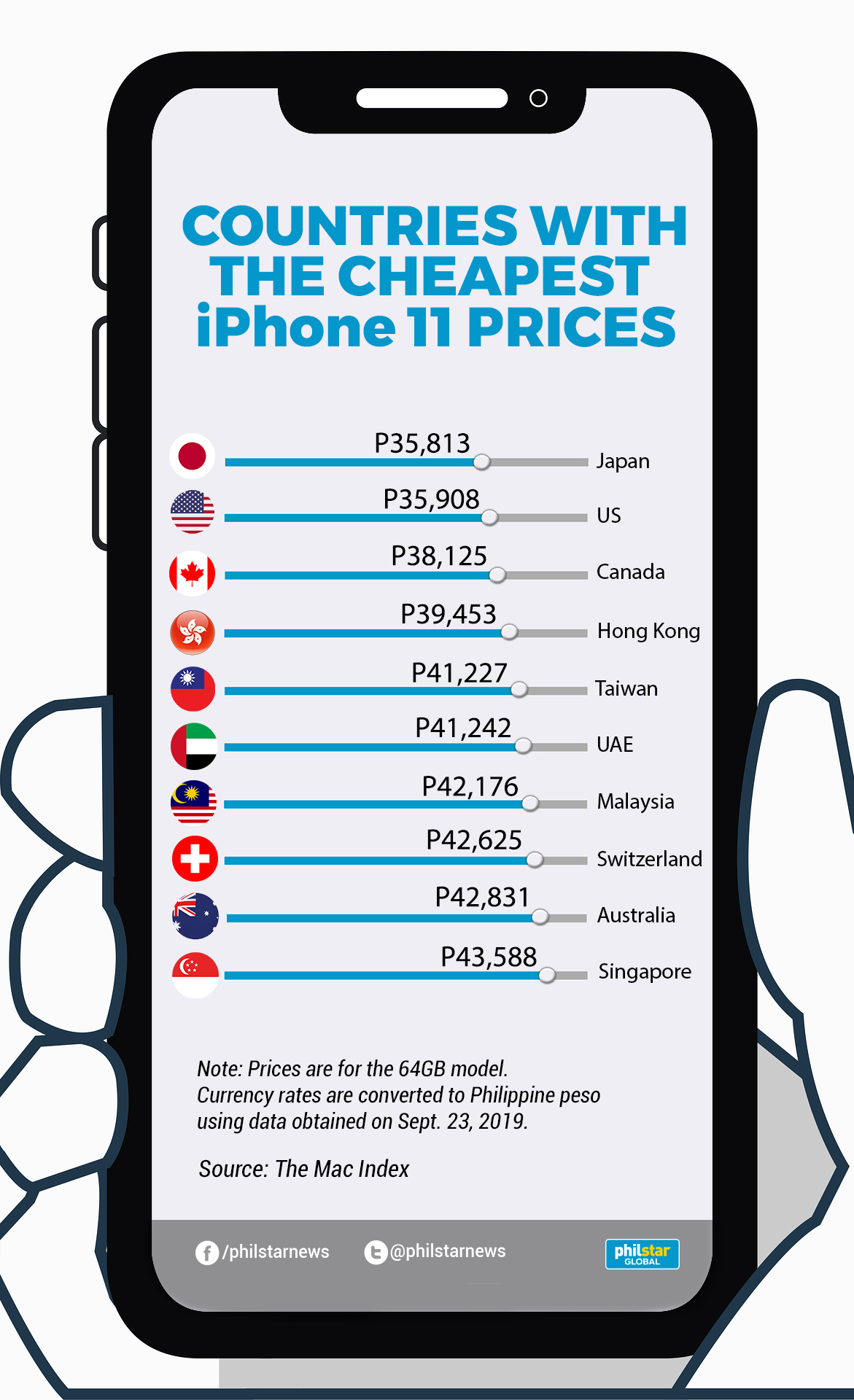 A comparison of listed prices, however, shows that people in these 12 countries will pay less for the new Apple phone.
(Can't see the full list? Click here.)
Is it worth the buck?
Despite touting a cheaper entry-level price, some tech watchers are arguing that the iPhone 11 is offering minor upgrades to the iPhone XR that it may be better to save a few thousand pesos and buy the latter which now costs P40,990.
If you are interested in getting up to four more hours of battery life and a better camera, however, you might want to pay attention.
A look at the specs showed that the battery life of an iPhone 11 lasts up to one hour longer than the iPhone XR. An iPhone XR allows up to 16 hours of video playback, while the iPhone 11 lets you enjoy up to 17 hours. The iPhone 11 Pro, however, boasts video playback of up to 18 hours and the 11 Pro Max up to 20 hours.
(Can't see the full list? Click here.)
As for cameras, the iPhone XR has a single 12MP wide camera and 1080p HD video recording at up to 60 frames per second or fps.
An iPhone 11 has dual 12MP ultra wide and wide cameras with night mode. The iPhone 11 Pro and 11 Pro Max, meanwhile, has triple 12MP ultra wide, wide and telephoto cameras with night mode.
The iPhone 11, 11 Pro and 11 Pro Max all have the same HD video recording specs of 1080p at up to 60 fps as the iPhone XR.
Apple also flaunted the A13 Bionic chip used in the iPhone 11, 11 Pro and 11 Pro Max which, it said, provides a 20% performance boost compared to last year's smartphones. The iPhone XR is powered by the A12 Bionic chip.
(Can't see the full list? Click here.)
— Graphics by Mikas Matsuzawa with AFP