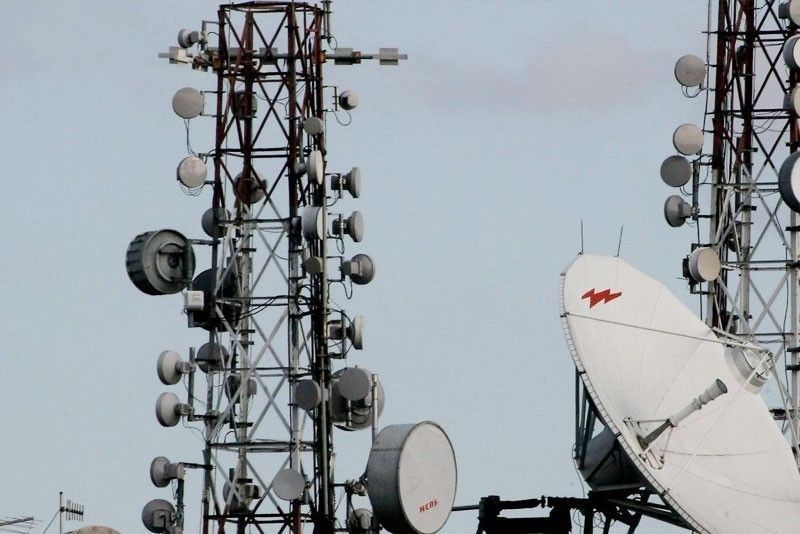 Major telco players Globe Telecom Inc. and Smart Communications Inc. have a similar deal with the Armed Forces of the Philippines, allowing them to build facilities inside military camps.
File
Amid security concerns over third telco, military says Globe, Smart have towers in bases
MANILA, Philippines — Responding to growing fears on the agreement of the military with a China-linked conglomerate, the Armed Forces of the Philippines said major telco players already have facilities inside military camps in the country.
Brig. Gen. Edgard Arevalo, the military's spokesperson, said allowing Dito Telecommunity, composed of China Telecom, Chelsea Logistics and Udenna Corp., to build towers inside military bases "is no different from the privilege" given to Globe Telecom Inc. and Smart Communications Inc.
"They (Globe and Smart) have their facilities also within our camps... Some of them are in Camp Aguinaldo, in Fort Bonifacio, in Tarlac, in the Philippine Military Academy, in Fort del Pilar, in Sangley," Arevalo told ANC's "Headstart" Thursday.
There are existing memoranda of agreement with Globe and Smart, which are similar to the deal with Dito, the spokesman added.
Similar to the AFP agreement with Dito, there is no cash payment for the rental of Globe and Smart in putting up facilities inside military bases.
"The rentals will be paid in kind, like training and facilities," Arevalo said, adding that the telco players provide the experts for the training.
Arevalo stressed that the AFP is also concerned on security issues over the involvement of China Telecom in building towers inside military camps.
"The inherent predisposition of the AFP is towards security. You grant us and you trust us when we say that we're going to ensure that the national secrets and the security of our communications will be guarded and protected," Arevalo said.
In a statement released earlier this week, Dito tried assured the public that it has a plan to protect national cybersecurity interests of the Philippines.
"As a Filipino company, DITO Telecommunity will, of course, comply with all government requirements," the country's third telco player said.