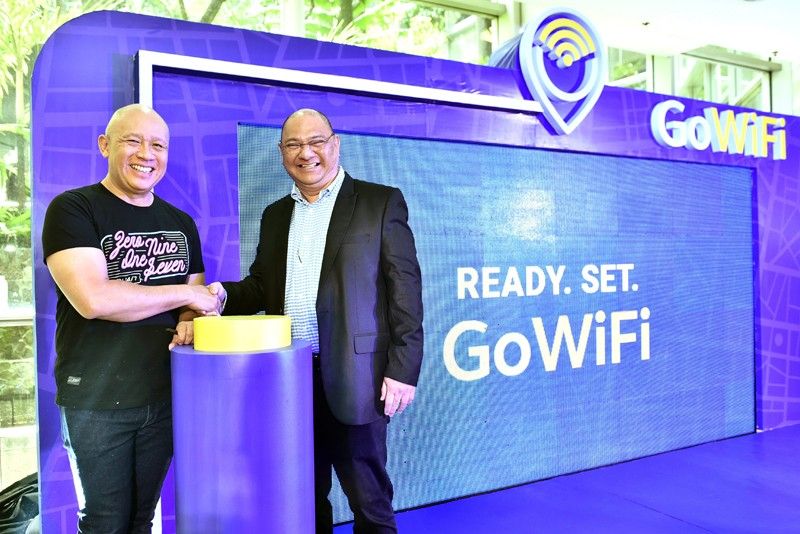 GoWifi Powers Araneta Center: Globe has partnered with Araneta Center to allow more customers to enjoy free WiFi services using Globe's high-speed GoWiFi service. In photo, Globe president and CEO Ernest Cu (left), with Araneta Center SVP for business development John Peter Chick Castelo, cemented the milestone partnership recently in one of the metro's biggest lifestyle complexes, Araneta Center.
Globe investing $60 million for cybersecurity
Ayala-led Globe Telecom Inc. is not letting its guard down for potential cyber attacks, as it has poured in $60 million to bolster its cyber defense capabilities.
Globe said it has invested about $12 million annually in the last five years in cybersecurity to protect the data of its customers and to comply with the Data Privacy Act.
"We have stepped up our cybersecurity efforts by making massive investments to expand our cybersecurity infrastructure and capabilities," Globe information security officer Anton Bonifacio said.
Such amount of investments are essential, according Bonifacio, as cybersecurity becomes a necessity.
"Cybersecurity may sound like alien terminology, but business leaders must recognize it as a vital part of customer service given the growing threats to data privacy in this digital age," Bonifacio said.
Bonifacio said many businesses are still not investing enough in cybersecurity and see it as unnecessary cost.
He said such mindset could potentially expose customers of the company to the growing and evolving threats online.
"We have been adopting world-class technologies and standards, and working with the best global partners and experts to ensure our customers are protected from cyber threats now and in the future. At the end of the day, our top priority remains securing and protecting our customers' data," Bonifacio said.
Aside from its investments, Globe said it also provides a round-the-clock support to its enterprise customers from its Advance Security Operations Centers and follows the National Institute of Standards and Technology framework that helps business identify, protect, detect, respond and recover from cybersecurity threats online.
"Since 2012, we have put in place various measures to comply with the Data Privacy Act like the formal assignment of a chief information security officer as data protection officer, in-depth privacy impact assessments with partners, and completion of various cybersecurity programs and projects to make sure we're able to defend our customers against cyber threats," Bonifacio said.
Globe has earmarked P63 billion or about $1.2 billion for capital expenditures this year, 45.5 percent higher than the P43.3 billion or about $821 million capex spent last year.
The company recorded a core net income of P12 billion in the first half, up 18 percent from the same period last year, while posting consolidated service revenues of P72.9 billion, 13 percent higher year-on-year.