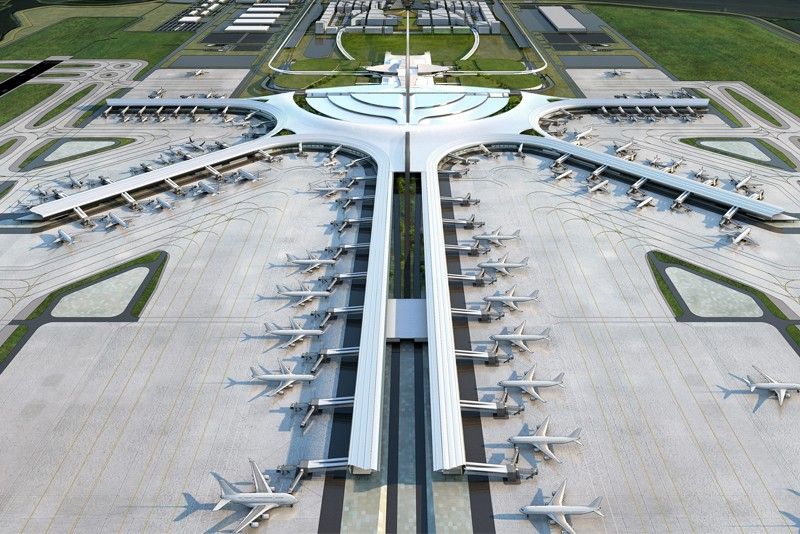 San Miguel has confirmed they have received the notice of compliance to all the requirements. The next step is to calendar the formal contract signing. Then the notice to proceed with the construction will be given.
Finally... a new decent airport
DEMAND AND SUPPLY
-
Boo Chanco
(The Philippine Star) - September 6, 2019 - 12:00am
If P-Noy had acted on the San Miguel proposal to build the new international airport in Bulacan in 2014, we would be using it by now. If the Duterte administration had acted quickly in 2016, we would be using the first phase by next year.
That's all in the past, it is true, but our bureaucrats are simply incapable of learning lessons from the past. Indeed, until I see the final contract signed, I will not believe the opponents of the project within and outside government have given up trying to stop its construction.
San Miguel has confirmed they have received the notice of compliance to all the requirements. The next step is to calendar the formal contract signing. Then the notice to proceed with the construction will be given.
Hopes are high at San Miguel that the long journey for approval of the $15-billion world-class gateway in Bulacan, to be known as the New Manila International Airport, is pretty much over. They are eager to break ground before the end of this month, assuming the formal contract signing happens in the next two weeks.
They have the money ready… indeed, they have been paying commitment fees to banks for quite a bit of time already.
We were shown a location map of the site in Bulacan. I didn't realize it is almost next door to Navotas. Access to it should be easy with all the transport infrastructure they will build at the same time the airport is being constructed.
An expressway along the shoreline connecting to North Bay Boulevard will get airline passengers into Manila in a matter of minutes.
There will be another access expressway connecting with NLEX that is just eight kilometers away. That connects to Stage 3 connector road leading to Makati, BGC and points south. An extension to an existing PNR line is also planned.
Ramon Ang is sure they can complete phase one with two parallel runways four years after groundbreaking. This early, several major regional airlines, as well as budget airlines, are reserving gates, and there will be 180 gates available.
The airport will have the latest in 5G technology, something that is only now being tested by Huawei in the Shenzhen International Airport. The Bulacan airport will be a digital airport, the first of its kind in the country.
Currently, wireless network technologies utilized by airports include cellular networks, WiFi and Bluetooth, among others. But airports, as transportation hubs, are the industry trend-setters for digital transformation.
Due to rapidly increasing passenger traffic and the emergence of new services, airport networks require enhanced connectivity capabilities. These include ultra-high speed, large-scale connectivity, security and efficiency, mobility, and scalability.
They explained to me how digital airports work in my visit to the Huawei R and D Center in Shenzhen last week.
For example, it is amazing how facial recognition will be used to facilitate passenger check-in and boarding. Baggage can be tagged to a passenger's face preventing it being taken out of the airport by anyone else.
It can also track down passenger movement within the airport. Those who linger in the shopping area or the restaurants even after the boarding call has been made can be easily located. Security is also enhanced.
Amazing is the word that describes what can be done in a digital airport, and Mr. Ang promises his airport will have all of those wonderful things.
Asked about flooding in the area, Mr. Ang assures that they are taking care of that too. They have engineering solutions to ensure his airport won't be flooded, unlike NAIA which flooded last week. Bulacan towns prone to flooding will also find relief.
RSA is excited at the prospect of seeing much of Bulacan province brimming with economic activities once they start building and after they inaugurate the airport. He has invested heavily in Bulacan from the supply of bulk water from Angat to LRT 7, and the expressways that will support the airport.
On his other infra projects, RSA hopes Skyway Stage 3 will be completed by year end. Its Plaza Dilao off-ramp along Quirino Avenue in Manila was opened to motorists on July 22.
Speaking of Stage 3, San Miguel has also sought approval of its plan to run a BRT on it from Monumento to Susana Heights. Articulated hybrid buses will comfortably ferry commuters at a fare lower than existing transports at regular or predictable schedules. It will ease pressure on MRT3, LRT1 and the chaotic EDSA bus situation.
There will be eight stops along the BRT route with a major stop in Pandacan, where the Petron oil depot used to be. The Pandacan hub will also be a major terminal of buses and other transport modes and will have a "bagsakan" market for farm produce.
I can't think of any reason why this BRT proposal shouldn't quickly get the green light. It offers an immediate relief to long suffering commuters.
Listening to RSA was a morale booster on the day a former NEDA chief wrote about the failure of Build Build Build to live up to the promise, something I have written about here too.
Ciel Habito: "Our continuing overall economic slowdown since 2016 suggests that government's Build Build Build (BBB) program has so far failed to give us the economic stimulus it was meant to provide.
"Public construction had already slowed down from a 28-percent annual growth in 2016 to 19.7 percent last year, and the budget impasse swung it into negative (-22.1 percent) this year so far.
"Heaven forbid, but the Build Build Bust I expressed apprehension about early on might yet play out, unless we do things differently."
What Ramon is doing is exactly doing things differently… using private sector resources for public good.
I know President Duterte is excited to see RSA's infra plans materialize. Hopefully, the rest of government feels the same way so our dreams for decent infrastructure will see the light of day.
Boo Chanco's e-mail address is bchanco@gmail.com. Follow him on Twitter @boochanco