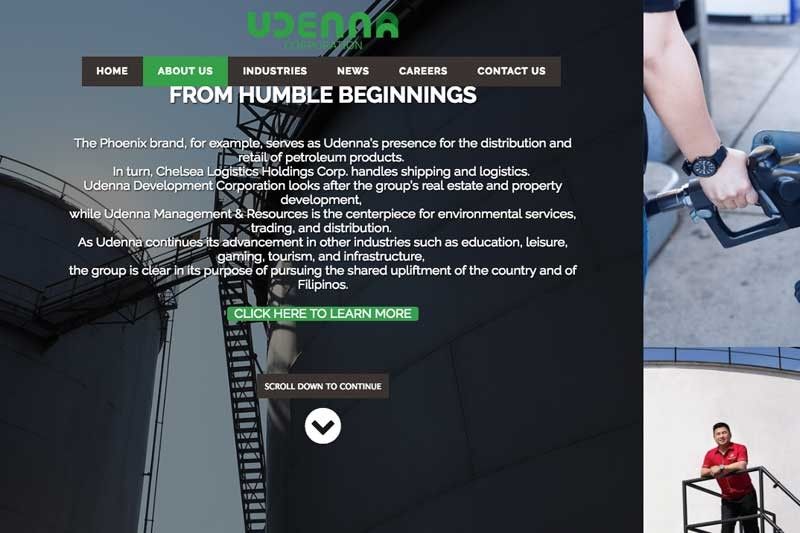 However, current interest bearing loans alone declined to P993.9 million from P5.45 billion a year ago, while non-current interest-bearing loans grew to P7.59 billion from P2.4 million.
Udenna loans rise to P8.5 B in 2018
MANILA, Philippines — Udenna Corp., the fast-growing holding company of Davao-based businessman Dennis Uy, incurred interest bearing loans of P8.5 billion as of the end of 2018, higher than the P5.46 billion recorded in 2017.
However, current interest bearing loans alone declined to P993.9 million from P5.45 billion a year ago, while non- current interest-bearing loans grew to P7.59 billion from P2.4 million.
Of the total loans, Udenna has a P7.97 billion 10-year omnibus loans and security agreement with Sy-owned Banco de Oro with the interest rate ranging from 6.34 to 6.58 percent, according to a regulatory filing.
Part of it was used to fully settle Udenna's roughly P5 billion loan to Bank of China.
The BDO loan is payable annually starting this month or on July 25.
"The OLSA requires the company to maintain a minimum debt service coverage ratio of 1:0: 1:0 and a maximum debt-equity ratio of not more than 3:0: 1:0. As of Dec. 31, 2018, the company met the required debt covenants as required by the loan agreement," Udenna said in its filing.
Another loan is with Asia United Bank Corp., amounting to P600 million.
Completing the balance of P8.5 billion are auto loans amounting to P700 million.
Udenna incurred P384 million in interest on its loans in 2018, up from P344.5 million the previous year, data showed.
The Bank of China loan, which Udenna settled by borrowing from BDO, was an ombnibus financing and security agreement to refinance certain bank loans obtained by the company in relation to its acquisition of Udenna Investments B.V. in August 2016.
"Total facility obtained from BOC amounted to $229 million of which $130 million was already drawn down. The $20 million was subsequently repaid in the same year. The loan is payable in lump sum in 2018 and bears an interest equivalent to the fixed margin of 3.2 percent per annum plus the London Interbank Offered Rate (LIBOR)," Udenna said.
The OFSA requires the company to ensure that the ratio of its earnings before interest, taxes, depreciation and amortization to its debt service is not, at the end of each measurement, less than 1.0: 1.0 and the total borrowings of certain related parties do not at the end of each measurement period, exceed five times the respective related parties' EBITDA.
For this particular loan, Udenna breached its key ratio covenant, but management said it has no material impact on its financial statements.
The loan is secured by the pledged shares of KGLI-NM in Nenaco, but in 2018, the collaterals were released to Udenna following the full settlement of the loans through another bank facility.
Udenna's different subsidiaries, meanwhile, has P140 billion in liabilities as of end-2018 compared to roughly P50 billion at end-2017. No details of these liabilities were immediately available.
The company reported a net income of P4.9 billion last year which included one time gains of P4.2 billion. This marked a 224.7 percent increase from the P1.5 billion earnings registered in 2017.
Excluding the one time gains – resulting in the disposal of investment in subsidiaries – of P4.2 billion, income for 2018 amounted to P700 million, down from P1.5 billion a year ago.
Udenna chairman Dennis Uy did not give any comment on his company's latest financial statements.
An analyst said the debt level "seems reasonable."
"It is just a matter of whether or not the company has a strong cash flow to service the debts," the analyst said.
Udenna has different subsidiaries such as Phoenix Petroleum Holdings Inc., Chelsea Logistics Holdings Corp., Udenna Management & Resources Corp., and Udenna Infrastructure Corp.