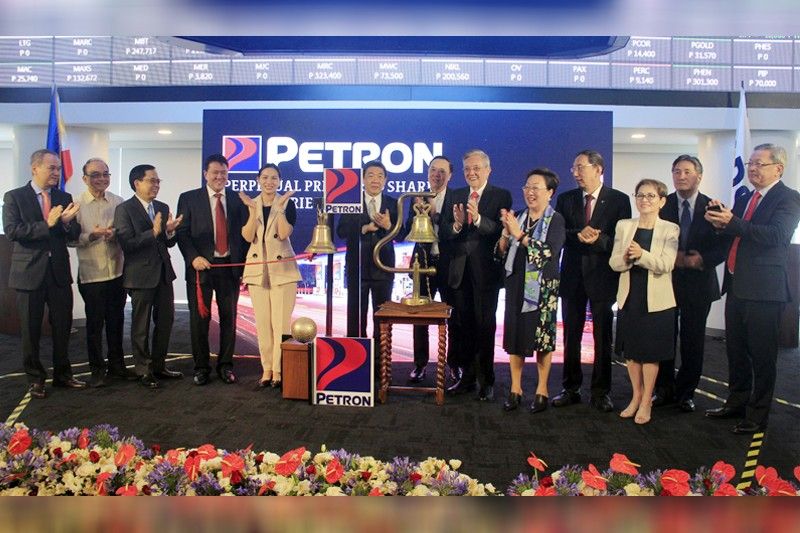 PETRON LISTS PREFERRED SHARES: Petron Corp. and the Philippine Stock Exchange Inc. celebrate Petron's offering and listing of P20 billion worth of Perpetual Preferred Shares Series 3A and 3B through a ceremonial bell ringing held on Tuesday. Shown in the photo (from left) are PCOR VP and treasurer Albert Sarte; PCOR director Jose de Jesus; PCOR SVP and chief finance officer Emmanuel Eraña; PCOR general manager Lubin Nepomuceno; PCOR AVP Jacqueline Ang-Chai; PSE directors Wilson Sy, Eddie Gobing; PSE chairman Jose Pardo; PSE directors Ma. Vivian Yuchengco, Francis Chua, Amor Iliscupidez, Roberto Cecilio Lim and Alejandro Yu.
Petron raises P20 B from preferred share offering
MANILA, Philippines — Petron Corp., the country's largest oil refining and marketing company, successfully raised P20 billion worth of preferred shares.
The company listed the shares at the Philippine Stock Exchange (PSE) Tuesday.
Proceeds will largely be used for the redemption of Petron's outstanding Series 2A preferred shares issued in 2014, while the balance would be utilized for short-term debt repayment and general corporate purposes.
Petron president and CEO Ramon Ang said strong investor demand reflects the confidence in the company's strong growth.
"We thank the investment community for their warm reception and strong desire to be part of our continued growth. The success of this fundraising exercise highlights our position as the leading oil player and as a viable investment option," he said.
The P20 billion represents the base offer of P15 billion and the oversubscription of P5 billion. Annual dividend rates on the preferred shares are 6.8713 percent for Series 3A and 7.1383 percent for Series 3B.
Moving forward, Ang said the company would continue to invest for future growth and keep Petron as the country's top oil refiner.
"We will continue to pursue our strategic goals and follow through with our investments despite volatility in the global market. We remain committed to fueling economic growth and to bringing greater value to our shareholders," Ang said.
For the transaction, Petron partnered with BDO Capital & Investment Corp. BPI Capital Corp., China Bank Capital Corp. and PNB Capital and Investment Corp. as joint issue managers, joint lead underwriters and joint bookrunners, and First Metro Investment Corp. as co-lead underwriter.
Petron has a combined refining capacity of 268,000 barrels-per-day and produces a full range of world-class fuels and petrochemicals. It has over 3,000 service stations where it retails world-class gasoline and diesel.
In the first quarter, Petron posted a net income of P1.3 billion, down 77 percent from the previous year due to higher taxes and crude oil prices.