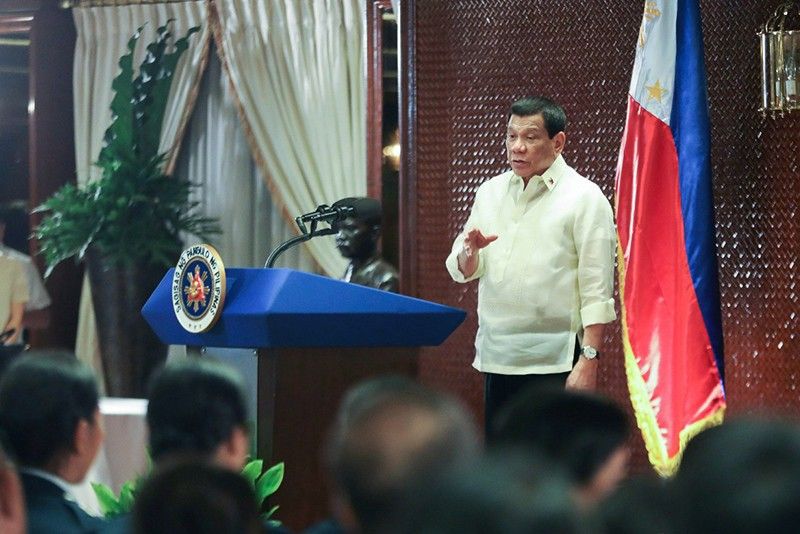 President Rodrigo Roa Duterte delivers his speech after leading the awarding ceremony for the Outstanding Women in Law Enforcement and National Security of the Philippines at the Malacañan Palace on March 11, 2019.
ACE MORANDANTE/PRESIDENTIAL PHOTO
Duterte vetoes bill creating regional investment, infra coordinating hub in Central Luzon
(Philstar.com) - March 14, 2019 - 5:13pm
MANILA, Philippines — President Rodrigo Duterte vetoed a bill that sought to create the "Regional Investment and Infrastructure Coordinating Hub of Central Luzon," saying the measure has several provisions that would pose "substantial fiscal risks" to the country.
In his letter to congressional leaders dated March 13 and was released by Malacañang on Thursday, Duterte said even as the bill espouses the policies being pushed by his administration to increase investor confidence, the measure has provisions that "tend to defeat these very objectives and policies in the long run."
Duterte said the subject bill "significantly narrows our tax base with its mandated incentives applicable to registered enterprises in an entire region."
He also said prolonging the mandated fiscal incentives regime under the bill for half a century or more would likely bring "negative revenue and fiscal implications to succeeding administrations and unnecessarily burden future generations."
"This renders the whole system incapable of generating a yield sufficient to sustain the country's social and economic infrastructure, and this would necessitate finding new sources of revenue through additional taxes or borrowings in the future," the president wrote.
"In the end, it is the taxpayers all over the country, who are excluded from the tax incentives, that will bear the brunt of the burden," he added.
Under the Senate's version of the bill, the new Regional Investment and Infrastructure Coordinating Hub would replace the existing Subic-Clark Alliance for Development Council. The hub would be composed of nine members.
Sen. Richard Gordon, one of the bill's authors, previously said another key goal of the measure is to decongest Metro Manila by "dispersing industries and population to Central Luzon."
"The name of the bill reflects its aim to enrich the people by encouraging and promoting investments and infrastructure in Central Luzon, as well as addressing bottlenecks, laying the foundation for long-term growth in the region, creating jobs and improving the quality of life of Filipinos," Gordon said. — Ian Nicolas Cigaral