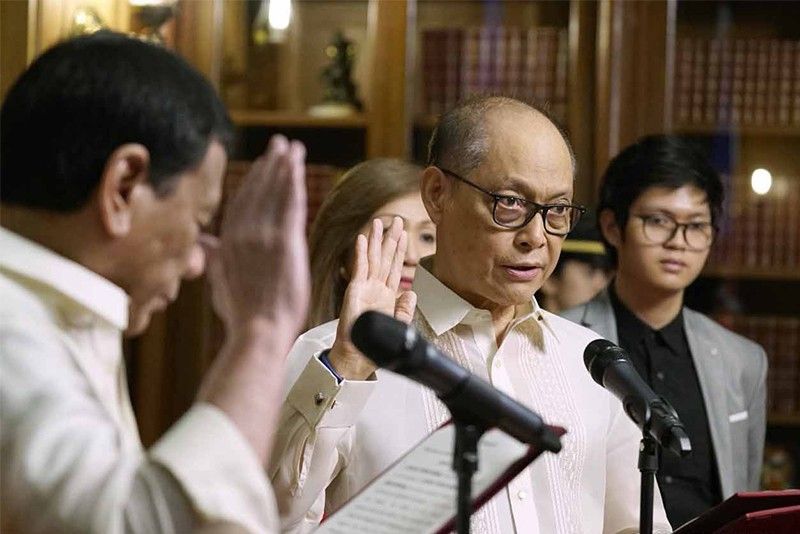 President Rodrigo Roa Duterte administers the oath to newly-appointed Bangko Sentral ng Pilipinas Governor Benjamin Diokno during a ceremony at the Malacañan Palace on March 6, 2019.
KING RODRIGUEZ/PRESIDENTIAL PHOTO
BSP chief Diokno signals possible quarterly cuts in bank reserves
MANILA, Philippines — Possible cuts in required reserves imposed on banks may happen "in the next four quarters," Bangko Sentral ng Pilipinas Governor Benjamin Diokno said Tuesday, adding that there is room to relax monetary policy.
Diokno, 70, replaces the late Nestor Espenilla Jr. who passed away on February 23 after battling tongue cancer.
The late BSP governor was vocal about his goal of gradually reducing reserve requirement ratio, or RRR, to single-digit level.
In a television interview, Diokno said that "if we have to ease [monetary policy], it's because really our reserve requirement ratio is very high."
"I think there's room for monetary easing. It could be one percentage point every quarter for the next four quarters. We'll look at the data and see," Diokno told ABS-CBN News Channel.
"We will look at the need of the economy. We have a fast-growing economy. In fact, I was told growth is much faster outside Metro Manila than inside Metro Manila. And so if there's a need for monetary easing, I think we'll consider it," he added.
Reducing the amount of cash that banks must hold as reserves will inject more money in the financial system, letting lenders deploy more funds for lending and investments.
Last year, the BSP trimmed the RRR twice to 18 percent from a global high of 20 percent in a bid to fuel economic growth.
Known for his expansionary fiscal policy stance while Budget secretary, Diokno — who is widely seen by the market as a dovish BSP governor — will face a tough balancing act of reining in soaring prices without hurting the economy amid a softer global outlook.
But Diokno said the delayed approval of the 2019 national budget could weigh on growth this year.
Senate President Vicente Sotto III on Monday said he would not sign the enrolled copy of the General Appropriations Bill unless the House of Representatives withdraws all the changes it made into an already ratified budget.
The squabble has delayed the signing of the budget bill by President Rodrigo Duterte, who said he would not approve an "illegal document."
"For 2019, we're targeting around 7 percent. Because I'm worried right now with the non-approval of our 2019 budget. It's still in Congress," Diokno said. "The President is still has to sign the budget. So that would be a drag on our 7-8 percent [growth target]. So I'm settling at 7 percent at the moment."
'No need'
Diokno will complete the remainder of Espenilla's six-year term, which the market had expected to be finished by any of the three central bank deputy governors.
Before assuming the position of BSP chief, Diokno was part of Duterte's economic team tasked with supercharging growth to 7-8 percent through heightened state spending and by delivering on a massive infrastructure program.
"Those ambitious projects are already well-funded. So I don't have to resort to monetary easing to have those funded," Diokno said, dousing speculations that the BSP under his watch may cut policy rates to pursue the government's infrastructure plan.
"We have enough money in the treasury to fund all those 'Build, Build, Build,'" he added.
The BSP tightened monetary policy by a cumulative 175 basis points to 4.75 percent last year after inflation hit a near-decade high in September and October. Soaring prices have eased since then.
In February, headline inflation decelerated to 3.8 percent, the first time in a year since the monthly rate fell within the central bank's 2-4 percent target range.
Diokno will chair his first policy meeting on March 21.