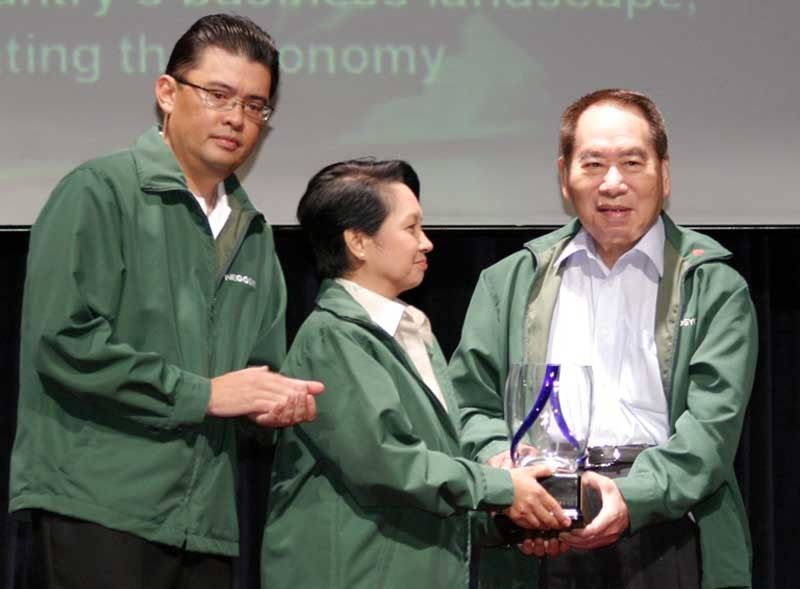 Tatang Henry Sy Sr. (right) was recognized by Go Negosyo as the Big Brother of Filipino Entrepreneurs during its first summit in February 2006. Also in photo are PA Joey Concepcion and then president Gloria Macapagal Arroyo.
NEGOSYO KAPATID: Angat Lahat
-
Joey Concepcion
(The Philippine Star) - January 24, 2019 - 12:00am
Last Saturday morning, the business community was saddened to know the passing of Mr. Henry Sy Sr., one of the country's top businessmen and founder of the SM Group of companies. Fellow Go Negosyo entrepreneurs and partners mourn his passing and relived their encounters with him.
Let me share one special encounter I had with Mr. Sy, more fondly called Tatang.
In 2005, I, together with like-minded entrepreneurs banded together to form Go Negosyo, an advocacy promoting poverty alleviation through entrepreneurship. Some of our trustees then include Esther Vibal (Vibal Publishing), Socorro Ramos (National Bookstore) and Harley Sy (SM Group), among others. Harley is one of Tatang's children who is also leading the company to greater heights.
When we launched Go Negosyo during our first summit, I remember it was held in Victory Auditorium which can only gather around 2,000 participants but was filled to the brim of people wanting to be entrepreneurs themselves. It was a fitting venue to have Tatang as one of our special guests. His invaluable presence provided the inspiration, insight, and support to the Go Negosyo advocacy. Many admired and respected him for emulating winning attitudes of a successful entrepreneur – hardworking, persevering, humble, and kind. Because of his inspiring entrepreneurial journey, we recognized him as the Big Brother of Filipino Entrepreneurs. He is indeed a pillar of the Philippine economy.
But who is Tatang Henry Sy Sr.?
Born in China in 1924, Tatang followed his father in the Philippines at the age of 12. His father then was struggling to manage a small sari-sari store. He then contributed to the store's growth by introducing the "tingi" concept by repackaging products into small portions that would be more affordable to the masses. War came and everything was destroyed but this did not stop him. He began selling American shoes and soon after, ShoeMart was born. This is the first air-conditioned shoe store in Manila.
After many years, ShoeMart became SM Group of Companies which is into mall development, retail, real estate, banking, among others. It has provided countless of job opportunities for many Filipinos and has also helped other businesses grow and develop under their malls and other properties.
Fellow columnist Iris Gonzales wrote an interesting column the other day wherein she asked whether billionaires are good for the country. After sharing some statistics about billionaires, she highlighted one important anecdote – that there are two types of billionaires: those who are successful because of hard work and those who are successful because of political connections.
Here's my answer to Iris' column. There is nothing wrong in having wealth most especially if you worked hard for it. One can be extremely wealthy because of his innovative business model. But here is the reality, in almost all ASEAN countries, the wealthy continue to be the minority. A small percentage compared to the majority, middle and lower class group. But despite being a minority, they are also an instrument for others to be successful. I can say that what is important in being wealthy lies in what you do to make a difference – how you use your business in making it more inclusive, or how you can improve other people's lives.
Mr. Sy has created more entrepreneurs by bringing them in his shopping malls. Entrepreneurs also have easier access to money through their financing programs in their banks. And lastly, SM also provided a venue for mentorship most especially for our Go Negosyo Mentor Me On Wheels which is attended by more than 4000 mentees since its first launch in SM Mall of Asia. During this program, we see the collaboration and mentorship between successful business owners and thousands of micro and small entrepreneurs.
In the end, we can say that those who work hard will be blessed with great wealth but this wealth should be maximized by enabling others to succeed. After all, these material things cannot be brought to the next life. And for me, the real journey of being wealthy is by being a blessing to others. This is what Tatang has done and his children continue to do.
Beyond his business prowess, he was a great mentor to his children as they too have each continued and built upon his legacy. They have inherited his generous heart as well, initiating numerous programs to help the greater Filipino community. Harley is now SM Investments executive director. Hans is now SM Prime Holdings chairman while Tessie is SM Investments vice chairperson. Tessie is also one of my co-members in the ASEAN Business Advisory Council and has been active in joining our mentoring sessions with micro and small entrepreneurs. Aside from these, SM continues to help many Filipinos including our farmers. Together with Harbest of Toto Barcelona, SM Foundation has been training farmers through their Kabalikat sa Kabuhayan Training Program.
Tatang will continue to live on in the hearts of his children and in the countless lives he has touched and improved forever. We bid farewell to a great man and an entrepreneur with a heart of gold.
* * *
On Jan. 29, Go Negosyo will have its first Mentor Me On Wheels this 2019 at the SM Megamall, Mandaluyong City. For the first time, two of the biggest franchising organizations in the country – the Philippine Franchising Association and the Association of Filipino Franchisers Inc. will come together to mentor aspiring franchisors and franchisees. For interested participants, register now at www.tinyurl.com/MMOWMandaluyong.