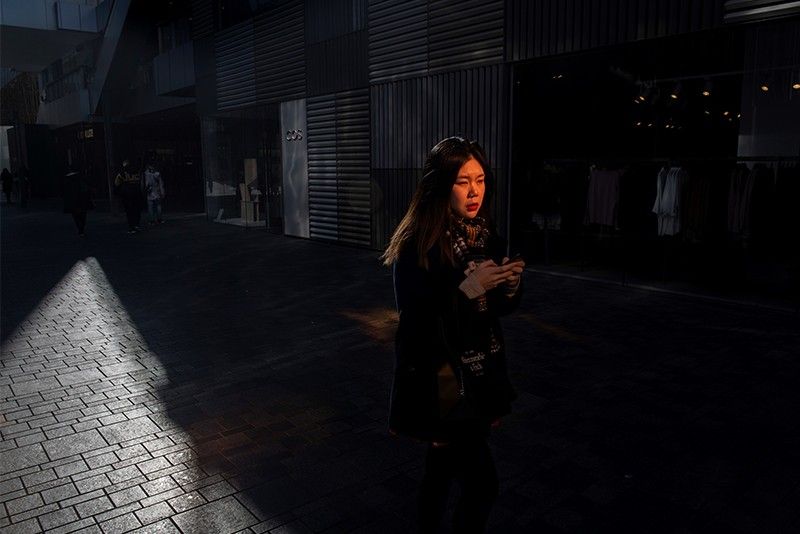 A woman browses her phone as she walks through a shopping mall complex in Beijing on January 21, 2019. China's economy grew at its slowest pace in almost three decades in 2018, losing more steam in the last quarter as it battles a massive debt pile and a US trade war, official data showed on January 21.
AFP/Nicolas Asfouri
Philippines seen weathering potential spill-over from China's slowing growth
MANILA, Philippines — The Philippines is somehow insulated from risks posed by a sharp slowdown in China, according to a London-based think tank, although the Southeast Asian country could come under pressure if China's cooling economy spurs capital outflows from Asia.
China's economy lost steam in the previous quarter and grew 6.6 percent in 2018 — the slowest pace in almost three decades — as it wrestles with growing debt and a US trade war.
In a research note dated January 22, Capital Economics said "relatively closed economies" like the Philippines and India would have "limited exposure" to a Chinese slowdown.
However, a slump in China could send shock waves through the financial channel, Capital Economics said, adding that the Philippines' external imbalance puts the country at risk should a shift in investor sentiment against the region happen.
"Instead, the biggest impact could be through contagion. As such, the economies that are hit hardest through the financial channel could be those that are most vulnerable to capital outflows, namely Pakistan, India, Indonesia and the Philippines," the economic research company said.
Trade gap in the Philippines has been widening since 2017 amid sustained rise in imports to feed the Duterte administration's ambitious infrastructure program, reversing the nation's current account surplus to a deficit and weakening the peso.
In the first nine months of 2018, the Philippines' current account gap stood at $6.471 billion, or equivalent to 2.7 percent of the country's gross domestic product. That was a turnaround from the $968 million surplus (0.4 percent of GDP) registered in the same period in 2017.
According to the Bangko Sentral ng Pilipinas, the current account deficit is forecast to balloon to $6.4 billion, or 1.9 percent of GDP, in 2018. This was more than twice its previous estimate and higher than $2.2 billion gap posted in the preceding year.
This year's gap is seen hitting $8.4 billion, or 2.3 percent of GDP.
"We are not seeing a widening of current account to unsustainable levels," BSP Assistant Governor Francisco Dakila said in a press conference last month.
The International Monetary Fund recently said concerns about the health of China's economy can trigger abrupt, wide-reaching sell-offs in financial and commodity markets that place its trading partners, commodity exporters and other emerging markets under pressure.
Asian markets fell Wednesday, with investors staying cautious as a sluggish Chinese economy and a softer global outlook stutter the rally that has characterized the start of the year.
"The most vulnerable economy to a slowdown in China is Hong Kong. Due to its deep trade and financial links and limited scope for a policy response, a hard landing would cause the territory to fall into a deep recession," Capital Economics said.
"The region's two main commodity producers, Malaysia and Indonesia, would also be at substantial risk," it added. — with AFP