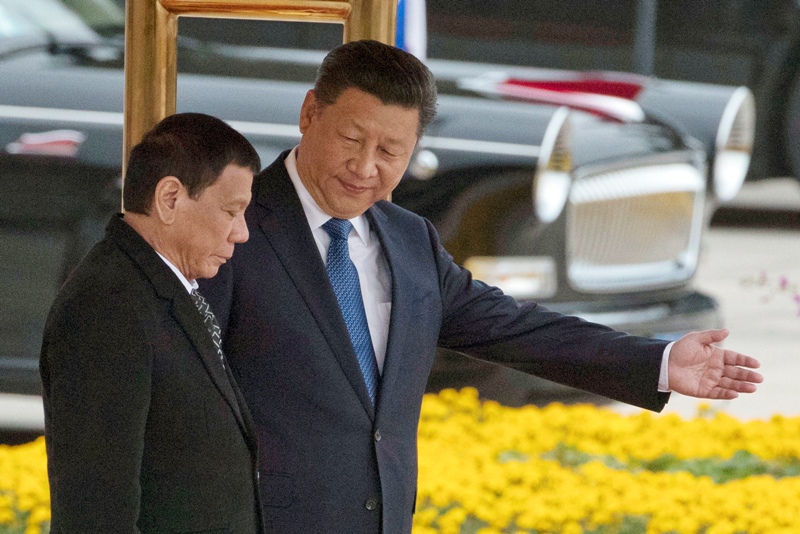 In this Oct. 20, 2016 photo, Chinese President Xi Jinping, right, shows the way to Philippine President Rodrigo Duterte during a welcome ceremony outside the Great Hall of the People in Beijing, China.
AP/Ng Han Guan, File
Diokno: Xi Jinping's Manila visit to pressure China's 'bureaucracy' to hasten infra projects
(Philstar.com) - November 14, 2018 - 5:04pm
MANILA, Philippines — The Philippines on Wednesday said Chinese President Xi Jinping's visit to Manila next week will likely hasten the implementation of China-financed infrastructure projects, amid growing concerns the Duterte administration's pivot to Beijing is not paying off.
President Rodrigo Duterte secured a pledge for $9-billion official development assistance, or ODA, during his trip to Beijing in 2016 — which highlighted his "separation" from the Philippines' only treaty ally, the US, while he cozies up to China.
Of the 10 big-ticket projects in the pipeline that China promised to finance, the Philippines has so far completed only one loan agreement — the $62.09 million Chico River Pump Irrigation Project.
"This visit of the head of state of China will put pressure on the speed of implementation of all these projects," Budget Secretary Benjamin Diokno told a press conference.
"I think with his visit this will actually speed up. We're very optimistic... their head of state will pressure their bureaucracy to speed up the process," Diokno added.
To date, the Philippines and China have signed four grant agreements totalling about $198.77 million, data from the Department of Finance show. Last July, two bridges across Pasig River to be bankrolled with Chinese grants broke ground.
Finance Secretary Carlos Dominguez III earlier admitted there had been "roadblocks" on the flow of Chinese aid, particularly Beijing's hesitation to co-finance certain projects with other lenders and use renminbi in aid disbursement instead of US dollars. These issues had been resolved already during the visit of Philippine economic officials to Beijing last August, he said.
According to the Department of Transportation, the contract and loan agreement for the PNR South Long Haul Line are scheduled to be signed during Xi's trip to the Philippines this month.
Meanwhile, the commercial agreement for the $947.64-billion cargo train connecting Subic to Clark was supposed to be sealed during Xi's visit here, but the signing has been moved to a later date, the DOTr added.
Despite Duterte's warm relations with China, the Philippines has a long history of mistrust of it as the two countries continue to spar over the resource-rich South China Sea. — Ian Nicolas Cigaral