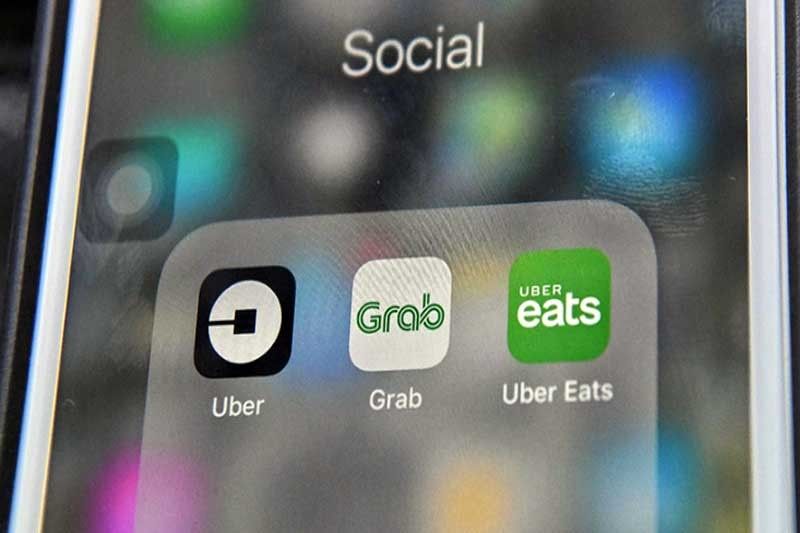 In a press conference yesterday, PCC commissioner Stella Quimbo said the parties are being imposed a fine of P4 million for failure to keep their businesses separate.
AFP
PCC fines Grab, Uber P16 million for merger violations
MANILA, Philippines — The Philippine Competition Commission (PCC) has imposed a fine of P16 million on ride-hail service apps Grab and Uber for violations on interim measures such as maintaining separate business operations and deferment of the merger during the antitrust body's review of the transaction.
In a press conference yesterday, PCC commissioner Stella Quimbo said the parties are being imposed a fine of P4 million for failure to keep their businesses separate.
In addition, she said Grab is being imposed a penalty of P8 million for its failure to maintain pre-merger conditions such as pricing policies, rider promotions, driver incentives and service quality during the review.
She said a P4 million fine is also being imposed on Uber, the acquired party, for the same set of violations.
The PCC took into account Uber's need to comply with the cease and desist order by the Land Transportation Franchising and Regulatory Board set at that time.
"These fines are not for a finding of a substantial lessening of competition but rather, the fines are imposed causing undue difficulties on the PCC review and decision making process," she said.
Last April 6, the PCC issued the interim measures order (IMO) to Grab and Uber for both to keep pre-transaction conditions to prevent any action that may prejudice the antitrust body's ability to review the merger or to impose appropriate remedies.
"The IMO is a mechanism that protects the integrity of the PCC review and adjudicatory process. It requires full compliance by both Grab and Uber and these fines reflect their deficiencies and violations. Undue difficulties generated by the parties become efficiency challenges in PCC's review process," PCC chair Arsenio Balisacan said.
The interim measures were issued to preserve the market conditions before Grab's takeover of Uber.
Apart from keeping the independence of the parties' business operations and other conditions prevailing prior to March 25, the other interim measures are refraining from executing any final agreement or contract that will transfer any asset, equity, interest, including the assumption by Uber of a board seat in Grab; refraining from providing access between parties on any confidential information; refraining from imposing exclusivity clauses, lock-in periods and/or termination fees to drivers; refraining from acts that may lead to reduced viability and saleability of businesses;
refraining from acts that will prejudice the PCC's power to review the transaction and impose remedies; and refraining from performing any act that may lead and/or further lead to the consummation of the transaction.
PCC earlier asked Grab and Uber to explain why they should not be penalized for the violations.
It also also cited the parties' transition services agreement that acknowledged Grab and Uber are obliged to comply with the requirements of government agencies where they operate in, including the Philippines.
"This is a fair reminder to parties subjected to merger reviews to cooperate and comply with the commission's orders. Selective compliance adds to the burden of the review process, which in turn have real-life consequences on the public. We urge future transactions to observe due diligence," Balisacan said.
In response, Grab public affairs head Leo Gonzales said the company is looking into legal options it could take.
"We are currently studying all our legal options with regard to the fine imposed by the PCC. We will continue to provide additional information as it becomes available," he said.