Inflation soars to fresh five-year high in July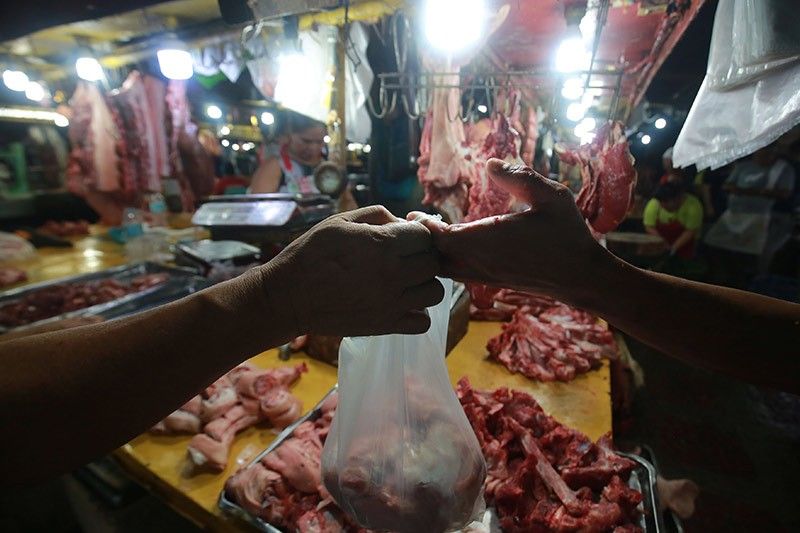 MANILA, Philippines (2nd update, 1:05 p.m.) — Prices of key consumer items rose for a seventh straight month in July, fueling expectations that the Bangko Sentral ng Pilipinas will deliver another rate hike this week.
Inflation jumped to 5.7 percent last month, higher than June's 5.2 percent and the fastest pace in over five years. In July last year, inflation was at 2.4 percent.
Year-to-date, inflation averaged 4.5 percent, still above the BSP's 2-4 percent target band.
The latest inflation print, which was due to higher food and transport costs, settled at the high end of the central bank's forecast for the month but exceeded the market consensus of 5.5 percent.
Prices in the National Capital Region climbed at a faster rate of 6.5 percent in July than areas outside the capital, which saw a 5.5 percent increase.
In a statement, BSP Governor Nestor Espenilla said the July inflation figure remains consistent with the central bank's expectations.
"We will consider all the latest data updates in determining the strength of our follow-through response in the upcoming policy meeting of the monetary board this Thursday," Espenilla said.
"I reiterate the BSP's firm commitment to meet the inflation target of 2-4 percent," he added.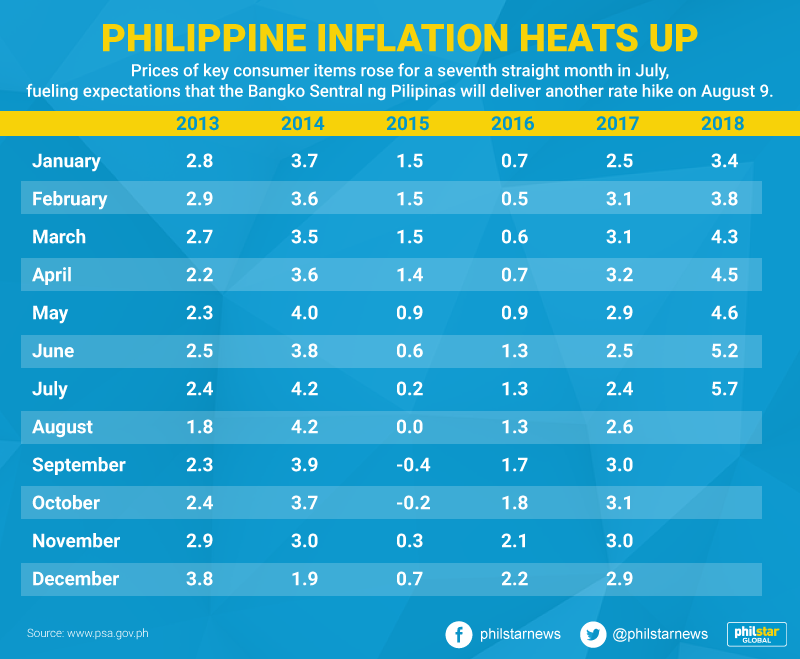 Rate hike calls mount
People have blamed soaring prices on the Tax Reform for Acceleration and Inclusion law, which raised excise levies on fuel, "sin" products and sugary beverages, among others.
Supply-side factors like higher global oil prices—exacerbated by the continuing depreciation of the peso—are also pushing up commodity prices. The country's economic managers, meanwhile, have pointed out that elevated inflation was typical of a rapidly expanding economy.
The central bank, which is due to meet on Thursday, has responded by raising its policy rate twice this year. Higher interest rates discourage people from borrowing money and from spending, causing a decline in demand which, in turn, tempers inflation and can even slow down the country's economic growth to avoid overheating.
But analysts say the BSP will likely lift its benchmark rates again this week, this time by 50 basis points (bps) instead of the traditional 25 bps adjustment to contain inflation and lend some strength to the local currency, which has weakened by more than 5 percent year-to-date.
"We expect inflation to remain above 5 percent for the remainder of the year, with its peak likely in August. Against this backdrop, I expect a 50 basis point rate hike on August 9," Security Bank economist Angelo Taningco said in an interview.
For ANZ Research, a more aggressive rate adjustment cannot be ruled out considering July's inflation data.
"Overall, the combination of robust domestic demand, lingering impact of tax reforms, and elevated global crude oil prices continue to present a challenging environment. The emerging inflation trajectory warrants further tightening in our view," ANZ said.
Meanwhile, analysts at Japanese bank Nomura expect the BSP to tighten by 50 bps, taking the policy rate to 4 percent.
"In addition, we think the policy statement should remain hawkish, with BSP clearly leaving the door open for more rate hikes ahead," economists at Nomura said.
Separately, Union Bank of the Philippines chief economist Ruben Carlo Asuncion said that looking at July's core inflation which spiked 4.5 percent compared to June's 4.3 percent, there is "a high probability" that inflation is already peaking.
Core inflation excludes selected food and energy items as their prices are much more volatile.
"I cite core inflation because it is an indicator of longer term inflation trend," Asuncion explained in an interview. "However, using headline [inflation] number, the 5.7 percent would mean the peak has not been reached already or the peak may still be ahead."