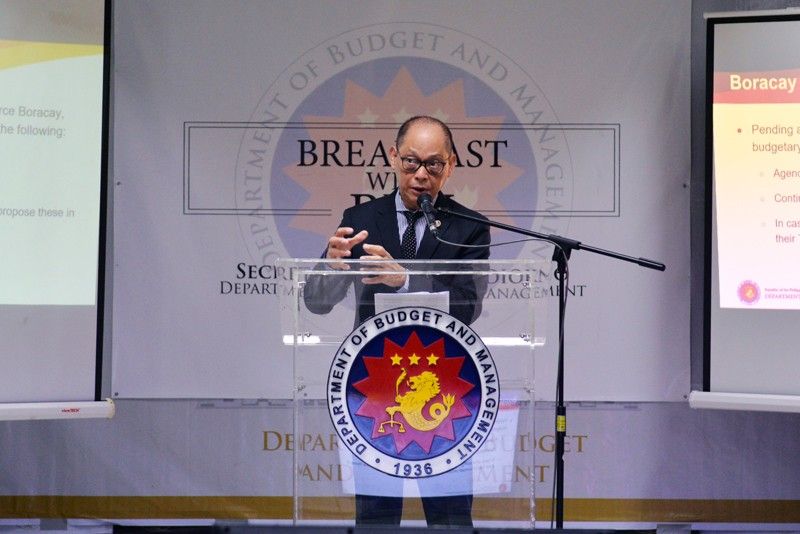 President Rodrigo Duterte—who has admitted that economic issues are best left to the "bright guys" in his Cabinet—had reportedly said the economy is in "doldrums," citing slow-moving state projects and rising interest rates that he said weakens the peso "theoretically."
DBM
Economy in 'doldrums'? Diokno says 'look at the facts'
MANILA, Philippines — One of President Rodrigo Duterte's economic managers on Wednesday disputed the firebrand leader's claim that the Philippine economy is losing steam.
"You look at the facts, not impressions, not perceptions, but the hard facts and you'll be convinced that it's not the case," Budget Secretary Benjamin Diokno told a press conference.
Asked why the president made such a gloomy assessment on the domestic economy, Diokno replied: "I really don't know. I don't want to comment. You can ask the Palace."
Duterte—who has admitted that economic issues are best left to the "bright guys" in his Cabinet—had reportedly said the economy is in "doldrums," citing slow-moving state projects and rising interest rates that he said weaken the peso "theoretically."
The president's rare comment on the economy came less than a week after the central bank lifted its benchmark rates for a second consecutive month in a bid to fight inflation and lend some strength to the country's currency.
Presidential spokesperson Harry Roque claimed that Duterte really meant to say that development outside Manila has been slow. "Our economic growth is not evenly distributed. Provinces are lagging behind in terms of progress and projects," he said.
In the first quarter of 2018, the Philippines remains one of the best performing economies in the region after it grew 6.8 percent—next only to Vietnam's 7.4 percent, the same as China's 6.8 percent and higher than Indonesia's 5.1 percent.
"The public sector now is one of the drivers of economic activity," the Budget chief said.