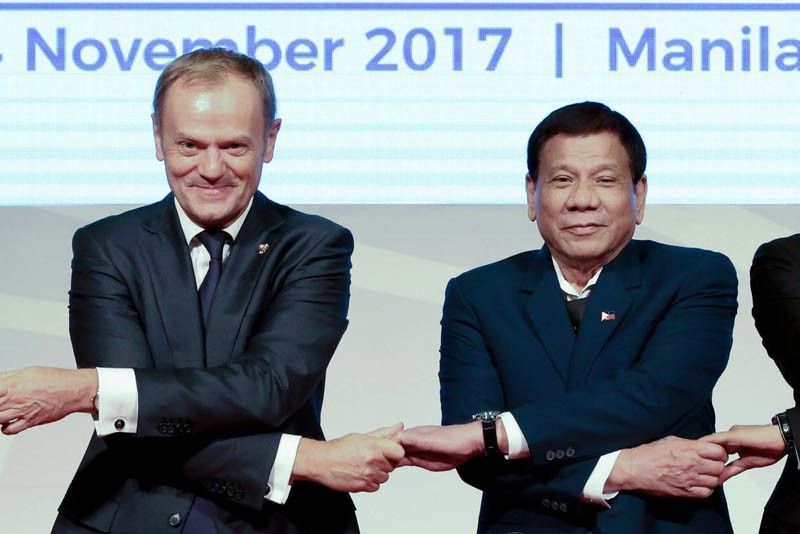 President Rodrigo Duterte and European Council President Donald Tusk join the traditional Association of Southeast Asia Nations handshake prior to the start of the ASEAN-European Union 40th Anniversary Commemorative Summit at the Philippine International Convention Center on Nov. 14, 2017.
Presidential photo
EU tells Philippines: Respect for human rights matters to businesses
MANILA, Philippines — Respect for both labor and human rights is important to investors, the European Union reminded the Philippines.
"Yes, rights they do matter. It also matters to companies when they invest," EU Ambassador to the Philippines Franz Jessen said in a press conference on the sidelines of a forum on labor standards and trade.
"They want to make sure that when they do invest in countries, they invest in countries where human rights are respected because they don't want to be seen as exploiting labor [and] taking short-term advantages of the weak labor market conditions in a certain country," Jessen added.
In 2014, the Philippines was granted beneficiary country status under the General System of Preference (GSP+) — a preferential trade deal that allows 6,200 of its products to enter the EU market duty free.
The country's beneficiary status under the GSP+ necessitates the implementation of 27 international treaties and conventions on human rights, labor rights, environment and governance.
Last January, the second biennial GSP report—which reviewed the compliance of beneficiary countries with its obligations—was released by the European Commission and the European External Action Service.
EU concluded in its report that the Philippines had made progress on labor rights, environmental protection, gender equality, people trafficking, health, education, social-economic rights and fight against corruption.
However, the bloc said "extrajudicial killings, in particular in the fights against illegal drugs, and related impunity continue to be a serious concern, as well as the possible reintroduction of the death penalty and the lowering of the age of criminal responsibility."
According to Jessen, Europe's economy grew rapidly when "labor rights started to be respected."
"If you look at consumers in Europe, they are more comfortable when products are being produced in decent conditions," Jessen said.