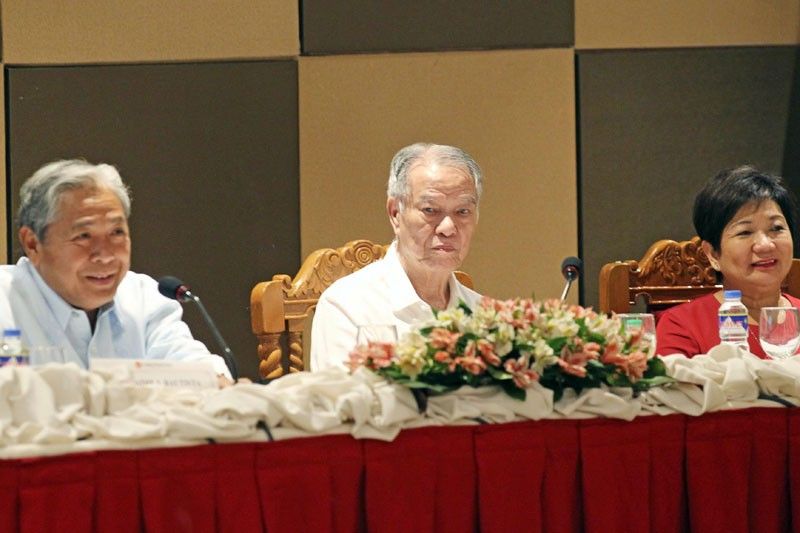 STOCKHOLDERS' MEETING: PAL Holdings Inc. held yesterday its annual stockholders' meeting at the Century Park Hotel in Manila. In photo are top executives of PAL Holdings led by (from left) president and chief operating officer Jaime Bautista, chairman Lucio Tan and corporate secretary Cecilia Pesayco.
Jun Mendoza
PAL seeks higher fuel surcharge due to rising cost, weak peso
MANILA, Philippines — Flag carrier Philippine Airlines (PAL) expects to incur an additional cost of more than $146 million this year due to higher fuel prices and the weakening of the peso against the dollar.
As global fuel prices have increased, the carrier is planning to amend a petition it filed with the Civil Aeronautics Board (CAB) and adjust the fuel surcharge it wants to collect.
PAL president and chief operating officer Jaime Bautista said in a press conference following the carrier's stockholders' meeting yesterday, the price of fuel has increased by almost $13 from January to April.
"And for your information, PAL will consume approximately 11 million barrels of fuel (this year). With a $13 increase, that would mean $143 million additional cost to PAL. And this is one of the reasons why we are urging government to allow us to collect fuel surcharge," he said.
While PAL has filed a petition to impose fuel surcharge of P51 to P207 to recover the higher costs of fuel last December, he said the CAB has yet to act on the matter.
"We'll have to update this number considering price of fuel has gone up $13 from January to April," he said.
Aside from higher fuel costs, he said PAL also expects to incur additional costs from the weakening peso.
"The impact of P1 depreciation would mean additional loss of $3 million," he said.
PAL is looking to take in a strategic partner either through existing shareholders selling their shares or issuance of new shares, to make it easier for the carrier to achieve a five-star rating by 2020.
The carrier currently has a four-star rating from international air transport rating organization Skytrax.
Bautista said PAL has mentioned in discussions with the potential strategic partner its efforts to file for a petition for fuel surcharge.
"We have mentioned to them we have filed petition for fuel surcharge. Also part of our fuel conservation program or reduction is entry of new and more efficient aircraft," he said.
PAL is taking delivery of four Airbus A350-900s and six A321neos (new engine option) this year, and both aircraft are expected to allow the carrier to realize fuel savings.
Bautista said the Airbus 350 to be used for long-haul flights to North America and Europe would reduce fuel cost by nearly 20 percent on a per seat kilometer basis, while the A321neo to be utilized for non-stop flights across Asia and Australia would mean savings of around five percent compared to existing aircraft being used.
In addition, PAL is reviewing destinations being served to ensure all of these are profitable.
Bautista said PAL stopped operating the Manila to Kuwait service earlier this month as the route was no longer making money due to weak demand and competition from other carriers.