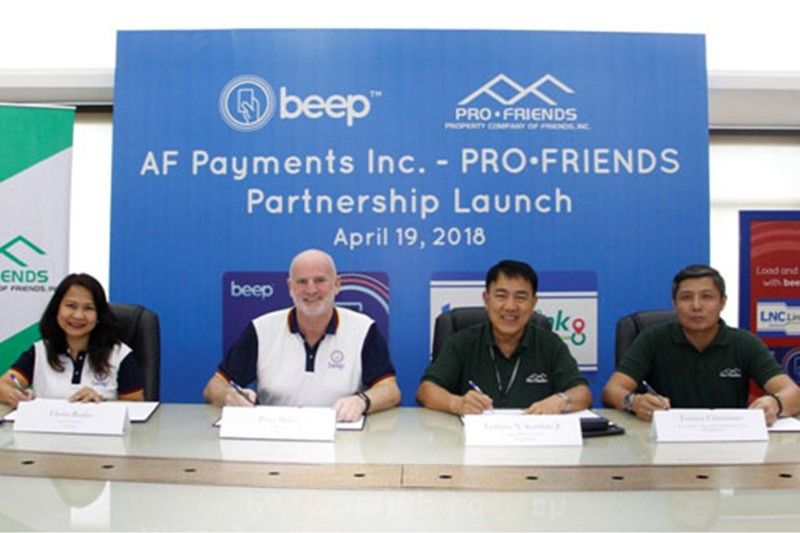 Leading the signing are (second from left) Peter Maher, AFPI CEO and Juny Santillan, PRO-FRIENDS SVP and Strategic Business Unit 1 head. Joining them are Chona Basilio, AFPI CFO (leftmost) and Terence Crisostomo, PRO-FRIENDS VP and Estate and Asset Management head.
PRO-FRIENDS/Released
LNC Link card powered by beep™ for Lancaster New City's 40,000 residents
none (Philstar.com) - May 4, 2018 - 3:51pm
PRO-FRIENDS recently entered into an agreement with AF Payments Inc. to provide the residents of its flagship project, Lancaster New City, with the LNC Link card powered by beep™.
"The integration of the LNC Link card powered by beep™ into our transport system will make it easier for our homeowners to pay for their fare by just tapping their card. By June of this year, we expect to make the stored value smart card available to our over 40,000 residents and are also preparing cards for the additional 5,000 residents we will welcome this summer season," says Juny Santillan, senior vice president and strategic business unit head of PRO-FRIENDS.
"Its introduction is part of our efforts to make Lancaster New City's LNC Link an efficient form of transportation for our residents. Our transport provider, Joyful Journey, also replaced their existing fleet inside our township to double-door buses, to complement the LNC Link card in speeding up passenger flow," he adds.
Buses in Lancaster New City are already being equipped with a GPS to monitor their movement and allow the dispatch of additional units in case of a surge in demand or unforeseen delay in one of the vehicles. For added security, CCTV cameras are, likewise, being installed.
"By making travel using the LNC Link more predictable, convenient, safe, and cost-effective, we hope to encourage our homeowners to forego the use of private vehicles to go around and outside of our township, thereby helping them manage their transportation budget and reducing our carbon footprint."
Peter Maher, CEO of AFPI, expressed excitement about the partnership, "PRO-FRIENDS is a trailblazer in this arrangement as this is our first tie-up with a developer and at the scale that Lancaster New City already has. Aside from the acceptance of the beep™ card in LRT, MRT, and Cavitex, among others, there are so many applications that may be offered to residents in the retail outlets of LNC's commercial center or for parents to load value to the card of their children for their allowance or to buy supplies at the bookstore."
Loading centers and kiosks have been identified for LNC residents to ensure ease in loading, which, of late, may also already be done via NFC-enabled Android phone.
"We are confident we can make this work," assured Peter, as he talked about AFPI's capability, currently handling an average of one million transactions per day in the trains alone.
PRO-FRIENDS, through Lancaster New City, remains committed to providing value propositions that meet the growing and changing needs of families inside its community. Lancaster New City is a 1,600-hectare development that spans the city of Imus, and the towns of Gen. Trias and Kawit in Cavite.
___

PRO-FRIENDS is one of the fastest growing property developers in the Philippines, having built over 46,000 quality and affordable housing units since 1999. For almost two decades in property development, PRO-FRIENDS has been steady in the fulfillment of its mission to be a trusted partner in building homes and communities that transform lives. It maintains a strong presence in Cavite and Iloilo through its projects, Lancaster New City and Parc Regency Residences, respectively, which are among its nine on-going projects.