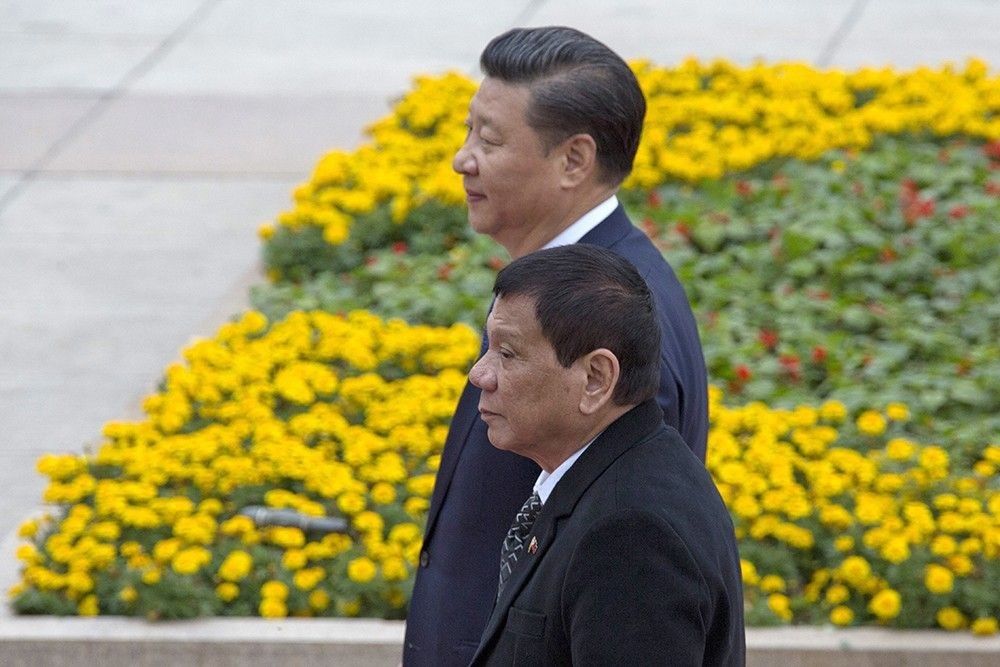 "One Belt, One Road" is a multibillion-dollar infratructure project of Chinese President Xi Jinping that aims to revive an ancient trading route, called "Silk Road," that would connect Asian markets with economic circles in Europe.
AP/Ng Han Guan, File
Nomura: Philippines a winner, but also most at risk, under China's 'Belt and Road'
MANILA, Philippines — As President Rodrigo Duterte cozies up to China, the Philippines is expected to be one of the biggest beneficiaries in Asia under the Beijing-sponsored "Belt and Road" initiative, analysts at financial services group Nomura said in a report released Tuesday.
Ironically, the Philippines, like Malaysia, is also "most at risk" of a rise in domestic political struggles which could lead to project delays, Nomura noted, as sources of uncertainty around the initiative stem mainly from execution risks and politics.
READ: China's 'Silk Road', seen to fund Philippine infrastructure, hits snags — report
"One Belt, One Road" is a multibillion-dollar infrastructure project of Chinese President Xi Jinping that aims to revive an ancient trading route, called "Silk Road," that would connect Asian markets with economic circles in Europe.
In its Asian Special Report, Nomura said Duterte's reversal of years of tensions in the disputed South China Sea was the most pivotal development that made the Philippines a winner under the Belt and Road program.
"President Duterte's so-called 'pivot to China'—which was a quick reversal from his predecessor's stance—is paving the way for a slew of proposed China-funded infrastructure projects and investments into the Philippines." Nomura said.
"This is happening at a time when the Duterte administration is pushing the 'golden age of infrastructure,' suggesting potentially large benefits to an already fast-growing economy," it added.
Ties between the Philippines and China have significantly improved under Duterte, who has effectively set aside an international court ruling that invalidated Beijing's claim to sovereignty over most of the resource-rich waters in hopes of winning business and investment.
Last year, Duterte attended the One Belt, One Road Summit in Beijing, signalling Manila's interest in the multibillion-dollar fund earmarked by the Asian power for the infrastructure initiative.
Despite Duterte's warm relations with China, the Philippines has a long history of mistrust of it as the two countries continue to spar over the contested waterway.
Manila is looking to tap Chinese funding for three big-ticket projects:
P2.7-billion Chico River Pump Irrigation Project
P10.9-billion New Centennial Water Source-Kaliwa Dam Project
P151.3-billion Philippine National Railway South Commuter Line
Trade linkages
Socioeconomic Planning Secretary Ernesto Pernia earlier said that while he had no idea how the Silk Road plan could benefit the Philippines—a country that is detached from the mainland—there is a "BRI fund" that Manila could access.
But Pernia said the BRI fund is still at the "conceptual" stage.
According to Nomura, the absence of China-backed port development projects in the Philippines would "actually somewhat limit the prospects of new trade linkages" despite the Southeast Asian country's strategic location.
"More relevant to the BRI thrust of increasing connectivity between countries, we do not believe these projects could pave the way for the Philippines to participate in the Maritime Silk Road," Nomura said.
Risks
In the same report, analysts at Nomura said progress of China-funded infrastructure projects in the Philippines is unlikely to be smooth sailing, as most projects in the pipeline could be delayed or stopped by Duterte's successor.
Citing the lack of consensus within the region regarding the sea row, Nomura also warned about risks that may arise once tensions in the South China Sea resurface after Duterte's term expires in 2022.
But Nomura said these risks "appear manageable."
"[These projects] may therefore be susceptible to the risk of another pivot when a new president takes over in 2022, unless they get underway soon," Nomura stressed.
"Even today... there are growing concerns about the mismatch between the speed with which China has built structures on disputed islands and how little progress has actually been made on infrastructure projects or the FDI inflows that the Philippines has received from China so far," it added.
The Associated Press last January reported that projects under the Belt and Road initiative are being canceled, renegotiated or delayed due to disputes about costs or complaints host countries get too little out of projects built by Chinese companies and financed by loans from Beijing that must be repaid.
In some places, Beijing is suffering a political backlash due to fears of domination by Asia's biggest economy.
READ: Pernia sees China-Japan rivalry for Philippine infrastructure push | For friendship's sake: Philippines falling into China's debt-trap?