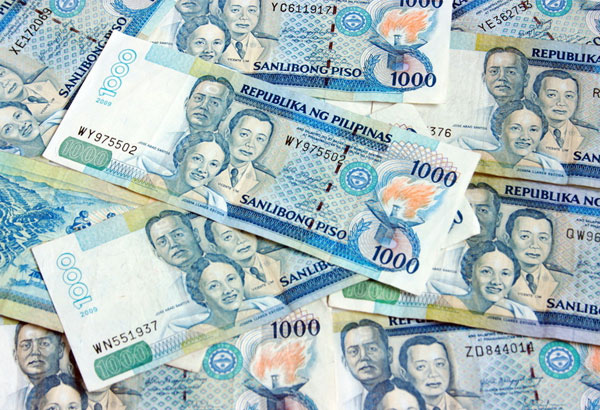 Data from the Bureau of the Treasury showed that the government paid P652.5 billion worth of debt from January to November last year, or P112.54 billion lower than the P765.04 billion settled in the same period in 2016. File
Government debt payments drop 15% in 11 months
MANILA, Philippines — Debt servicing fell almost 15 percent in the first 11 months of 2017 on the back of lower principal payments.
Data from the Bureau of the Treasury (BTr) showed that the government paid P652.5 billion worth of debt from January to November last year, or P112.54 billion lower than the P765.04 billion settled in the same period in 2016.
The government allots a portion of its budget for debt payments to settle obligations on a monthly basis, depending on their maturity.
Principal payments alone declined 24.4 percent to P362.52 billion. About 63 percent of the total principal payments or P228.82 billion went to domestic lenders, while the remaining 36 percent or P133.7 billion was paid to foreign creditors.
Interest payments inched up 1.6 percent to P289.99 billion. Interest payments to domestic debt went up 1.9 percent to P194.43 billion while those of foreign obligations inched up by nearly one percent to P95.55 billion.
Based on the latest Budget of Expenditures and Sources of Financing document of the Department of Budget and Management, the government has programmed a total of P647.27 billion for debt payments this year.
Latest data showed the national government's outstanding debt improved to P6.44 trillion as of the end of November, down one percent or P63.85 billion from the previous month's level of P6.5 trillion.
"Net repayments and a stronger peso contributed in lowering the end-month value of the debt," the Treasury said in a statement.
The peso appreciated to 50.346 to $1 in November from 50.686 to $1 in October.
The peso dubbed as the worst performing currency in the region depreciated by as much as 4.1 percent to hit a fresh 11-year low of 51.77 to $1 last Oct. 25.
Of the total debt pile, a little over 65 percent or P4.21 trillion were sourced from domestic sources while the remaining 35 percent or P2.23 trillion came from foreign creditors.