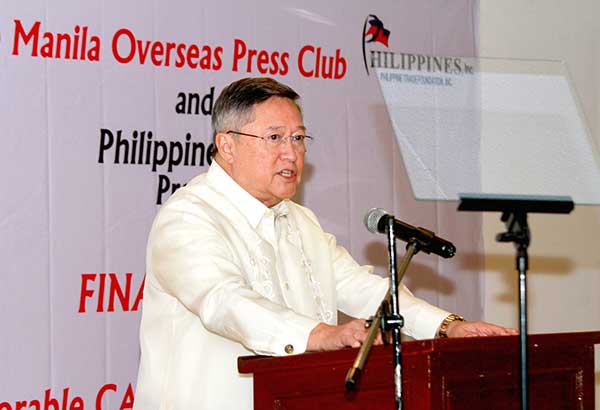 Relaxing foreign ownership limits will encourage investors
SPYBITS
-
Babe Romualdez
(The Philippine Star) - October 2, 2017 - 4:00pm
The government's plan to ease foreign ownership restrictions by amending the 1987 Constitution is welcome news to businessmen who have been looking to invest in the country, but were being deterred by the overly protective economic provisions.
According to Finance Secretary Sonny Dominguez – who just came from a successful "economic roadshow" in Tokyo – they are looking at two ways to encourage more foreign investments into the country. The first step is to review the FINL or Foreign Investment Negative List in order to increase foreign ownership limits in several sectors that include construction.
However, the more critical step is to amend the charter – which is in keeping with President Duterte's promise to open up the economy to more foreign investors.
Over the years, the Philippines has continued to lag in the area of foreign direct investments (FDIs) despite impressive economic growth rates. Data from the Asian Development Bank showed that the Philippines was able to attract $5.2 billion in FDI in 2015 – which is a great jump from the $1.3 billion in 2010.
However, this is really miniscule compared to the two- and three-digit volume of FDIs recorded by our neighbors in Asia in 2015, with Hong Kong registering $174.9 billion in FDI, followed by China that managed to attract $135.6 billion. Even Myanmar had a record high FDI of $9.4 billion in 2015, up from $8.01 billion in 2014.
The fact is, many business groups – both foreign and local – have long been clamoring for economic charter change because the obsolete provisions have stymied our economic potential and kept us from becoming really globally competitive. Previous leaderships in Congress have been supportive of calls to amend the economic provisions, among them former speaker Sonny Belmonte who proposed inserting the phrase "unless otherwise provided by law" to economic provisions in certain areas such as the operation of public utilities, ownership of mass media and the lease of alienable lands.
As Secretary Dominguez pointed out, opening up the economy would mean more jobs for Filipinos. During the recent Manila Overseas Press Club Economic Forum where he was the keynote speaker, he reminded the audience about the three pillars of the Duterte administration: reduce poverty, build infrastructure, and fight criminality and eradicate the drug menace.
The administration has also embarked on a massive infrastructure program dubbed as Build Build Build, with several key projects expected to spur growth in many areas outside of Metro Manila. A flagship project is the Mega Manila Subway that is seen to ease the nightmarish traffic in Metro Manila which, according to a study, is already costing us P2.4 billion a day in lost economic opportunities.
While there are stumbling blocks (which is usual for big projects), the government is hoping to finish at least half of the 75 projects in the pipeline by the end of President Duterte's term in 2022. As I have told the good secretary on several occasions, if the administration pulls off the infrastructure program or even manages to accomplish 50 percent of what it has planned to do, then President Duterte may yet emerge as the most accomplished president this country ever had.
Obviously, funding is necessary to fully implement the projects – which is why the proposed tax reform program is going to be critical. Without the additional revenues from the proposed reform package, it would be difficult to pursue the ambitious infrastructure agenda – which everyone knows will help jumpstart the economy.
The first package of the reform program – dubbed as Tax Reform for Acceleration and Inclusion Act or TRAIN – will hopefully be approved by Congress before they go into recess and expected to be signed into law by December.
Honor thy teacher
Metrobank Foundation president Chito Sobrepeña is encouraging all Filipinos to pay tribute to the heroism and sacrifices of Filipino teachers, even by simply telling them "thank you" as the whole nation celebrates National Teachers' Day on Oct. 5 – which is also a culmination of the month-long celebration of the National Teachers' Month (NTM) that began on Sept. 5.
Teaching is a very noble profession and more often than not, people fail to recognize the important role teachers play in helping mold the future leaders of our nation. We have heard so many stories about teachers, especially in far-flung and poverty-stricken areas, using their own finances to buy chalk, cartolina, Manila paper, colored pencils and Pentel pens in creating visual aids and other teaching materials.
During elections, the lives of teachers are placed at risk when they are tasked by the Comelec to serve as poll watchers, especially in identified election hotspots where ballot snatching and other acts of violence occur. Many have died, caught in the crossfire between warring political factions during hotly contested elections.
Many others are not only mentors, but become some sort of second mother to students – adolescents usually – who face issues at home. And sometimes, it only takes a kind word or a gesture of sympathy from caring teachers to turn the lives of these problem kids around.
* * *
Email: spybits08@gmail.com