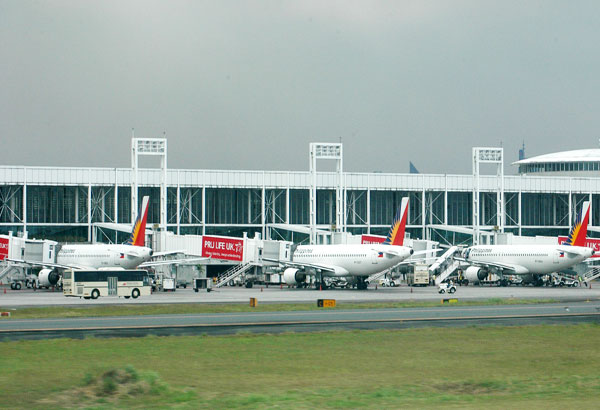 Flag carrier Philippine Airlines is allowing passengers to use the internet for free for 30 minutes or 15 MB on its flights and to surf longer for the rest of the trip at 50 percent off, as part of improving its service. File
PAL offers WiFi subscription plans to passenger
MANILA, Philippines - Flag carrier Philippine Airlines (PAL) is allowing passengers to use the internet for free for 30 minutes or 15 MB on its flights and to surf longer for the rest of the trip at 50 percent off, as part of improving its service.
In a statement, PAL said it has come up with a WiFi subscription plan to suit the different needs of passengers.
The basic WiFi plans start at $5 for 35 MB, while the $20 plan for 150 MB is for those who need more usage.
"We continuously work towards addressing our passengers' needs and have also come up with more affordable renewal price plans, and soon, access to hi-speed internet even while flying at 30,000 feet. This latest offering, which enables customers to stay connected inflight, is the airline's way of demonstrating its 'heartfelt' service philosophy," PAL president and chief operating officer Jaime Bautista said.
He said PAL's free WiFi offer was very well received when it was first launched for a limited period.
PAL's move to offer the WiFi service at reduced prices is in line with its goal of becoming a five-star full service national carrier.
At present, PAL has a three-star rating from Skytrax, an aviation consultancy based in the United Kingdom.
PAL is hopeful it would get a four-star rating from Skytrax following the audit within the year.
Given increasing competition in the airline industry, PAL is working on improving its offering to become the preferred carrier of passengers.
As of the first semester, PAL's parent firm PAL Holdings Inc. incurred a net loss of P1.66 billion, a reversal from the P4.61 billion net income reported in the same period last year.
Revenues, however, went up 17.7 percent to P67.8 billion as of the end of June this year.