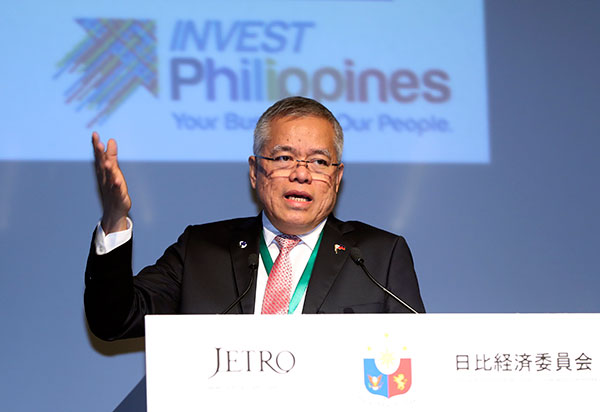 Philippine Secretary of Trade and Industry Ramon Lopez said Japanese investor "remains confident of business prospects in the Philippines." AP Photo/Eugene Hoshiko, File
Japan investments plunge 57%
(The Philippine Star) - August 7, 2017 - 4:00pm
MANILA, Philippines - The flow of Japanese investments has started to slow down in the Philippines, blamed partly on certain policy changes such as the government's pivot to China and Russia.
Preliminary data from the Japan External Trade Organization (Jetro) showed Japan's outward foreign direct investments (FDI) in the Philippines plunged 56.6 percent in the first five months of the year to $561 million.
On the other hand, Japan's FDI in other Southeast Asian countries like Vietnam, Thailand and Singapore increased by double digits in the same period.
In 2016, Japan's FDI in the Philippines surged 52.1 percent to $2.31 billion from $1.52 billion in 2015, Jetro data showed.
An industry source told The STAR one of the possible causes of the slowdown was the administration's foreign policy shift to open up to non-traditional allies such as China and Russia.
The source added it is also likely some Japanese investors were threatened by the planned changes in the incentives currently being enjoyed by locators of the Philippine Economic Zone Authority (PEZA).
Japanese companies are among the biggest investors in PEZA-accredited zones.
Asked for comment, Trade Secretary Ramon Lopez said he has not received any concerns from Japanese investors.
Lopez earlier said Japanese investor "remains confident of business prospects in the Philippines."
Last March, Lopez said Japan's seven major trading houses, collectively known as sogo shosha, have expressed interest to invest up to P198.5 billion in various sectors seen essential in the economic development of the Philippines.
Aside from these, investment commitments worth P25 billion from Japanese firms like Tsuneishi Shipbuilding Co. Ltd. and Ichijo Co. Ltd. have been made.