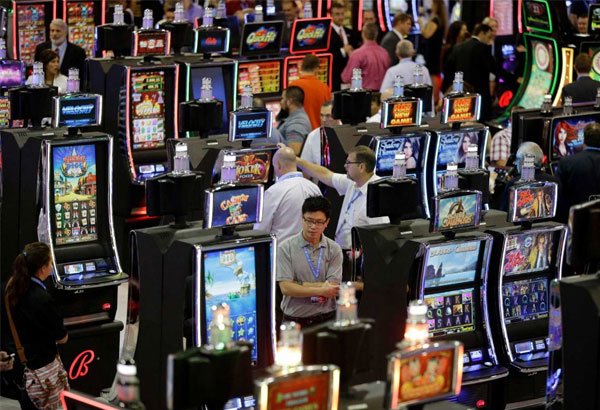 The House of Representatives plans to take over the franchising and licensing functions of state agencies for companies going into casino, lottery, bus and mining operations. AP/John Locher, File
House plans takeover of casino, lotto licensing
Jess Diaz
(The Philippine Star) - June 8, 2017 - 4:00pm
Bus franchises, mining permits also included
MANILA, Philippines - The House of Representatives plans to take over the franchising and licensing functions of state agencies for companies going into casino, lottery, bus and mining operations.
Speaker Pantaleon Alvarez told reporters yesterday that along with Majority Leader Rodolfo Fariñas and other House leaders, they would file a bill that would take back the franchising functions Congress delegated to agencies, including the Philippine Amusement and Gaming Corp. (Pagcor), Philippine Charity Sweepstakes Office (PCSO) and Land Transportation Franchising and Regulatory Board (LTFRB).
"These agencies will no longer be allowed to issue licenses. Their functions will be purely regulatory. Franchises will come from Congress, including those PCSO is issuing for small town lotteries (STL)," he said.
Asked why he wanted Congress, principally the House, to be a licensing agency, Alvarez said: "That is only a delegated power of Congress. Now we want to take it back because of problems that have arisen, including this Resorts World incident and the STL mess."
Under the Constitution, congressional franchises emanate from the House of Representatives.
Alvarez did not say what his problem was with PCSO's small town lotteries. There are reports that influential government officials, politicians and their relatives are jockeying for STL franchises.
Justice Secretary Vitaliano Aguirre ll has admitted a brother of his had applied for a small town lottery license.
Several operators of jueteng and other illegal number games have been granted STL franchises. Illegal gambling critics have claimed these operators continue to engage in illicit gambling activities in the guise of legal STL betting.
Covered by the franchising takeover plan revealed by Alvarez is the issuance of licenses to bus companies by LTFRB and mining firms by the Department of Environment and Natural Resources.
He criticized the LTFRB for freezing the issuance of permits for new bus companies or additional buses pending the determination of what number of units is really needed based on ridership and road capacity.
A state research office, the Philippine Institute for Development Studies, has found out that the average ridership along EDSA is about 52 percent, with most buses empty during certain hours of the day.
But Alvarez said the LTFRB should license more bus firms and additional buses.
"Give them franchises. If an applicant wants 1,000 units, allow him. The number of units is the problem of the bus company owner – whether he makes a profit or not," he said.