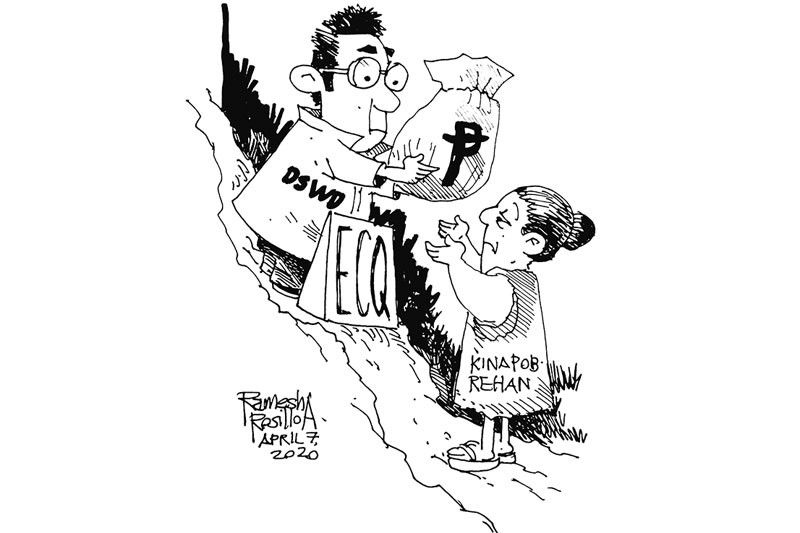 EDITORYAL - Patas unta tanan
Mipagawas og dakong pundo ang gobiyerno aron tabangan ang mga apektado sa pagkuyanap sa coronavirus (COVID-19) samtang gipatuman ang nagkadaiyang enhanced community quarantine sa nagkalain-laing mga rehiyon sa nasud. Ang mga giuna paghatag mao kadtong gitawag og "poorest of the poor" ug kadtong mga "no work, no pay" nga mga trabahante nga direktang napagan human nanirado ang ilang mga kompanya tungod sa maong virus.
Dako kaayo og ikatabang ang maong mga hinabang nga bugas, cash, ug mga groceries para aning gitawag og "poorest of the poor" ilabi na nga ang uban kanila direkta gyung naapektahan sa gipatumang ECQ kay ang ilang gisaligang trabaho naapektahan man sab.
Apil sa mga gihatagan mao ang mga pamilyang daan ng gitabangan sa gobiyerno sukad pa sa panahon ni kanhi presidente Gloria Macapagal Arroyo pinaagi sa Pantawid Pamilya Program (4Ps).
Laing hinabang nasab ang gikagubtan sa mga tawo kining gitawag og social amelioration fund gikan sa DSWD. Mga hinabang para sa mga drayber sa mga pasaheroan, mga nanarbahong nasakop sa informal sector , senior citizen, PWDs, mga nawagtangan og trabaho ug uban pa.
Apan samtang nagkamulo og tabang ang gobiyerno aning maong mga sektor, dili unta nila pasagdan ang naa sa minimum ug middle–class earners nga nalakip sa economic drivers sa nasud. Taas na kaayo ang nakalabay'ng kapin tulo ka semanang wala silay kwartang nanulod sa ilang panudlanan tungod sa ECQ. Limitado gyud tinuod ang pundo sa gobiyerno kay dili niini maapud og hatag ang tanan dugangan pa nga dunay mga pasangil nga gipolitika ang pagpangapud-apod niini.
Dili ba mas maayong tan-awon sab ang sitwasyon sa sektor sa nagpadagan sa ekonomiya? Kaning maong mga mamumuo ug mga ginagmay nga negosyante sa pagkakaron padayon pang niutong ug nagpailob.
Tungod kay nasayod silang dunay mas daghang nanginahanglan kaysa nila, bisan pagkatinuod hinayhinay na nilang nabati ang kalisod kay way income nga nanulod.
Ini og kahuman aning krisis karon, nagkinahanglan ang gobiyerno aning maong sektor kay sila kadtong mga kugihan manarbaho ug molihok ug pinaagi sa ilang trabaho motuyok pagbalik ang ekonomiya sa nasud.