EDITORYAL - Gun ban palpak na SAB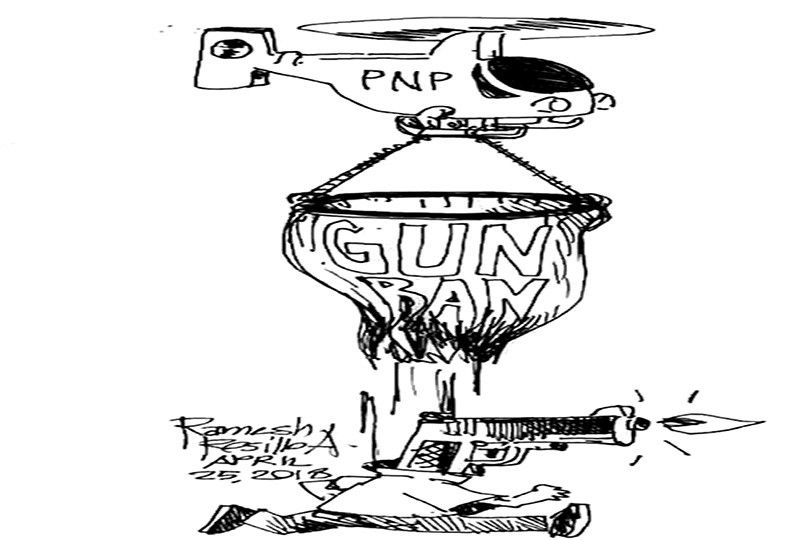 Gipatay ang usa ka polis nga si PO2 Kenneth Pogoy samtang nagsakay ang biktima og motorsiklo atubangan sa Plaza Independencia gikan siya nga nitambong og hearing sa Cebu City Hall of Justice sa Qimonda Building sa North Reclamation Area. Lain kining kamatuoran nga wala gyu'y silbe ang gipatuman nga gun ban subay sa election campaign period.
Sa gibalik-balik na pagpasabot sa mga licensed gun holders nga samtang sila motuman gyud sa gimando nga gun ban, apan ang kapolisan maglisud sa pagpatuman niini ngadto sa mga kriminal, kang kansang mga armas wala'y lisensya, apil ang mga tawo nga naghupot niini.
Sagad sa mga tawo nga mohimo sa pagpamusil magsakay gyud og motorsiklo sa ilang paghimo sa krimen. Dako gyud ang posibilidad nga madakpan kining mao nga mga tawo kon may checkpoint operations pa nga gipahigayon ang kapolisan. Apan unsaon, ang mga polis sagad mohimo og checkpoint panahon lang sa gabii.
Sa bag-ong pamaagi karon, ang mga gustong mohupot og armas kinahanglang mokuha og License to Own and Possess Firearms (LTOPF) nga nagsilbeng lisensya aron katugotan nga makahupot og armas. Kon may LTOPF na, moparehestro pa gyud siya sa iyang armas. Unya, kon gusto kini nga modala sa iyang armas gawas sa balay, kinahanglan pa nga mokuha og Permit to Carry Firearms Outside of Residence (PTCFOR).
Sa pagkuha og LTOPF, ang aplikante sa maong permit pakuhaon og Neuro Test aron sukdon ang matang sa iyang pangisip. Tungod sa kakuti sa pag-angkon og lisensya sa armas, wala'y mga legitimate gun holders nga moabuso. Kini unta maoy basehan sa mga tinugyanan sa Commission on Elections (Comelec) ug sa kapolisan, nga dili na sila momando og gun ban atol sa election period kay ang apektado niini mao ra ang mga buotan ug matinumanon sa balaod.