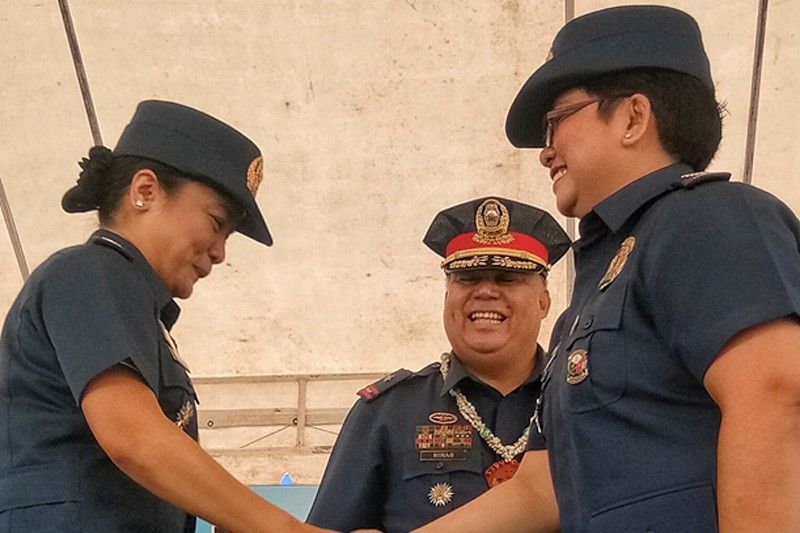 Bagong hepe … Pormal nga gitudlong bag-ong hepe sa CCPO si Police Colonel Gemma Vinluan (wala) hulip ni Police Colonel Royima Garma (tuo) kagahapon.
Aldo Nelbert Banaynal
Vinluan: Mga rapists pang-Tokhangon
CEBU, Philippines – Tokhang alang sa mga "rapists" ang nag-una nga ipatuman sa bag-ong director sa Cebu City na si Police Colonel Gemma Vinluan human siya opisyal na nilingkod isip director.
"Gusto ko Tokhangin lahat ng rapists," sigon pa niya. Nipasabot siya nga ang rape mao ang usa sa mga krimen nga wala matutuki.
Isip kanhi hepe sa Women's and Children's Protection Center sa Philippine National Police headquarters sa Camp Crame, ikaduha ang rape sa gender-based violence.
"We will have regular visits to schools, establish a help desk, we will campaign different child abuse, exploitation, battering physical and emotional, in our statistics, insane kamag-anak na mismo," si Vinluan miingon.
Sa laing bahin, usa sa iyang tutokan mao ang pagtukod og Special Weapons and Tactics (SWAT) nga pulos babaye ang sakop aron mapakita na empowered ang babaye nga pulis samtang magpadayon ang internal cleansing sa CCPO ug kampanya batok illegal nga drugas.
Si Vinluan classmate ni Police Colonel Royina Garma sa Philippine National Police Academy Kapanalig Class of 1997. Sama ni Garma, 24 ka tuig na siya sa serbisyo ug nagdako sa Pampanga apan iyang kaliwat kuno naggikan sa Zambales.
Kini mao ang una niyang assignment sa Sugbu. Sa usa ka ceremonial turn-over, nitambong si Garma diin iyang gipasalig nga naa sa maayong kamot ang siyudad sa Sugbu sa iyang classmate.
Nahimong emosyonal si Garma sa iyang kataposang pamahayag kay mao na sab kadto ang kataposan niyang higayon nga magsuot og uniporme isip polis kay siya natudlo naman nga general manager sa Philippine Charity Sweepstakes Office.
Iyang gitugon kang Vinluan nga matutukan ang Tourist Police Unit sanglit ang Cebu usa sa mga paboritong destinasyon sa mga turista.
Kung naa man siya'y di makalimtan mao ang iyang pakigbangga ni kanhi Cebu City Mayor Tomas Osmeña ug di sab niya makalimtan ang media nga mao'y nitabang nga mailhan siya dinhi.
"Hindi ko makakalimutan ang experience dito, mami-miss ko ang media at of course, yung mayor, friends naman kami na ngayon," sigon pa niya.
Sa laing bahin, gimandoan ni Police Brigadier General Debold Sinas si Vinluan maghimo og iyahang leadership style si Vinluan.
"Garma is Garma. Para sa iya maghimo pud siya iya mark and style, she does not have to follow Garma, mao na ako advise sa iya," sigon pa ni Sinas.
Si Atty. Rey Gealon, City Legal Officer mao ang nipaabot sa mensahe ni Mayor Edgardo Labella kang Vinluan nga ang siyudad mosuporta sa bag-ong hepe sa kapolisan sa siyudad gikan sa gasolina, sakyanan, ug ang allowances nga wala ihatag sa nakalabay nga administrasyon. (/IBM)(BANAT NEWS)