Russian forces edge closer to Kyiv as city becomes 'fortress'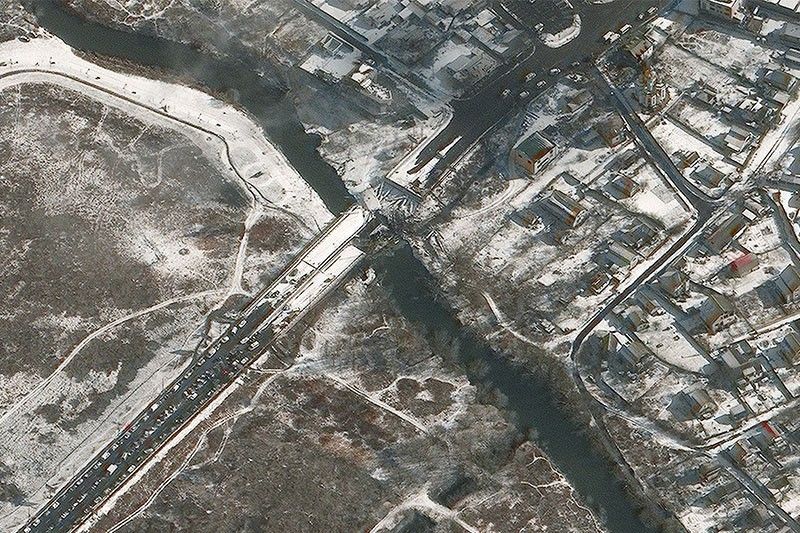 KYIV, Ukraine — Russian troops edged closer to Kyiv on Friday, as officials said the Ukrainian capital was being transformed into a "fortress" and President Volodymyr Zelensky accused Moscow of again targeting humanitarian corridors.
Hundreds of thousands of civilians remain holed up in Ukrainian cities, including besieged Mariupol, under a Russian bombing campaign after the first talks between Moscow and Kyiv's top diplomats ended without any progress.
The Ukrainian military in a statement warned "the enemy is trying to eliminate the defences of the Ukrainian forces around" regions to the west and northwest of the capital "to block Kyiv."
"We can't rule out a movement of the enemy to the east towards Brovary," the statement added.
In the capital, mayor Vitali Klitschko said half the population had fled, adding that the city "has been transformed into a fortress".
"Every street, every building, every checkpoint has been fortified."
Russian forces are currently encircling at least four major Ukrainian cities and armoured vehicles have rolled up to Kyiv's northeastern edge, where suburbs including Irpin and Bucha have endured days of heavy bombardment.
Ukrainian soldiers there described fierce fighting for control of the main highway leading into the capital, and AFP reporters saw missile strikes in Velyka Dymerka just outside Kyiv's city limits.
"It's frightening, but what can you do?" said Vasyl Popov, a 38-year-old advertising salesman. "There is nowhere to really run or hide. We live here."
Britain's defence ministry said in an intelligence update that "Russian forces are committing an increased number of their deployed forces to encircle key cities."
"This will reduce the number of forces available to continue their advance and will further slow Russian progress," a statement tweeted by the ministry said.
Desperation in Mariupol
But there has been no let-up in the onslaught on several major cities, with the besieged southern port city of Mariupol suffering relentless bombardment, including on attempted aid deliveries, according to Zelensky.
He said Moscow had launched a "tank attack" targeting a humanitarian corridor where he had dispatched a convoy to try to get food, water and medicine into the city.
The attack, which Zelensky described in a video statement as "outright terror", came a day after the bombing of a children's hospital there that local officials said killed three people, including a young girl.
Zelensky branded that attack a Russian "war crime", a position backed by top Western officials, while Russia's army claimed the bombing was a "staged provocation" by Ukraine.
In a video, Mariupol mayor Vadym Boichenko said Russian warplanes had targeted residential areas in the city "every 30 minutes" on Thursday, "killing civilians, the elderly, women and children."
The situation in city has been described as "apocalyptic", with more than 1,200 civilians killed in 10 days of constant attacks, according to the mayor.
The International Committee of the Red Cross said some residents had started fighting for food, and many had run out of drinking water.
"Some people still have food but I'm not sure for how long it will last. Many people report having no food for children," said Mariupol-based ICRC representative Sasha Volkov in an audio recording.
Some humanitarian corridors out of cities under attack have held.
Around 100,000 people have been able to leave the northeastern city of Sumy, the eastern city of Izyum, and areas northwest of Kyiv in the last two days, Ukrainian officials said.
Moscow said it would also open daily humanitarian corridors to evacuate civilians to Russian territory, but Kyiv has rejected routes leading to Russia.
The UN's refugee agency estimates more than 2.3 million refugees have left Ukraine since Russia shocked the world by invading its neighbour on February 24, and some 1.9 million Ukrainians have been internally displaced.
Overall, at least 71 children have been killed and more than 100 wounded in Ukraine since the war began, said Lyudmyla Denisova, the Ukraine parliament's point person on human rights.
And the UN says two other Ukrainian maternity hospitals have been attacked and destroyed, including one in Zhytomyr, west of Kyiv, in addition to the Mariupol attack.
'No progress' in Turkey talks
In Turkey, Ukraine's Foreign Minister Dmytro Kuleba said his talks with his Russian counterpart Sergei Lavrov ended with "no progress," even on a 24-hour ceasefire.
Lavrov said the two sides would keep talking, but also insisted Russia's invasion was purely defensive.
Asked by a reporter if Moscow was planning to attack other nations, he insisted "we don't plan to attack other countries" and Russia "did not attack Ukraine".
He said Russian President Vladimir Putin launched the operation as the situation in Ukraine "posed a direct threat to the Russian Federation".
Russia has also ramped up its claims about alleged biological weapons development in Ukraine, which Western officials have said could be an attempt to lay the ground for their possible use by Moscow's forces in the country.
On Friday, the UN Security Council will hold an urgent meeting on the subject at Moscow's request.
The conflict has so far caused around $100 billion in damage to roads, bridges and businesses, according to Oleg Ustenko, Zelensky's chief economic advisor.
Western nations and allies have offered military and humanitarian support, and on Friday the US congress passed a budget including $14 billion for Ukraine.
But the US has ruled out enforcing a no-fly zone, and rejected a Polish plan to transfer fighter jets to Ukraine via a US air base for fear of being drawn directly into the conflict.
The State Department said Thursday that Washington would "continue to provide our Ukrainian partners with the surface-to-air systems that they need" though Moscow has warned supplying deadly weapons was "creating a colossal danger."
With global anger surging online as the war rages, Facebook said late Thursday it has temporarily eased its rules on violent speech to allow statements like "death to Russian invaders", while still barring threats against Russian civilians.
Western sanctions have targeted Russia's financial system and its oligarchs, including Chelsea football club owner Roman Abramovich, who was hit Thursday by a UK assets freeze and travel ban. — with Fulya OZERKAN in Antalya, Turkey
As It Happens
LATEST UPDATE: June 28, 2022 - 8:16am
President Vladimir Putin says he hopes that Moscow and the West could find a solution to the raging security crisis over Ukraine, but also accused Washington of using Kyiv as a "tool" against Russia.
"I hope that in the end we will find a solution, although it will not be simple," Putin says, indicating he was ready for more talks with the West, which has accused Moscow of massing more than 100,000 troops on the border and plotting to invade Ukraine.
"It seems to me that the United States is not so much concerned about the security of Ukraine... but its main task is to contain Russia's development," Putin says. — AFP
June 28, 2022 - 8:16am
A Russian missile strike on a crowded mall in the central Ukrainian city of Kremenchuk killed at least 16 people, the head of emergency services says early Tuesday, sparking international outrage.
"The Russian strike today on the shopping centre in Kremenchuk is one of the most brazen terrorist acts in European history," Ukrainian President Volodymyr Zelensky said in his evening broadcast posted on Telegram.
"As of now, we know of 16 dead and 59 wounded, 25 of them hospitalised. The information is being updated," emergency services chief Sergiy Kruk says. — AFP
June 27, 2022 - 1:20pm
A former South Korean Navy SEAL turned YouTuber who risked jail time to leave Seoul and fight for Ukraine says it would have been a "crime" not to use his skills to help.
Ken Rhee, an ex-special warfare officer, signed up at the Ukrainian Embassy in Seoul the moment President Volodymyr Zelensky asked for global volunteers and was fighting on the front lines near Kyiv by early March.
To get there, he had to break South Korean law — Seoul banned its citizens from travelling to Ukraine, and Rhee, who was injured in a fall while leading a special operations patrol there, was met at the airport by 15 police officers on his return.
But the celebrity ex-soldier, who has a YouTube channel with 700,000 followers and documented much of his Ukraine experience on his popular Instagram account, says he has no regrets.
"You're walking down the beach and you see a sign by the water saying 'no swimming' — but you see someone drowning. It's a crime not to help. That's how I see it," he told AFP.
Rhee was born in South Korea but raised in the United States. He attended the Virginia Military Institute and planned to join the US Navy SEALS, but his father — a "patriot", he says — convinced his son to return to South Korea to enlist.
He served for seven years, undergoing both US and Korean SEAL training and doing multiple stints in war zones in Somalia and Iraq before leaving to set up a defence consultancy.
"I have the skillset. I have the experience. I was in two different wars, and going to Ukraine, I knew I could help," he said, adding that he viewed breaking South Korea's passport law to leave as equivalent to a "traffic violation". — AFP
June 26, 2022 - 2:40pm
Indonesian President and G20 chairman Joko Widodo set off on Sunday to Europe where he said he plans to visit Russia and Ukraine and meet with the countries' leaders to urge peace talks.
Widodo departed for Germany to attend as a guest for the G7 summit from June 26 to 27, and he will then go to the Ukraine capital Kyiv to meet President Volodymyr Zelensky.
"The mission is to ask... President Zelensky to open a dialogue forum for peace, to build peace because the war has to be stopped," he told a press conference in Jakarta.
The two leaders will also discuss the food supply chain "that needs to be reactivated" soon, Widodo said. From Kyiv, Widodo is scheduled to visit Moscow and meet with Russia's Vladimir Putin.
The visit to Moscow is planned for June 30, Indonesian authorities said earlier. — AFP
June 26, 2022 - 1:36pm
Four explosions were heard in the Ukrainian capital Kyiv early Sunday, with AFP journalists reporting a residential complex near the centre of the city had been hit, causing a fire and cloud of grey smoke.
The blasts occurred around 6:30 am (0330 GMT), half an hour after air raid sirens sounded in the capital, which has not not come under Russian bombardment for nearly three weeks.
There was no immediate information on casualties.
An AFP colleague living in the same residential complex heard a loud buzz preceding the explosions.
"Several explosions in the Shevchenkivsky district," Kyiv mayor Vitali Klitschko said on Telegram.
"Ambulances and rescuers are on site. In two buildings, the rescue and evacuation of residents is underway," he added. — AFP
June 24, 2022 - 8:07am
The United States is sending a new batch of military assistance to Ukraine, the White House says, with the $450 million shipment including four more advanced rocket systems to use against Russian invasion forces.
"This package contains weapons and equipment, including new High Mobility Artillery Rocket Systems," White House spokesman John Kirby says. Also included are tens of thousands of rounds of artillery ammunition and patrol boats.
The rocket systems known as HIMARS are at the top of Ukraine's wish list as the pro-Western country battles a Russian invasion force advancing through the east of the country with the help of a significant advantage in heavy artillery. — AFP