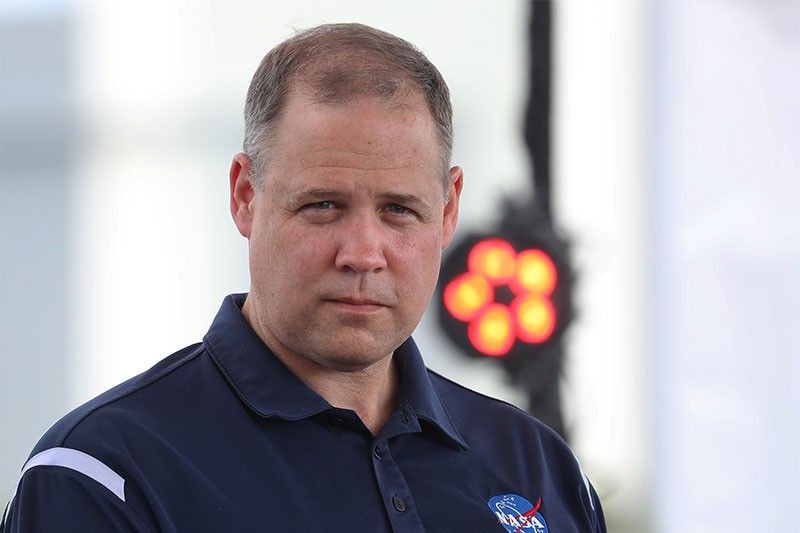 In this file photo taken on May 28, 2020 NASA Administrator Jim Bridenstine speaks to media during a press conference at the Kennedy Space Center in Cape Canaveral, Florida. NASA chief Jim Bridenstine told lawmakers September 23, 2020, it was crucial for the US to maintain a presence in Earth's orbit after the International Space Station is decommissioned so that China does not gain a strategic advantage.
AFP/JOE RAEDLE/GETTY IMAGES NORTH AMERICA
NASA chief warns US Congress about Chinese space station
(Agence France-Presse) - September 24, 2020 - 7:52am
WASHINGTON, United States — NASA chief Jim Bridenstine told lawmakers Wednesday it was crucial for the US to maintain a presence in Earth's orbit after the International Space Station is decommissioned so that China does not gain a strategic advantage.
The first parts of the ISS were launched in 1998 and it has been continuously lived in since 2000.
The station, which serves as a space science lab and is a partnership between the US, Russia, Japan, Europe and Canada, is currently expected to be operated until 2030.
"I'll tell you one thing that has me very concerned — and that is that a day is coming when the International Space Station comes to the end of its useful life," said Bridenstine.
"In order to be able to have the United States of America have a presence in low Earth orbit, we have to be prepared for what comes next," he added.
To that end, NASA has requested $150 million for the 2021 fiscal year to help develop the commercialization of low Earth orbit, defined as 2,000 km (1,200 miles) or less from the planet's surface.
"We want to see a public-private partnership where NASA can deal with commercial space station providers, so that we can keep a permanent uninterrupted human presence in low Earth orbit," said Bridenstine.
"I don't think it's in the interest of the nation to build another International Space Station — I do think it's in the interest of the nation to support commercial industry, where NASA is a customer."
Bridenstine warned the lawmakers this was critical to maintain US space supremacy in the face of a planned Chinese space station that Beijing hopes will be operational by 2022.
The station is named Tiangong, meaning Heavenly Palace, and in June Chinese state media announced it was partnering with 23 entities from 17 countries to carry out scientific experiments on board.
These countries included both developed and developing countries, such as France, Germany and Japan, as well as Kenya and Peru, according to Xinhua news agency.
"China is rapidly building what they call the 'Chinese International Space Station,' and they're rapidly marketing that space station to all of our international partners," said Bridenstine.
"It would be a tragedy, if, after all of his time, and all of this effort, we were to abandon low Earth orbit and cede that territory."
He explained that the microgravity of ISS offered great potential for scientific advances, from innovations in pharmaceuticals to printing 3D human organs to the creation of artificial retinas to treat people with macular degeneration.
Bridenstine said that it was therefore necessary to fund NASA to pay companies to set up a space station, where it would be one of several customers in order to drive down its own costs.
This, he added, was vital to "ultimately not cede that territory to another country that doesn't have our interests at heart."
As It Happens
LATEST UPDATE: September 22, 2020 - 10:26am
Monitor major developments on space explorations and the status of missions.
September 22, 2020 - 10:26am
NASA reveals its latest plan to return astronauts to the Moon in 2024, and estimated the cost of meeting that deadline at $28 billion, $16 billion of which would be spent on the lunar landing module.
US Congress, which faces elections on November 3, will have to sign off on the financing for a project that has been set by President Donald Trump as a top priority. The $28 billion would cover the budgetary years of 2021-25.
In a phone briefing with journalists Monday on the Artemis mission to return human beings to the Moon, NASA administrator Jim Bridenstine notes that "political risks" were often the biggest threat to NASA's work, especially before such a crucial election. — AFP
August 3, 2020 - 7:28am
SpaceX Crew Dragon Endeavour splashed down in the Gulf of Mexico Sunday afternoon on time after re-entering the Earth's atmosphere and deploying its parachutes without any glitches.
Pilot Doug Hurley, one of the two astronauts on board, said: "It's truly our honor and privilege" as radio communications became choppy and cut out.
It was the first water landing for a US spacecraft since the Apollo-Soyuz mission of 1975. — AFP
July 31, 2020 - 8:35am
NASA's latest rover Perseverance launched for Mars on Thursday, blasting off from Cape Canaveral, Florida on a United Launch Alliance Atlas V rocket on schedule.
The first stage of rocket separation took place a few minutes later for the second stage Centaur rocket to take over, boosting it into orbit.
Perseverance is now preparing for a second burn that will put it on a trajectory toward Mars, a trip that will take around seven months and cover 300 million miles (480 million kilometers). — AFP
July 20, 2020 - 7:30am
The first Arab space mission to Mars blasts off Monday aboard a rocket from Japan, after weather delays set back the launch of the probe dubbed "Hope."
A live feed of the launch showed the rocket carrying the unmanned probe, known as "Al-Amal" in Arabic, lifting off from the Tanegashima Space Centre in southern Japan.
"We have launched the H-IIA Launch Vehicle No. 42 (H-IIA F42) carrying aboard the Emirates Mars Mission's (EMM) HOPE spacecraft... at 6:58:14 (JST) (2158GMT)," rocket manufacturer Mitsubishi Heavy Industries said in a statement shortly after the launch. — AFP
June 1, 2020 - 8:13am
NASA astronauts enter the International Space Station on Sunday after a landmark 19-hour journey on the first crewed US spacecraft in nearly a decade, a triumph for SpaceX and private enterprise.
The hatch opened at 1:02 pm Eastern Time (1702 GMT) as Bob Behnken and Doug Hurley carried out final close out procedures, crossing the threshold about twenty minutes later.
Wearing black polo shirts and khaki pants, Behnken entered first, followed by Hurley.
They were greeted by fellow US astronaut Chris Cassidy, as well as cosmonauts Anatoli Ivanishin and Ivan Vagner, all in the blue jumpsuits of the space station, which was launched in 1998 and first inhabited in 2000. — AFP